2016 California Zombie Paintball Locations!
Zombie paintball is appearing at more and more corn mazes, pumpkin patches and other Fall farm venues. Following on the popularity of anything having to do with zombies (remember how the Canadian government even had a zombie apocalypse preparedness day?) many Halloween attractions, particularly those on farms, are having a new event called "zombie paintball".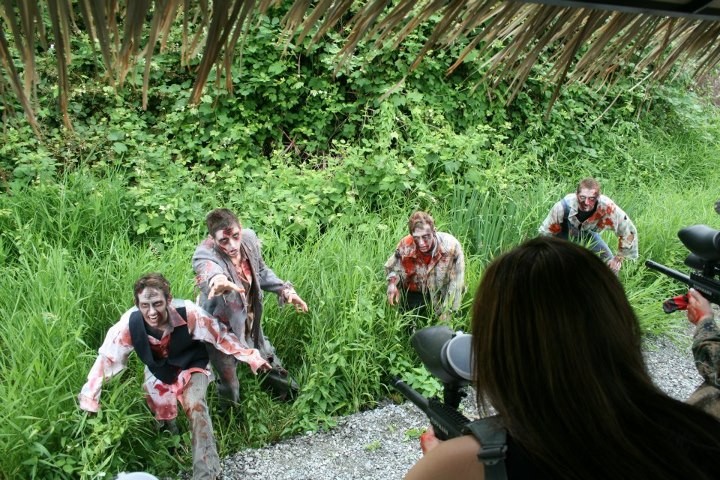 The concept is pretty simple: typically, patrons pay a fee to be given a loaded paintball gun which is mounted on either a haywagon (which drives through the zombie field) or on a ledge (like at a shooting range) and they fire away at zombies (actors dressed to look like zombies, whose clothes and masks protect them from injury).
So, just like in Shaun of the Dead, you get to fire away at zombies staggering around, trying to reach you and eat your brains!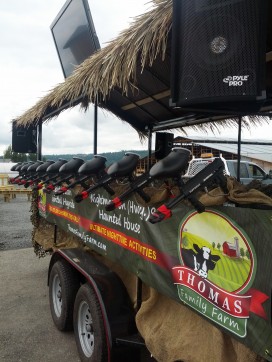 How to find a zombie paint ball venue?
We are continually updating and adding to our list of zombie paintball locations, farms and corn mazes that offer zombie paintball hayrides, zombie paintball trails, zombie lasertag, and indoor facilities, which is growing every day, right here, alphabetically, by county. If you know of any I've missed, please tell me about them - Click here to write to me! To see the zombie locations in this area, Just scroll down the page:
Imperial County
Imperial Valley College Agriculture Department - pumpkin patch- already gathered from the field, corn maze, haunted corn maze, corn cannon, tractor-pulled hay rides, concessions / refreshment stand, porta-potties, restrooms
380 East Aten Road, Imperial, CA 92251. Phone: 760 554 3555. Email:

[email protected]

. Open: 10/26 from 6pm to at least midnight; 10/27 from 9am to at least midnight; 10/28 from 11am to 10pm. Directions: just north of the track on Ag field on the south side of the IVC campus. You can't miss us, we will be the corn maze, tons of shades, and music!. Click here for a map and directions. Saturday October 29th will be the big deal; EVERYTHING!. Payment: Cash, only. Click here for our Facebook page. We have a Trebuchet to launch pumpkins (last year's device is on YouTube - IVC Ag Club). We also have a dunk tank and Zombies that are hiding from the paint ball gunners! We are adding paintball matches (with waiver)This is the fifth annual event come out and have a great time where the winter vegetables grow!.
Los Angeles County
Haunted Hollywood Sports - zombie paintball, haunted house
9030 Somerset Blvd., Bellflower, CA 90706. Phone: 877-442-6897. Alternate Phone: 562-867-9600.
Merced County
Frightmare Farms - hayrides, haunted field,
964 Gillette Avenue, Merced, CA 95341 . Phone: ?. Email: Click here for their contact form. Open: Last two weeks of October, doors open at 7 pm. Directions: Take Highway 99 to Le Grand Road, exit and follow the signs. about 20 minutes south east from Merced and about 45 minutes north of Fresno. Directions can be printed off the Google powered map on their website. Payment: cash, credit cards. Two horrifying attractions set in the heart of Merced County's farmland will have you begging for mercy. Experience sheer terror in the clutches of Barnyard Slaughter, an up-close, super intense scare not intended for the feint of heart that includes mine shafts, cemeteries, and non-stop action. Or step onto Frightmare Express, our haunted hayride through 10 acres of zombie-ridden corn that will have you screaming out loud. We also offer a very family-friendly atmosphere complete with hayrides that are not haunted and plenty of seating around warm fires where a cup of our famous homemade cocoa and other assorted homemade treats are best enjoyed.
A visitor writes on October 21, 2011: "Haven't been there but see their sign on the highway. Have a good website detailing about them"
San Diego County
Haunted Grounds - Zombie paintball, haunted rides, haunted trail,
1700 Vandegrift Blvd., Oceanside, CA 92055. Phone: 760-717-1363. Email:

[email protected]

. Open: See our website for current hours. Click here for current open hours, days and dates. Directions: 1700 Vandegrift Blvd., Oceanside, CA 92055. Click here for a map and directions. Payment: Cash, Debit cards, Visa/MasterCard, Discover, AmEx. Best Zombie Paintball in California put on by year round paintball park!.
The Scream Zone Del Mar Scaregrounds - Zombie Paintball, Haunted house, Haunted Hayride
2260 Jimmy Durante Blvd., Del Mar, California 92014. Phone: (858) 755-1161. Email:

[email protected]

.. Open: September 26 & 27, October 3–5, October 9–12, October 16–19, October 22–31 and November 1; on Friday and Saturday nights from 7:00PM to midnight; We are open all other nights from 7:00PM to 11:00PM; Gates open at 6:45PM. Zombie Paintball Safari: Climb aboard the carriage of no return. Your blood will run cold as you are transported to the world of the undead. Will you survive an attack of creepy carnivores? Zombie Paintball Safari gives you the chance to open fire and shoot paintballs at live zombies. It's not your run-of-the-mill paintball adventure: here, the zombies are, shall we say, running rampant and unrestrained. It's shooter against zombie and only you have the ammo. The House of Horror: High anxiety fills the air as you enter the malicious mausoleum known as The House of Horror, featuring 12 new terrifying devious dens, including 13 Ghosts, Zombie House, Monster Attack, Texas Graveyard and the Underworld. Movie monsters lurk around every dark corner to intercept and ambush your futile attempt to run, so don't bother. Last year, 523 poor souls became "victims" of The House of Horror. Accommodations are available and with heaps of headstones obtainable… will you become another cryptic casualty this year? The Haunted Hayride: Climb aboard The Haunted Hayride where all of your frightmares come to life. New on the Hayride this year: Zombie Prison, Zombie Town, and Zombie Containment, The Hills Have Eyes (for you), and HaitianVoodoo. Horror movie master Lon Chaney said, "There's nothing funny about a clown in the moonlight." A sudden state of hysteria will grip your heart as clowns suddenly appear to unnerve you, making your heart skip a beat or two. And don't let Doll Town fool you, the term "child's play" will not come to mind as those pretty, peculiar oddities entice you to stay and play, and play and stay. The Walking Dead will saunter aside your chilling chariot moving you along the cold, dark and dreaded path. The Chamber: Chills crawl up and down your spine as the menacing maze does its best to keep you in its clutches with a secure dead-bolt! The Chamber holds the longest spinning kaleidoscope tunnel in Southern California, a dizzying delight as the voracious vertiginous sights and sounds manifest a feeling of edgy apprehension. Hold on tight!
Santa Clara County
Santa Clara Paintball Shoot Zombies Now - zombie paintball
2542 Monterey Highway, San Jose, CA 95111. Phone: 408-288-6855. Email:

[email protected]

. Open: October 1st to November 1st on Wednesday, Friday & Saturday Nights, as well as Thursday 10/24 & 10/31, from 7pm - 12am. Experience the thrill of hunting zombie's this Halloween season with our two unique paintball zombie shoots. This is your opportunity to shoot paintballs at zombies without getting shot at. This is the most fun you'll have during a Halloween experience, and will put the average haunted house to shame.
Totally interactive, you will have to make your way through our zombie infested grounds without getting eaten. Shoot the zombies with our special paintballs to "kill" them so you can survive.
Ventura County
Fillmore & Western Railway Zombie Hunter Train - zombie paintball, train rides, gift shop, snacks and refreshment stand, restrooms, picnic area, face painting
351 Santa Clara Street, Fillmore, CA 93015. Phone: 805-524-2546. Email:

[email protected]

. Open: See their website. Directions: I5 to highway 126 west, right on Central Avenue in Fillmore, right on Santa Clara Street Park behind City Hall. And for a map to our farm, click here. Payment: Cash, Visa/MasterCard. Take a 2 hour Haunted Train Ride through the battle grounds of the Zombie Apocalypse! You will be armed with a paintball gun loaded with Zombie flesh eating toxic paintballs. Help beat back the attacking zombie hoards and return the un-dead to the dead! Help save humanity. 2015 Ticket prices are $49.00 for Zombie Hunters and $25.00 to ride along. It is highly recommended that you buy your tickets in advance. The Haunted Train Zombie Hunt is safe fun for all ages. The minimum age for shooters is ten years old. Shoot the Zombies but don't worry, they don't shoot back!
---
Looking for Haunted houses and other scary venues?
If hunting zombies with a paintball gun or lasertag isn't your thing, but you like being scared look below for a haunted house (and if there are none on this page; recommend one!)
Los Angeles County
Pierce College FrightFair Scream Park - corn maze, haunted house, haunted corn maze, tractor-pulled hay rides, prepicked produce, snacks and refreshment stand, restrooms, picnic area, pony rides, petting zoo, farm animals, birthday parties, weddings and wedding parties, school tours
20800 Victory Blvd, Woodland Hills, CA 91367. Phone: 818 999-6300. Fax: 818 700-9720. Email:

[email protected]

. Open: This year the festival is open for 6 weeks, late September through early November; Sunday through Thursday 10am to 10pm, Saturday and Sunday 10am to Midnight. Directions: From 118, exit at DeSoto, Head South on DeSoto for about 6 miles, Turn left at Victory Blvd, Turn Right immediately after your turn into the Halloween Harvest Festival. From 101, exist at DeSoto, Head North on DeSoto for about 2 miles, Turn Right at Victory Blvd, Turn Right immediately after your turn into the Halloween Harvest Festival. And for a map to our farm, click here. For those looking for something more extreme, the Halloween Harvest Festival takes on a more sinister persona after dark as FrightFair Scream Park comes to life, featuring: both the "Factory of Nightmares" Haunted House, and our "Creatures of the Corn" Haunted Trail - Not for the easily startled! Payment: Cash, Visa/MasterCard, Discover. Nordman Christmas Trees also available. We offer delivery of your Christmas Tree. We offer custom flocking of your Christmas Tree. Click here for a link to our Facebook page.
---
And for traditional Halloween kid-friendly fun:
We have loads of related resources here, too.
On our Pick-your-own website, we also have pages with our own simple instructions on canning, freezing and drying many other fruits and vegetables, such as how to make jam, apple butter, applesauce, spaghetti sauce, salsa, pickles, ketchup or freezing corn (these links open new pages, just close them to return here). Be sure to come back at Christmas if you are looking for a cut-your-own Christmas tree farm! Look at the bottom of the page for links to resources on home canning, picking tips, recipes, etc..
I'm always looking for more to add and feedback about any patch, stand or farm you have visited, so write me using the Feedback form! And if you have a farm and want to add it or correct the information, please click on Add My Farm!
Do you know of any more pumpkin patches, corn mazes, or other special Halloween events? Please tell me about them - Click here to write to me!
---
---
Events and related links:
Looking for Haunted Houses in Florida? Here's a website that lists only haunted houses!
Revised: 21-Sep-2017
United States County Map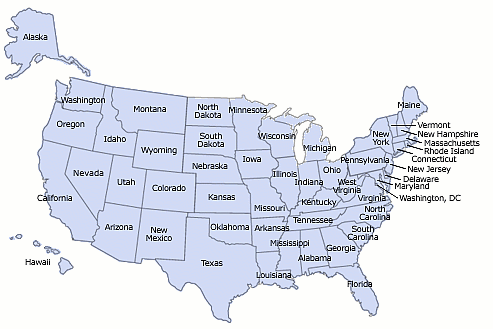 Our other free, informative sites you may like:
Questions, comments, corrections, suggestions or want to recommend a farm to add?
Or write me at



All images and text Copyright � Benivia, LLC 2004,-2014 All rights reserved. Disclaimer and Privacy Policy
Permission is given to link to any page on www.pickyourown.org Do NOT copy and republish this page in whole or part, that is a copyright violation which will be prosecuted: link to the page instead!