2016 Florida Zombie Paintball Locations!
Zombie paintball is appearing at more and more corn mazes, pumpkin patches and other Fall farm venues in Florida. Following on the popularity of anything having to do with zombies (remember how the Canadian government even had a zombie apocalypse preparedness day?) many Halloween attractions, particularly those on farms, are having a new event called "zombie paintball".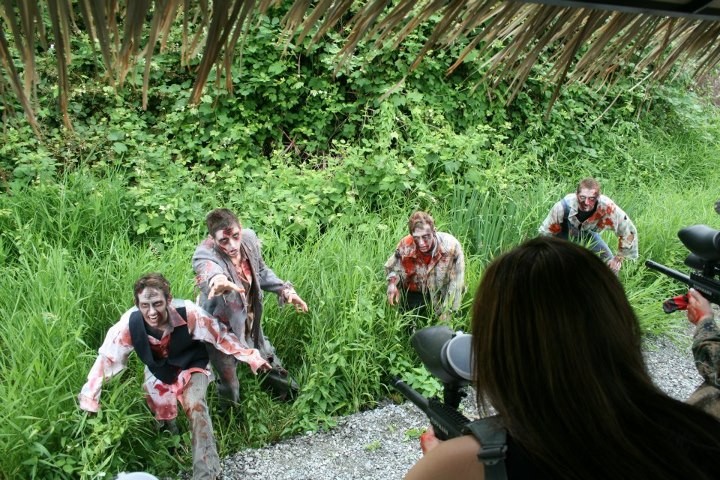 The concept is pretty simple: typically, patrons pay a fee to be given a loaded paintball gun which is mounted on either a haywagon (which drives through the zombie field) or on a ledge (like at a shooting range) and they fire away at zombies (actors dressed to look like zombies, whose clothes and masks protect them from injury).
So, just like in Shaun of the Dead, you get to fire away at zombies staggering around, trying to reach you and eat your brains!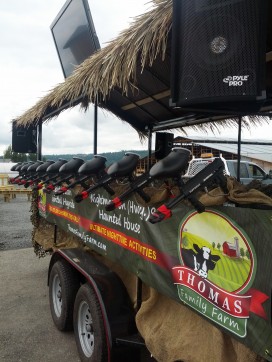 How to find a zombie paint ball venue?
We are continually updating and adding to our list of zombie paintball locations, farms and corn mazes that offer zombie paintball hayrides, zombie paintball trails, zombie lasertag, and indoor facilities, which is growing every day, right here, alphabetically, by county. If you know of any I've missed, please tell me about them - Click here to write to me! To see the zombie locations in this area, Just scroll down the page:
Alachua County
Newberry's Cornfield Maze - zombie paintball, haunted maze, haunted hayrides, haunted house, corn maze, hayrides, cow train, corn box, inflatables
20015 West Newberry Road, Newberry, FL 32669. Phone: 352-354-5118. Open: 5pm – 11pm Friday, 3pm – 11pm Saturday, 2pm – 5 pm Sunday; Opening Dates September 26th to October 25th. Maze- The Maze is not haunted during the daytime and is family Friendly, but when dusk falls the maze becomes haunted and that's when all of the ghouls and goblins come out to get you. Haunted House- Opens at dusk. Enter if you dare. As you turn each corner you never know what creepy creatures you're going to run into that are watching you. (To re-enter the haunted house go see the staff in the red building to purchase another ticket.) Hayride- Opens at dusk. Prepare yourself to encounter many ghouls and goblins throughout your haunted hayride. You won't see them coming and as it gets darker more creatures will come out throughout the night.
Kids Area- The kids area is for children 10 & under. It's always friendly and never has anything scary such as ghouls and goblins located inside. There are carnival like games for kids to play and win prizes. You will be provided tickets to play the games upon entry to get you started. ( If you would like more tickets please go see our staff at the red building.) There is also a corn box, bounce house, and cow train for the kids to do as well. GET YOUR TICKETS GET TICKETS NOW and AVOID WAITING IN LINE, (CASH ONLY AT THE GATES). 2014 prices: Adults $10, Children 10 and Under $8, Hayride- $5, Mechanical Bull- $5, Zombie Paintball- $5, For group prices please go to our contact page and give us a call or fill out the form for further details.

Charlotte County
Paintball Partyz - paintball
40200 Bermont Rd., Punta Gorda, Florida. Phone: 239-980-9850 Email:

[email protected]

. I don't see anything on their website this year about zombie paintball, so be sure to ask them.
Miami-Dade County
Adventure Attractions Zombie Adventure - zombie paintball
Action Town Florida Family Fun Center, 7965 West 2nd Ct, Hialeah FL 33014. Phone: 321-939-2464. Open: Check their website; usually show times are Friday and Saturday nights from 7p - 12a, but their website hasn't been updated since 2014. The adventure is on a first-come-first-serve basis; no reservations needed or taken. The 2013 Zombie Adventure was $54.95 + sales tax.
Osceola County
Adventure Attractions - zombie paintball
PO Box 470154, Celebration, FL 34747-0154Phone: 321-284-3838. Email:

[email protected]

. Zombie Adventure has you searching for Dr. Kline. Why? Because he has the antidote and you don't want to become a zombie, do you? At a certain point in the search, you'll find an armory where you will get a weapon (paintball marker). You will use that weapon to fight your way through zombie infested scenes. Zombie Adventure zombies are live actors (targets). You can survive but only if you shoot them in the head.
There are two parts to this show. In the beginning you'll have to make your way through several scary scenes on your way to the armory. When you get to the armory, you'll get a weapon and from that point it's a really bad day to be a zombie.
Polk County
CornFusion Crop Maze, ZombieFarm Paintball and Family Fall Festival - zombie paintball, pumpkins for sale in the shop or farmstand, pumpkin patch- already gathered from the field, Fall festival, cow train rides, corn maze, kiddie (mini) corn maze, straw or hay bale maze, corn cannon, we also have pie pumpkins, tractor-pulled hay rides, Jumping pillow, gift shop, porta-potties, picnic area, face painting, Jumping pillow, pony rides, weddings and wedding parties, school tours
13444 Moore Road, Lakeland, FL 33809. Phone: 863-859-6472. Alternate Phone: 863-559-1739. Fax: 863-859-9714. Email:

[email protected]

. Open: Fridays at 2:00 Saturdays at 9 am and Sunday at 12 pm close each day at 6 pm Zombie Farm Paintball Hayride 7 pm to 10 pm Friday and Saturday nights only. Directions: 10 miles from I-4. Click here for a map and directions. Payment: Cash, Debit cards, Visa/MasterCard, AmEx. Zombie Farm Paintball Hayride? It's a 20 minute hayride, in the dark, that takes you through Zombie Farm's infectious zones. There have been reports of the living dead lurking in the night, especially around swampy areas. We will supply you with a paintball gun for your protection against these creatures. Make sure you don't shoot all your paintballs in one spot, and hope you have good aim! Be very careful and use caution, or you may go home as a zombie... CAUTION! ENTER AT YOUR OWN RISK...ZOMBIES!!! Our Corn Maze this year is a Crop Maze made up of All Native Florida Plant Life.
A visitor writes on October 01, 2011: "This was their first year and also day. We had a great time. There was also a bouncing thing it was open and for all ages. TICKETS: $10 for adults, $8 for ages 5-10 and free for children younger than age 4. "
Zombicon and Zombie Walks
Lee County
Zombicon Ft. Myers - Zombicon, zombiewalk, no paintball
Hendry St & Edwards Dr, Fort Myers, FL 33901. Email:

[email protected]

. Open: Saturday October 17th, 2015 from 4:00pm – Midnight. Directions: The address above is just one near the activities, there are many entry points in downtown Ft. Myers. It's time to ready yourself, as Zombicon approaches yet again… Over 20,000 attendees will soon descend upon the historical streets of Downtown Fort Myers for SWFL's beloved zombie-themed art and music festival. The dead will once again rise. This year's theme: "Fallout: 1985" shrouds the streets in an 80's throwback, post-apocalyptic mix, with the best entertainment for our legion of deserving undead fans. 5 stages with over 30 live performances include bands, DJs, dance troups, ZombiQueens, fire dancers, aerialists and more! Expect an eclectic mix of street vendors with food and merchandise, including Zombicon Gear tents with official Zombicon 9 T-shirts and shwag! Remember, a portion of the purchase of official gear goes towards Pushing Daizies, Inc, Non-profit for the Arts. At each entrance, a $5 donation per person will be requested upon entry to help cover the ever-growing event costs, ensuring the future of Zombicon. Pushing Daizies events like Zombicon are all geared toward benefitting the local community through charitable giving (blood drives & canned food) and community support (childrens art programs & scholarships). There will be multiple access points to Zombicon which can be found in the enclosed area map. We will be collecting canned and non-perishable food donations at each entry location to benefit the Gladiolus Food Pantry and the hungry people of our community. If you are feeling extra giving and are super awesome, visit the Lee Memorial Blood Center bus by the Sidney & Berne Davis Art Center and donate life-saving blood and receive a free custom T-shirt! Sunstate Academy will also be at it again this year hosting Zombification Stations (makeup booths) with proceeds also going towards charitable efforts. The KidZone is back and will be located on First Street. As always, we recommend bringing children early and at your discretion. NEW THIS YEAR: A kid's costume contest for 12 and under! Register by 6:30. As night falls, the crowd will thicken and (of course) there will be zombies… lots of zombies! So please use your best judgement when bringing young ghouls and consider leaving by sundown. Featured this year at Zombicon 8 are over 30 live performances on five stages! The stages will showcase the eclectic blend of bands and DJs you have come to expect from Zombicon and this year we have some acts that will blow you away! Look forward to some returning fan favorites along with some freshly dead talent to include new bands and acts like magicians, fire dancers and acrobats! Footnote: There was a shooting at the 2015 event; which with all the sicko's in today's world can occur anywhere, any time, but here is the news story. One man died of a gunshot wound at the scene, police said, and five other people suffered non-life-threatening injuries.
---
Looking for Haunted houses and other scary venues?
If hunting zombies with a paintball gun or lasertag isn't your thing, but you like being scared look below for a haunted house (and if there are none on this page; recommend one!)
Miami-Dade County
House of Terror Amusement Park - Halloween themed amusement park
Miami International Mall, 1455 NW 107 Ave., Miami, FL. Phone: 305-263-1413. Email:

[email protected]

. Open: late September through, November 1st; Monday to Thursday from 6 pm to 12 Midnight and Friday to Sunday from 5 pm to 12 Midnight. Miami's only professionally produced haunted house and park attraction, ghouls and goblins will scream their way through a two-acre haunted house and enjoy amusement rides, carnival food, interactive games and more. In addition, the House of Horror concert stage will feature performances by the hottest acts in South Florida and local DJs who will spin the spookiest tracks, on select evenings. Admission: Pay one price, ride all night! Contact Miami International Mall at or House of Horror for more information. (UPDATED: October 13, 2011, JBS)
---
And for traditional Halloween kid-friendly fun:
We have loads of related resources here, too.
On our Pick-your-own website, we also have pages with our own simple instructions on canning, freezing and drying many other fruits and vegetables, such as how to make jam, apple butter, applesauce, spaghetti sauce, salsa, pickles, ketchup or freezing corn (these links open new pages, just close them to return here). Be sure to come back at Christmas if you are looking for a cut-your-own Christmas tree farm! Look at the bottom of the page for links to resources on home canning, picking tips, recipes, etc..
I'm always looking for more to add and feedback about any patch, stand or farm you have visited, so write me using the Feedback form! And if you have a farm and want to add it or correct the information, please click on Add My Farm!
Do you know of any more pumpkin patches, corn mazes, or other special Halloween events? Please tell me about them - Click here to write to me!
---
---
Events and related links:
Looking for Haunted Houses in Florida? Here's a website that lists only haunted houses!
Revised: 19-Sep-2017
Florida County Map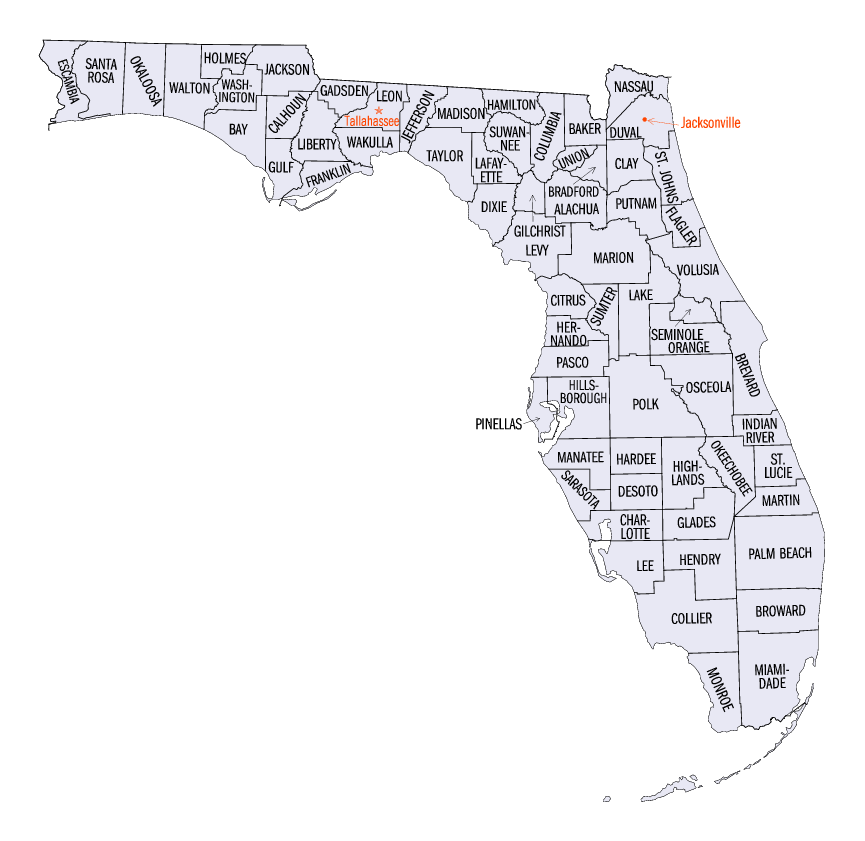 Our other free, informative sites you may like:
Questions, comments, corrections, suggestions or want to recommend a farm to add?
Or write me at



All images and text Copyright � Benivia, LLC 2004,-2014 All rights reserved. Disclaimer and Privacy Policy
Permission is given to link to any page on www.pickyourown.org Do NOT copy and republish this page in whole or part, that is a copyright violation which will be prosecuted: link to the page instead!