2016 Illinois Zombie Paintball Locations!
Zombie paintball is appearing at more and more corn mazes, pumpkin patches and other Fall farm venues in Illinois. Following on the popularity of anything having to do with zombies (remember how the Canadian government even had a zombie apocalypse preparedness day?) many Halloween attractions, particularly those on farms, are having a new event called "zombie paintball".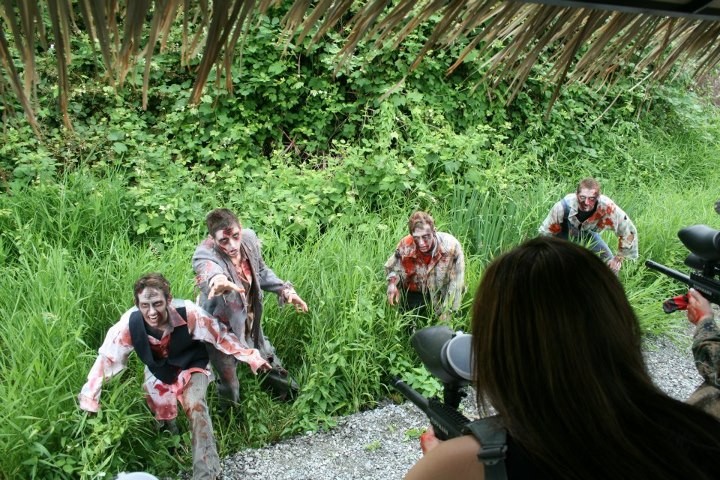 The concept is pretty simple: typically, patrons pay a fee to be given a loaded paintball gun which is mounted on either a haywagon (which drives through the zombie field) or on a ledge (like at a shooting range) and they fire away at zombies (actors dressed to look like zombies, whose clothes and masks protect them from injury).
So, just like in Shaun of the Dead, you get to fire away at zombies staggering around, trying to reach you and eat your brains!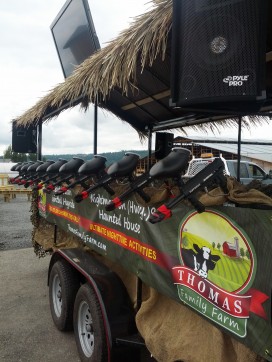 How to find a zombie paint ball venue?
We are continually updating and adding to our list of zombie paintball locations, farms and corn mazes that offer zombie paintball hayrides, zombie paintball trails, zombie lasertag, and indoor facilities, which is growing every day, right here, alphabetically, by county. If you know of any I've missed, please tell me about them - Click here to write to me! To see the zombie locations in this area, Just scroll down the page:
Cook County
Paintball Explosion - paintball
4866 Dempster St., Skokie, Illinois. Phone: (847) 426-2662. I don't see anything on their website about zombie paintball this year, so call to confirm!
Henry County
Zombie Quest Paintball - zombie paintball
Country Corner Farm Market, 5333 HWY 150, Alpha, IL. Phone: (309) 368-7901. Once you try Zombie Quest you have to go back. Imagine 1, 2, 3 zombies lurking in the corn, then more and more seeking the light of the battle wagon. They are looking for those which they can feast. Great family fun.....Hi I am Zombie Mike. I invite everyone to come out and challenge yourself to a walking dead experience! Click here for a link to our Facebook page.
Peoria County
Spider Hill at Three Sisters Park - zombie paintball, haunted house, haunted trail
17189 N. Rt. 29, Chillicothe, IL 61523. Phone: (309) 274-8837. Email:

[email protected]

. Open: every Friday and Saturday night in October, gates open at 6 pm for ticket sales and the scares start at 7 pm; Tickets are sold until 11 pm. 2014 Tickets are $10 each for house and trail, $15.00 for Paintball War Wagon per person.. Discounts available for all three and groups. The Zombie Adventure: In this adrenalin charge adventure, you are the Zombie Hunter from your perch atop our paintball war wagons. We need you to help hold off the Zombie Invasion. You need to show your skills and aim by killing the Zombies before they overthrow your position. On this adventure, you are perched behind a paintball gun mount on the war wagon. As it travels through the woods, you shoot the attacking Zombies, monsters and spooky targets with the "tracer" paintballs. Hopefully, your aim will save Spider Hill from the Zombie Invasion. We also have a Paintball Target Range, Face Painting, Bonfires (Weather permitting, a Bonfire burns nightly to enjoy the warmth and ward off the Spooks that lurk about. Free entertainment and frightening displays occurs throughout the month around the fire and in the Boo Barn.), Free Entertainment: Every night there will be free entertainment such as drum lines, dancers, fire jugglers, and roaming monsters. Come often to see all that we have to offer and Massacre Mansion: "Within the confines of the Massacre Mansion you will experience dread such as you have never known. Around every corner lurk evil creatures whose only wish is to make you part of the scenery for the next group to enjoy..." The layout and encompasses over 8000 square feet of frightful occurrences . The Mansion has recently been redesigned to take you to the next level of horror and is assured to frighten all!! Plus The Trail of Terror: "Even the bravest of souls tremble when walking along the Trail of Terror. This path ambles along through a haunted forest filled with ghosts and ghouls so frighteningly twisted that even seemingly innocent images such as a circus can be made to send shivers down your back..." The Trail of Terror has been completely revamped and is a long and winding walk through the eerily black timbers of Three Sisters Park. Guide ropes that mark the trail keep you on the twisting path and the terrifying scenes include the all-time favorite haunted circus of terror and the cemetery from beyond.
St. Clair County
Haunted Paintball Park - zombie paintball, zombie paintball hayride
Xtreme Paintball Park, 3545 Douglas Rd., Millstadt, IL 62260. Phone: (314) 452-8990. Alternate phone: (618) 476-9273. Email:

[email protected]

. Open: every Friday and Saturday in October, (excluding Halloween night) 7PM-10PM. The Haunted Paintball Park at Xtreme Paintball Park is St. Louis's ORIGINAL haunted paintball hayride! When your number is up, you will join 20-30 other victims as you grab a paintball gun and jump on the Haunted Paintball Hayride. This is the moment you've been waiting for... been training for; now is the time to defend yourself against LIVE (dead?) zombies, ghouls, and various other dreadful monsters (without retaliation!) Once the ride is over, you still must make it down the Haunted Trail, where you will encounter all the creatures you thought existed only in your nightmares. IN ADDITION to our Haunted Hayride and Trail, new for 2014 (to celebrate our FIFTH year) is our walk-through zombie hunt! This will put you closer to the action, with our new pump action paintball shotguns! This is on our brand new army themed field, and is located in the staging area, with bleachers set up so your friends can cheer you on! All Participants in any Haunted Paintball Park activity must have a signed waiver to participate. If the Participant is younger than 18 years old, this waiver MUST be signed by the Parent/Guardian ONLY
Tazewell County
Pekin Haunt - zombie paintball, corn maze
14444 Towerline Rd, Pekin, IL 61554. Phone: 309-346-7000. Email:

[email protected]

. If you like haunted houses, getting scared, corn mazes or shooting things THEN YOU WILL LOVE THIS!!! We bring you, Central Illinois, something you have NEVER SEEN BEFORE!!!! A real life Zombie shoot!!! RIDE ON OUR 2 STORY BATTLEWAGON through the Undead and Zombie infested territory (these will be real-live Zombies not just fake targets). *Battlewagon recommended ages 5 and up. *Corn maze is recommended 13 and up.
Will County
I haven't found many Zombie paintball or zombie hunts in this state YET - I am still looking! If you know of any, please tell me about them - Click here to write to me!
---
Looking for Haunted houses and other scary venues?
If hunting zombies with a paintball gun or lasertag isn't your thing, but you like being scared look below for a haunted house (and if there are none on this page; recommend one!)
No haunted houses recommended yet!
---
And for traditional Halloween kid-friendly fun:
We have loads of related resources here, too.
On our Pick-your-own website, we also have pages with our own simple instructions on canning, freezing and drying many other fruits and vegetables, such as how to make jam, apple butter, applesauce, spaghetti sauce, salsa, pickles, ketchup or freezing corn (these links open new pages, just close them to return here). Be sure to come back at Christmas if you are looking for a cut-your-own Christmas tree farm! Look at the bottom of the page for links to resources on home canning, picking tips, recipes, etc..
I'm always looking for more to add and feedback about any patch, stand or farm you have visited, so write me using the Feedback form! And if you have a farm and want to add it or correct the information, please click on Add My Farm!
Do you know of any more pumpkin patches, corn mazes, or other special Halloween events? Please tell me about them - Click here to write to me!
---
---
Events and related links:
Looking for Haunted Houses in Florida? Here's a website that lists only haunted houses!
Revised: 21-Sep-2017
Illinois County Map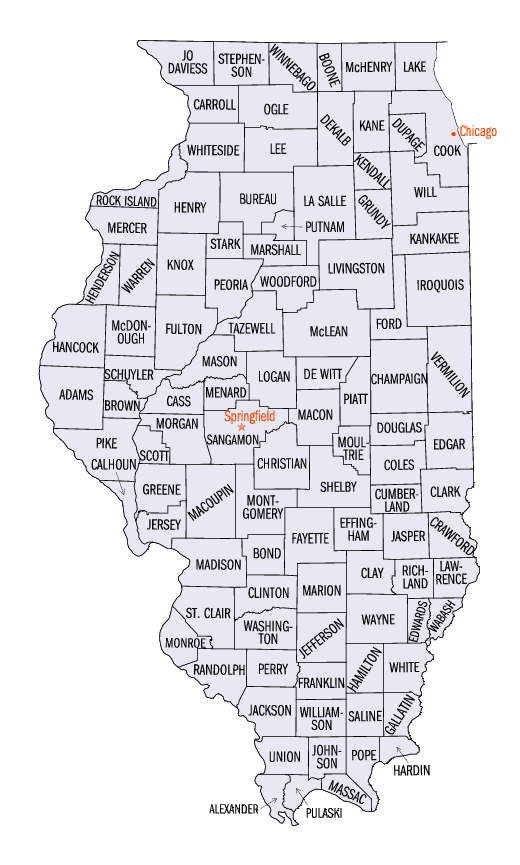 Our other free, informative sites you may like:
Questions, comments, corrections, suggestions or want to recommend a farm to add?
Or write me at



All images and text Copyright � Benivia, LLC 2004,-2014 All rights reserved. Disclaimer and Privacy Policy
Permission is given to link to any page on www.pickyourown.org Do NOT copy and republish this page in whole or part, that is a copyright violation which will be prosecuted: link to the page instead!