2016 Louisiana Zombie Paintball Locations!
Zombie paintball is appearing at more and more corn mazes, pumpkin patches and other Fall farm venues in Louisiana. Following on the popularity of anything having to do with zombies (remember how the Canadian government even had a zombie apocalypse preparedness day?) many Halloween attractions, particularly those on farms, are having a new event called "zombie paintball".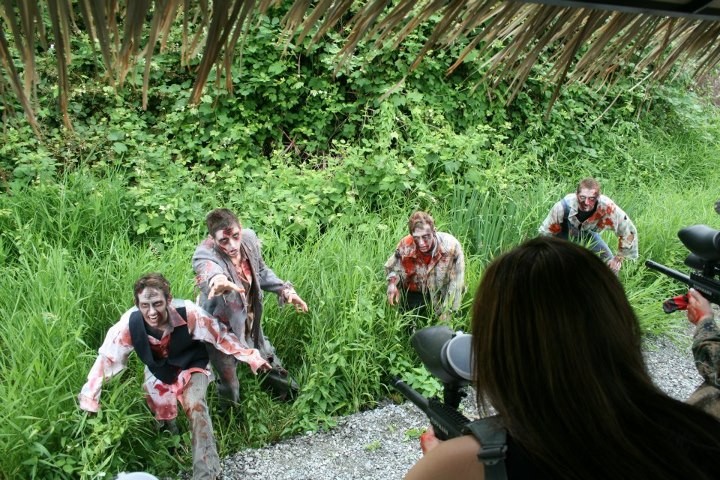 The concept is pretty simple: typically, patrons pay a fee to be given a loaded paintball gun which is mounted on either a haywagon (which drives through the zombie field) or on a ledge (like at a shooting range) and they fire away at zombies (actors dressed to look like zombies, whose clothes and masks protect them from injury).
So, just like in Shaun of the Dead, you get to fire away at zombies staggering around, trying to reach you and eat your brains!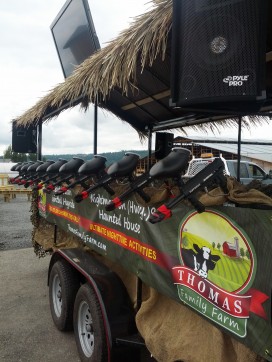 How to find a zombie paint ball venue?
We are continually updating and adding to our list of zombie paintball locations, farms and corn mazes that offer zombie paintball hayrides, zombie paintball trails, zombie lasertag, and indoor facilities, which is growing every day, right here, alphabetically, by county. If you know of any I've missed, please tell me about them - Click here to write to me! To see the zombie locations in this area, Just scroll down the page:
Evangeline Parish
Gobble Gully Paintball - zombie paintball, zombie paintball hayride, haunted trail
14321 Veteran Memorial Hwy, Turkey Creek, La 70585. Email:

[email protected]

. Phone: 337-461-2285. Open: Oct 3, 4, 10, 11, 17, 18, 24, 25, *31: Sat: 8:30 am - 5:30 pm; Sun: 1:30 pm - 5:30 pm; Mon - Friday from For groups of at least 6 players with a reservation - must be made at least 1 day in advance. ZOMBIE PAINTBALL HAYRIDE - YOU SHOOT LIVE ZOMBIES! That's Right, this is your chance to "open fire" and protect our town. Have you ever wanted to play paintball but didn't like the idea of getting shot or getting dirty? We have found the solution. The zombies have the rage but ONLY you have the weapons! Gobble Gully has quarantined a horde of infected zombies. They are growing stronger and are planning their evacuation routes to attack our town. Their intent is surviving and creating more of their kind. They have no emotional core and no conscience but we must put limits to their schemes. Our game plan is to go in and get them before they get us! Our specialized fabricated hayride trailers allow 20 people per ride to join our cause to eliminate these creatures that have an insatiable hunger for human flesh. Humanity is counting on you. Shoot fast, shoot true, and shoot to kill. Do not hesitate or you could become one of them! Zombie vs You Paintball Game – AN ON-FOOT EXTREME EXPERIENCE - Smell the rotting flesh and feel their breath as you scramble through zombie town on foot hunting the undead and fighting to stay alive! The Zombie Walk thru Paintball Game pits you against the live dead zombies. As you make your way through the zombie infested field, you will come face to face with zombies who want one thing: you. You will be fully geared up to shoot at these zombies. Please keep in mind the zombies on this field will be armed with paintball guns! Haunted Field Walk thru: This is a trilling heart-pumping walk thru only of our haunted fields, no one is armed. You better put on your big boy and big girl pants, cause this ain't no McDonalds Playland. *On Oct 31st, we open one hour early for Kids Trick-or-Treat Hour. From 6:00pm-7:00pm

Tangipahoa Parish
RISE Haunted House - zombie paintball, haunted house
10342 Hwy 442, Hammond, Louisiana. Email:

[email protected]

. Phone: 985-277-9666. Open: September to November: Friday, October 10th 7pm to Midnight, Saturday, October 11th 7pm to Midnight, Friday, October 17th 7pm to Midnight, Saturday, October 18th 7pm to Midnight, Thursday, October 23th 7pm to 10:00pm, Friday, October 24th 7pm to Midnight, Saturday, October 25th 7pm to Midnight, Thursday, October 30st 7pm to 10:30pm, Friday, October 31st 7pm to Midnight, November 2014: Saturday, November 1st 7pm to Midnight, Sunday, November 2nd 7pm to 10:00pm **** Lights Out Night ****, *** No lights. You, your group and a small flashlight. RISE: Dark Souls Unleashed is a walk-through "Dark Attraction" located near Hammond, Louisiana. Our Haunted House features hordes of UNDEAD, an endless terror-filled labyrinth, and countless nerve-wracking spine tingling scares...an unforgettable haunted house experience. RISE: Operation Deadly Assault arms you with the latest in Zombie destruction weaponry as you travel on our custom designed troop carrier through the Zombie Infested back-woods and swamps of Louisiana extinguishing the hordes of Undead that escaped from the main complex.. Fear reigns in Hammond Haunted House, Louisiana's newest Dark Attraction is just minutes from Downtown Hammond, 45 Minutes from Baton Rouge and 40 minutes from the New Orleans Metro area. Our Haunted House features a 10,000 sq ft abandoned bread & breakfast and secret research lab and an 8,000 sq ft New Orleans style cemetery.
I haven't found many Zombie paintball or zombie hunts in this state YET - I am still looking! If you know of any, please tell me about them - Click here to write to me!
---
Looking for Haunted houses and other scary venues?
If hunting zombies with a paintball gun or lasertag isn't your thing, but you like being scared look below for a haunted house (and if there are none on this page; recommend one!)
No haunted houses recommended yet!
---
And for traditional Halloween kid-friendly fun:
We have loads of related resources here, too.
On our Pick-your-own website, we also have pages with our own simple instructions on canning, freezing and drying many other fruits and vegetables, such as how to make jam, apple butter, applesauce, spaghetti sauce, salsa, pickles, ketchup or freezing corn (these links open new pages, just close them to return here). Be sure to come back at Christmas if you are looking for a cut-your-own Christmas tree farm! Look at the bottom of the page for links to resources on home canning, picking tips, recipes, etc..
I'm always looking for more to add and feedback about any patch, stand or farm you have visited, so write me using the Feedback form! And if you have a farm and want to add it or correct the information, please click on Add My Farm!
Do you know of any more pumpkin patches, corn mazes, or other special Halloween events? Please tell me about them - Click here to write to me!
---
---
Events and related links:
Looking for Haunted Houses in Florida? Here's a website that lists only haunted houses!
Revised:
Warning: filemtime(): stat failed for ZombiePaintballLouisiana.php in /home/pumpkinp/public_html/ZombiePaintballLouisana.php on line 250
1-Jan-1970
Louisiana County Map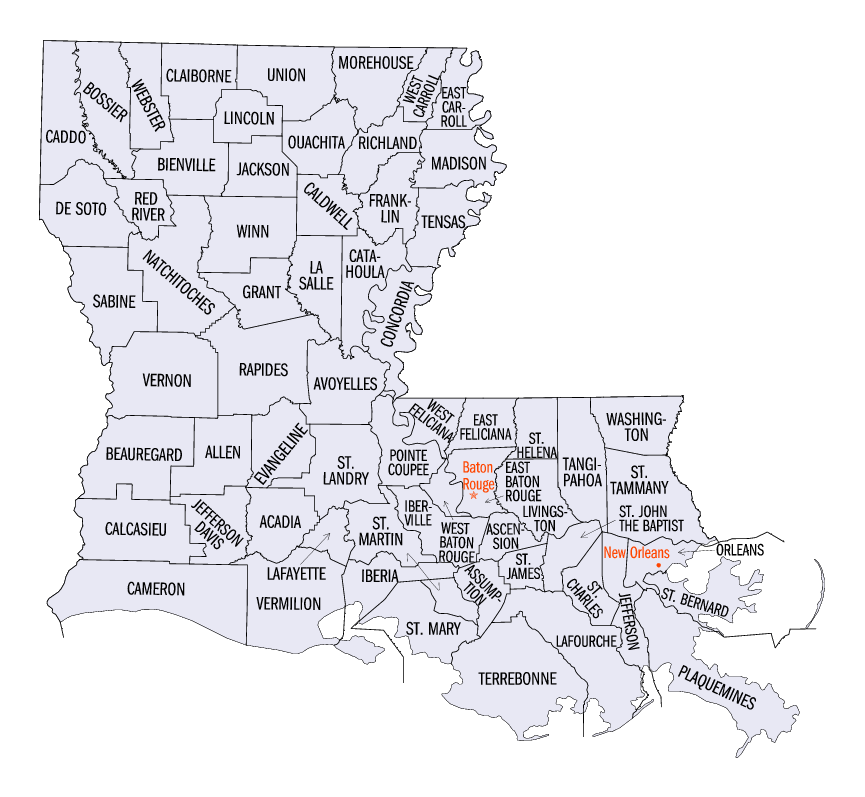 Our other free, informative sites you may like:
Questions, comments, corrections, suggestions or want to recommend a farm to add?
Or write me at



All images and text Copyright � Benivia, LLC 2004,-2014 All rights reserved. Disclaimer and Privacy Policy
Permission is given to link to any page on www.pickyourown.org Do NOT copy and republish this page in whole or part, that is a copyright violation which will be prosecuted: link to the page instead!