2016 Massachusetts Zombie Paintball Locations!
Zombie paintball is appearing at more and more corn mazes, pumpkin patches and other Fall farm venues in Massachusetts. Following on the popularity of anything having to do with zombies (remember how the Canadian government even had a zombie apocalypse preparedness day?) many Halloween attractions, particularly those on farms, are having a new event called "zombie paintball".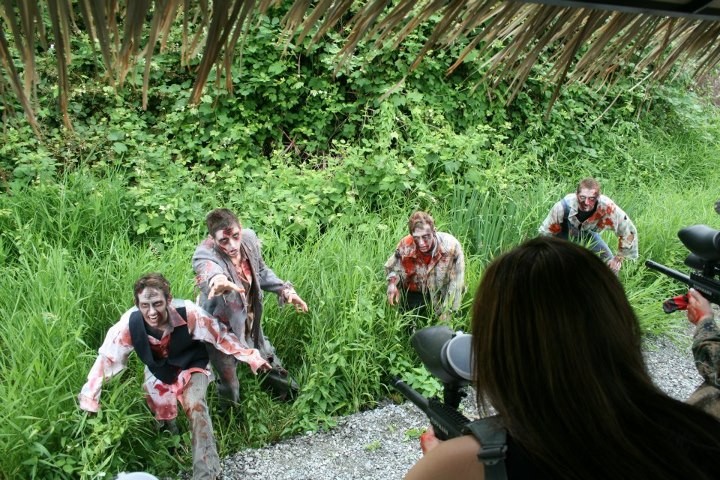 The concept is pretty simple: typically, patrons pay a fee to be given a loaded paintball gun which is mounted on either a haywagon (which drives through the zombie field) or on a ledge (like at a shooting range) and they fire away at zombies (actors dressed to look like zombies, whose clothes and masks protect them from injury).
So, just like in Shaun of the Dead, you get to fire away at zombies staggering around, trying to reach you and eat your brains!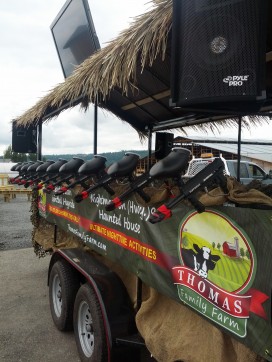 How to find a zombie paint ball venue?
We are continually updating and adding to our list of zombie paintball locations, farms and corn mazes that offer zombie paintball hayrides, zombie paintball trails, zombie lasertag, and indoor facilities, which is growing every day, right here, alphabetically, by county. If you know of any I've missed, please tell me about them - Click here to write to me! To see the zombie locations in this area, Just scroll down the page:
Essex County
Connors Farm Corn Maze - zombie paintball, corn maze, haunted corn maze, straw or hay bale maze, zombie paintball, child-sized haybale maze, tractor-pulled hay rides, produce for sale, parking provide free, snacks and refreshment stand, restrooms, picnic area, petting zoo
30 Valley Road (rte. 35), Danvers, MA 01923. Phone: (978) 777-1245. Email:

[email protected]

. Directions: Rte 1 North to North Street Danvers (Just before the gas stations), Take a right onto North Street Follow it to the end and take a left. We are 1 mile down on the left. Rte 95 North to exit 50. Bear right after leaving the off ramp to Topsfield. At the set of lights before the gas stations take a right. This is North Street Follow it to the end then take a left. We are 1 mile down on the left. Rte 128 to exit 23N. This is Rte. 35 North. Follow it for 5 miles and we are on the left. And for a map to our farm, click here. Crops are usually available in September, October. Open: September 13 pm to October 31 Saturday and Sunday, 9am to 6pm (Saturday in October 9am to 10pm) Groups and Field Trips by Appointment Columbus Day (Mon October 13): 9am to 6pm Singles Night (Friday October 10): 6 to 10pm Halloween Night (Haunted): Dark - 10:00pm Daytime: $8 Nighttime: $10 Discounts for seniors and children (and groups) Halloween: $15. Click here for current open hours, days and dates. Payment: Cash, Visa/MasterCard. Come Get Lost in Our 7 Acre Corn Maze! Fun for the whole family! We will provide passports - question sheets with answers coded to the correct turns to take within the maze. Have you been to Connors Farm at night? People are loving it! Come see what all the fuzz is about. Zombie Safari Paintball, Haunted Cornfield and Woods of Horror and our Flashlight Maze is now open weekend nights and Sunday night October 13th. Come ride the bull, have some barbeque, listen to our great DJ or sit by a campfire down by the pond. We are also open Halloween night!
Zombie wars at BattlegroundZ - Laser Tag, BGZ Arcade, Paintball, Airsoft, Dart Wars, Shooting Galley, and the BattlegroundZ Retail Store
466 Washington Street, Attleboro, MA 02703. Phone: 508-399-7700. Email:

[email protected]

. Open: Friday and Saturday from 9 p.m. to midnight, Sunday from 6 to 9 p.m; October 10-12, 17-19, 24-31, Nov. 1 and 2. Limited Spots are available for the Zombie Hunt. Please call (508)399-7700 to reserve your spot. BattlegroundZ offers a variety of activities for people from 1 to 100. We are open 7 days a week for your fun and enjoyment. They offer Airsoft – Airsoft is a tactical military-simulation game similar in many respects to Paintball. Players use highly realistic-looking replica models of real firearms (rifles and handguns) to shoot a plastic BB at each other. When hit, a player calls themselves out, and follows the rules of the game. In this way, the game is dependent on the honor system. The field speed limits with a .25 gram bb is 350 FPS (238 MPH). BB's can leave marks and welts on the skin when hit. Ages 10+ with signed waiver. Paintball – Indoor paintball at BattlegroundZ.net is a high action team sport consisting of players shooting reusable silicone "PAINTBALLS" at each other while trying to obtain an objective. When a player is hit with a "PAINTBALL" on his body, or equipment, he/she is out. Most games at BattlegroundZ.net use respawn rules so re-entry time is immediate after a few seconds at the respawn point. The balls are traveling at a speed of 250 FPS (170 MPH) which in close quarters combat may bruise and leave welts on the body. Ages 10+ with signed waiver.
Lazer Wars – The game of laser tag begins in a 5000 square foot playing arena, split into two large rooms that are illuminated with black light. Glow-in-the-dark Lexan partitions are spread throughout the arena for players to take cover behind. To begin, players are shown a three minute instructional video. After any questions are answered, players put on their state-of-the-art, fiber optic illuminated vests, with attached phaser. The phaser gives voice commands/prompts throughout the game. Players aim at illuminated targets on the opponents' vests', and shoots the phaser's laser light beam to score points. The laser light has no feeling to the opponent, but when hit, the vest will vibrate and then be inoperable for 5 seconds. The playing area is interactive. The play area has home bases that will shoot a laser beam at you & deduct points. The object is to score the highest points. Typically, when playing in large groups, your group will play three rounds of laser tag, the first round of laser tag as a free for all. Then, two teams will be formed, and the next two games will be played team vs. team. Score cards are presented immediately after the game to the players & shows score/# of times hit/who hit you/rankings. Ages 5+.
Shooting Gallery – Participants choose from our selection of Airsoft guns to shoot plastic BB's at targets and objects from one of the seven lanes. Typically participants are given 100 BB's to shoot in a 5 minute time frame. Personal paper targets are available to hang from individual's shooting lane. Ages 5+ with signed waiver…
Arcade – Enjoy the fun of anything from Old Fashion Skee Ball, to Dance Dance Revolution, to pinball, driving games, shooting games, and games of chance where you can win tickets to redeem for great prizes. Fun for all ages…
Dart Wars – Games are played in our black light arena using our 6 shooter dart guns. Players are broken into teams and given an objective to complete with unlimited darts to use in a specific amount of time. These games are fast paced, adrenaline rushing challenges. Ages 5+ with signed waiver.
Franklin County
Mike's Maze Zombie Night Patrol - Zombie Paintball hayride, corn maze, Corn mazes (not haunted), Hayrides (not haunted), Pumpkin patch, Pumpkins, restrooms, concession stand (drinks, snacks and/or food), picnic area, birthday parties, group tours.
25 South Maine Street, Sunderland, MA, 01375. Phone: 413-665-8331. Email:

[email protected]

. Open: Friday and Saturday nights from 7 to 11pm until Saturday, November 1st. Click here for current dates and hours. Directions: See their website. Click here for a link to our Facebook page. As a member Zombie Night Patrol you are responsible for protecting Warnerville from zombie attacks! You board our armored wagon, equipped with mounted paintball guns, and attack the zombies as they approach. You stay on the wagon, with your teammates and Captain, for the entire trip and are not permitted to get off the wagon during the ride. You do not get shot during Zombie Night Patrol! The zombies do not have paintball guns and cannot shoot back. In 2014, it costs $20 per person. You can also get entry into both Zombie Night Patrol and our nighttime maze, The Midnight Raven, for $25. All kids under age 10 should be accompanied by a parent. The ride and the spooky exit from Warnerville last about 15 minutes. Our paintball guns are easy to use and require no prior experience with paintball. You do not need to bring any equipment. In fact we don't allow any paintball gear, guns, or ammo onto the wagon and we will not permit you to board the wagon if you bring your own equipment. We provide the paintball guns and paintballs. The only things you need to bring aboard the wagon are warm clothes and your bravery to protect Warnerville from zombie attacks! Groups of 15 can reserve a wagon for the night. Please call to make a reservation.
A visitor writes on October 14, 2014: "Found them on your site and had a great time there! Their maze is beautiful and the potato launcher was a ton of fun too."
A visitor writes: "This is a great corn maze! There is always a game involved when in the maze, fun for the whole family. Pumpkins are given as a prize for completing the game and can also be purchased. There is also a potato gun that can be shot and a small snack bar.. "
Worcester County
Davis Farmland and Mega Maze - corn maze, PYO apples and pumpkins, Zombie laser tag, children's playground and sprayground, more
145 Redstone Hill, Sterling, Massachusetts 01564. Phone: 978-422 8888. Alternate phone: 978-422-6666. Email:

[email protected]

. Open 1st August - 31st October
. Huge corn maze with bridges, very child-friendly with lots of activities.Davis Mega Maze Zombies OPENS in August!
Davis Mega Maze is the #1 Corn Field Maze in the World (CNN)
Extreme Mazing Zombified! All New Davis X-treme Outdoor Laser Tag Opening in August! Davis X-treme Outdoor Laser Tag hour and admission are separate from Davis Mega Maze. U-Pick Apples & Pumpkins (Opens Saturday, September 14th)
A visitor writes on October 05, 2009: "I had an awesome time! The apples I picked were courtland (I love them!!) but they also had 2 other types. They are open Thu-Sunday until Oct 18th then just weekends until Nov 1st.. Farmland is a petting zoo also, but you must have a child 12 or younger. The corn maze is across the street and all ages are allowed. "
I haven't found many Zombie paintball or zombie hunts in this state YET - I am still looking! If you know of any, please tell me about them - Click here to write to me!
---
Looking for Haunted houses and other scary venues?
If hunting zombies with a paintball gun or lasertag isn't your thing, but you like being scared look below for a haunted house (and if there are none on this page; recommend one!)
No haunted houses recommended yet!
---
And for traditional Halloween kid-friendly fun:
We have loads of related resources here, too.
On our Pick-your-own website, we also have pages with our own simple instructions on canning, freezing and drying many other fruits and vegetables, such as how to make jam, apple butter, applesauce, spaghetti sauce, salsa, pickles, ketchup or freezing corn (these links open new pages, just close them to return here). Be sure to come back at Christmas if you are looking for a cut-your-own Christmas tree farm! Look at the bottom of the page for links to resources on home canning, picking tips, recipes, etc..
I'm always looking for more to add and feedback about any patch, stand or farm you have visited, so write me using the Feedback form! And if you have a farm and want to add it or correct the information, please click on Add My Farm!
Do you know of any more pumpkin patches, corn mazes, or other special Halloween events? Please tell me about them - Click here to write to me!
---
---
Events and related links:
Looking for Haunted Houses in Florida? Here's a website that lists only haunted houses!
Revised: 21-Sep-2017
Massachusetts County Map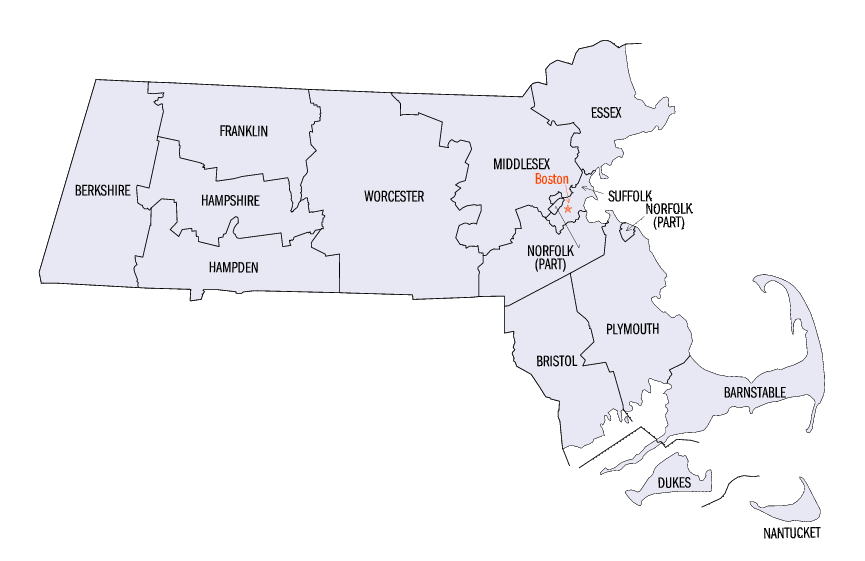 Our other free, informative sites you may like:
Questions, comments, corrections, suggestions or want to recommend a farm to add?
Or write me at



All images and text Copyright � Benivia, LLC 2004,-2014 All rights reserved. Disclaimer and Privacy Policy
Permission is given to link to any page on www.pickyourown.org Do NOT copy and republish this page in whole or part, that is a copyright violation which will be prosecuted: link to the page instead!