2016 Michigan Zombie Paintball Locations!
Zombie paintball is appearing at more and more corn mazes, pumpkin patches and other Fall farm venues in Michigan. Following on the popularity of anything having to do with zombies (remember how the Canadian government even had a zombie apocalypse preparedness day?) many Halloween attractions, particularly those on farms, are having a new event called "zombie paintball".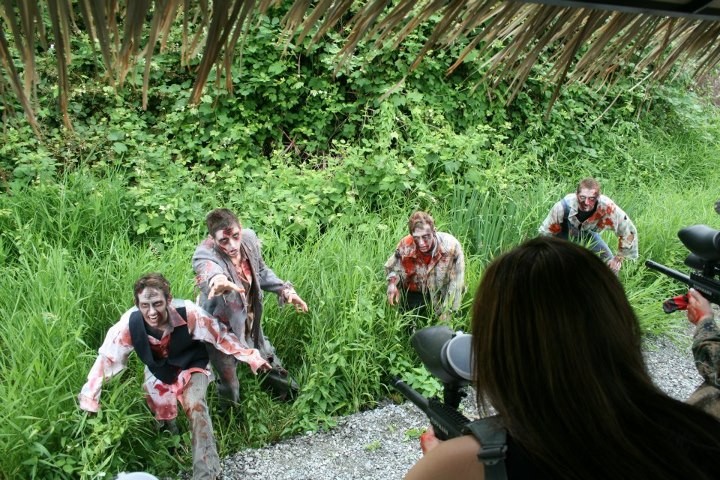 The concept is pretty simple: typically, patrons pay a fee to be given a loaded paintball gun which is mounted on either a haywagon (which drives through the zombie field) or on a ledge (like at a shooting range) and they fire away at zombies (actors dressed to look like zombies, whose clothes and masks protect them from injury).
So, just like in Shaun of the Dead, you get to fire away at zombies staggering around, trying to reach you and eat your brains!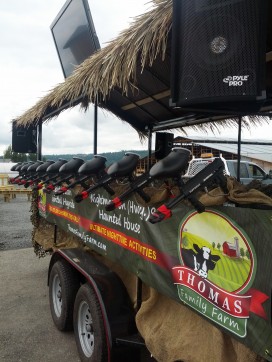 How to find a zombie paint ball venue?
We are continually updating and adding to our list of zombie paintball locations, farms and corn mazes that offer zombie paintball hayrides, zombie paintball trails, zombie lasertag, and indoor facilities, which is growing every day, right here, alphabetically, by county. If you know of any I've missed, please tell me about them - Click here to write to me! To see the zombie locations in this area, Just scroll down the page:
Calhoun County
Fear The Farm – Zombie Paintball Hunt
20309 Capital Ave. N.E., Battle Creek, MI. Phone: 269-425-5058. Open: Every Weekend - thru November 1 - 2014 from 6pm-Midnight. : Fear the Farm is one of the nations largest Zombie Paintball hunt covering over 1 mile of Zombie infested forest and cornfields. You ride on real Army trucks, tricked out with paintball guns and blacklights as you try to eradicate the Zombie infestation before they can escape the containment of the Farm! – It consists of Zombie animatronics & real life Zombies! Payment: No credit cards accepted / Cash Only.
Genesee County
Porters Orchard – corn maze, zombie paintball, pumpkins, apples, hayrides, farm animals
12060 Hegel Rd. Goodrich, MI 48438. Phone: 810636-7156. Email:

[email protected]

. Open: Aug-Dec, Monday to Saturday 9am-6pm, Sun noon to 6pm. Directions: 1-1/2 miles E of M-15 on Hegel Rd. in Goodrich, which is 7 miles S of I-69. We are a family owned Orchard and Farm Market. We press our own cider, bake our own donuts, and make fresh caramel apples. We offer hayrides to the U-pick apples and pumpkins. We have a petting farm and inflatable rides on weekends in Sep and October. Corn Maze, Bakery, Special Events, School Field Trips, Groups/Parties, Paintball at the Orchard, Zombie Paintball available during October! Our farm is fun-filled and full of action in the Fall. We have our Cornfield Maze for you to get lost in, and a Very Sincere Pumpkin Patch to for pickin'! Take a hayride around the farm. Visit our petting farm and see what — 'er who — is new! Come back later in the summer to see what else we'll be offering this Fall.
Hillsdale County
DarkSyde Acres - zombie paintball, haunted house, hayrides, maze
11375 Rowe Road, Jonesville, MI 49250. Phone: 517-549-5100. Open: weekends in September thru October, check website for Dates and times. Directions: See their website for directions. Payment: . DarkSyde Acres Haunted House is 70,000 square feet of indoor in your face terror, at nearly a mile long DarkSyde Acres is one of the largest Haunted houses in the midwest. 3 haunted houses 1 low price. plus ZOMBIE Paintball! Plus Concessions and a gift shop...And a Family Friendly HAYRIDE and outdoor Maze.
Macomb County
Blake Orchard & Cider Mill - zombie paintball, haunted barn, hayrides, corn mazes, Train ride tours, apples, peaches, strawberries, raspberries, plums, u-cut Christmas trees
71485 North Ave, Armada, MI 48005. Phone: 586-784-5343. Email:

[email protected]

. Train ride tours, watch cider being pressed, farm animals, u-pick apples, peaches, strawberries, raspberries, plums, haunted barn, hayrides, mazes, food, u-cut Christmas trees, Viewing funland area with animals and animated storybook barn, 3 story haunted barn, and haunted hayride in October Open June thru December, 9 am-6 pm, Also, weekends in October, 6-11 pm. Directions: Take M-53 N to 32 Mile Rd. Go E 2 miles to Romeo Plank Rd. Go N 3 miles to Armada Center Road, E 1 mile.
Haunted Farm of Terror - Haunted Hayride & Haunted House. Live Zombie Shoot & Merchandise. Concessions & Beverages.
28405 26 Mile Road, Lenox Township, Macomb County, MI. Phone: 586-203-7222. Email:

[email protected]

. Watch horror movies on either of the 30ft big screens around multiple bon fires or seek shelter from the zombies in our Road Kill Cafe, where you may enjoy our world famous taco in a bag, pizza, hotdogs, nachos, hot and cold apple cider, doughnuts, candy apples, and all of your favorite Halloween treats. Take a shot at the living dead at the LIVE ZOMBIE shoot! The zombie shoot is a 60 yard, four-mounted-gun range separate of the haunted house or hay ride. Shoot at a live zombie that is running around down range, taunting your every miss and growing weaker with every hit. We also have targets on the range that, if hit, grant the shooter cool prizes such as mugs, coozeys, tshirts, and more. Guns and paint balls are provided by HFT. The range opens at 7pm and may end at any time between 12 and 1am, which is when our gates close. But, most importantly, say your prayers as you prepare to face your fears. Our Haunted Hayride is to die for, voted #1 most intense in Michigan! If you make it though this wild ride, you'll never be the same! This year our Haunted House and Corn maze is bigger than ever. We have raised the bar for all haunted attractions with all new scenes, characters, and effects.
Looking for Haunted houses and other scary venues?
If hunting zombies with a paintball gun or lasertag isn't your thing, but you like being scared look below for a haunted house (and if there are none on this page; recommend one!)
Oakland County
Erebus Haunted Attraction - haunted house
18 South Perry St. Pontiac, MI 48342. Phone: (248) 332-7884. Email:

[email protected]

. We've been voted one of the top haunts in the nation by numerous sources, received many awards and have been featured on the Travel Channel, Discovery Channel and other television networks. Everybody has a different FEAR threshold and we do our best to accommodate everybody. You will laugh, scream, giggle and tremble with or at your friends, but most importantly, you will have a great time bonding with your family and friends as you hold onto each other for dear life! Click here for a link to our Facebook page.
Berrien County
Niles Haunted House - lots of haunted stuff, included a maze, but I don't see zombie paintball here
855 Mayflower Road, Niles, Michigan 49120. Phone: (269) 445-9184.
---
And for traditional Halloween kid-friendly fun:
We have loads of related resources here, too.
On our Pick-your-own website, we also have pages with our own simple instructions on canning, freezing and drying many other fruits and vegetables, such as how to make jam, apple butter, applesauce, spaghetti sauce, salsa, pickles, ketchup or freezing corn (these links open new pages, just close them to return here). Be sure to come back at Christmas if you are looking for a cut-your-own Christmas tree farm! Look at the bottom of the page for links to resources on home canning, picking tips, recipes, etc..
I'm always looking for more to add and feedback about any patch, stand or farm you have visited, so write me using the Feedback form! And if you have a farm and want to add it or correct the information, please click on Add My Farm!
Do you know of any more pumpkin patches, corn mazes, or other special Halloween events? Please tell me about them - Click here to write to me!
---
---
Events and related links:
Looking for Haunted Houses in Florida? Here's a website that lists only haunted houses!
Revised: 21-Sep-2017
Michigan County Map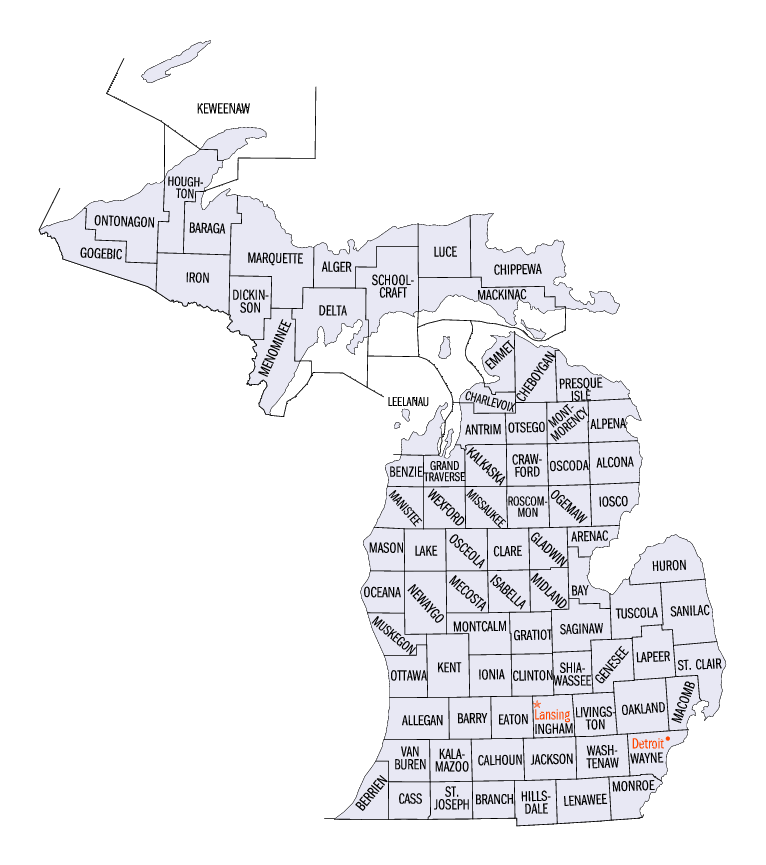 Our other free, informative sites you may like:
Questions, comments, corrections, suggestions or want to recommend a farm to add?
Or write me at



All images and text Copyright � Benivia, LLC 2004,-2014 All rights reserved. Disclaimer and Privacy Policy
Permission is given to link to any page on www.pickyourown.org Do NOT copy and republish this page in whole or part, that is a copyright violation which will be prosecuted: link to the page instead!