2016 Minnesota Zombie Paintball Locations!
Zombie paintball is appearing at more and more corn mazes, pumpkin patches and other Fall farm venues in Minnesota. Following on the popularity of anything having to do with zombies (remember how the Canadian government even had a zombie apocalypse preparedness day?) many Halloween attractions, particularly those on farms, are having a new event called "zombie paintball".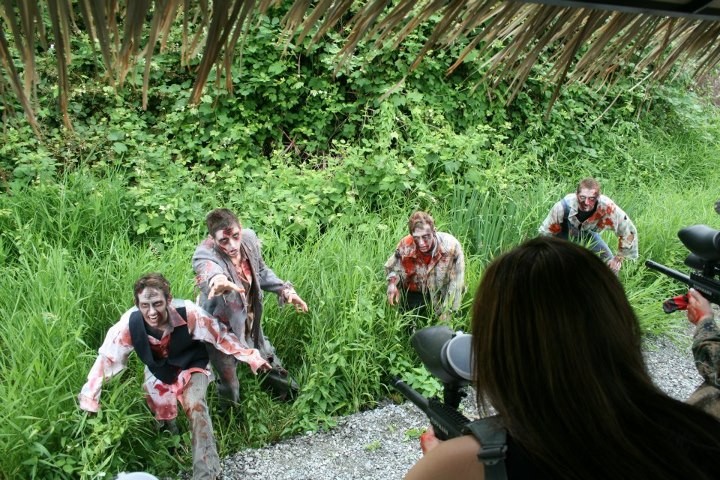 The concept is pretty simple: typically, patrons pay a fee to be given a loaded paintball gun which is mounted on either a haywagon (which drives through the zombie field) or on a ledge (like at a shooting range) and they fire away at zombies (actors dressed to look like zombies, whose clothes and masks protect them from injury).
So, just like in Shaun of the Dead, you get to fire away at zombies staggering around, trying to reach you and eat your brains!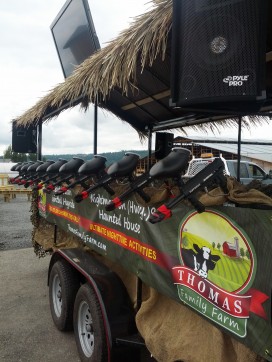 How to find a zombie paint ball venue?
We are continually updating and adding to our list of zombie paintball locations, farms and corn mazes that offer zombie paintball hayrides, zombie paintball trails, zombie lasertag, and indoor facilities, which is growing every day, right here, alphabetically, by county. If you know of any I've missed, please tell me about them - Click here to write to me! To see the zombie locations in this area, Just scroll down the page:
Anoka County
Nightmare Hallow Scream Park and Twin Cities Zombie Hunt - zombie paintball, haunted trail, haunted house
15201 Zurich Street, Columbus, MN 55025. Open: see their website for dates, hours, prices and buying tickets. Directions: From Minneapolis: Interstate 35W North toward Forest Lake. 1/4 miles after 35W merges with 35E, exit on Highway 97/Lake Drive (exit #129). As you exit on 129, go 1/4 mile down to Zurich Street and take a left. Go past the main entrance of Running Acres and look for the purple and orange lights, and enter the barns parking lot. Twin Cities Zombie Hunt is so terrifying and fun, you'll be convinced you're in the apocalypse. Test your Zombie hunting skills to see if you have what it takes to survive! Get on our highly equipped safari trailers fully outfitted with Zombie slaying paintball guns. We'll take you on a journey where Zombies will try to attack and eat your brains. The TERROR TRAIL by Nightmare Halloween has been making YOU SCREAM for over 20 years and has become one of Minnesota's scariest Haunted Hayride; a must attend event. This heart pounding journey is full of detailed scenes, energy driven actors, and animated props that COME TO LIFE. And the Double Themed Haunted House will TERRIFY you send you SCREAMING!! With Ghoulish Monsters and Dark Carnival Clowns hiding behind ever corner, can you make it out alive?
Scott County
Trail of Terror - zombie paintball, haunted trail
3525 145th Street West, Shakopee, MN 55379. Phone: 952-445-7361. Email:

[email protected]

. Open: see their website for dates, hours, prices and buying tickets. Directions: Trail Grounds are located 8.1 miles South of Shakopee from the intersection of Highway 169 & County Road 83 (Canterbury Rd). From Twin Cities: Follow Hwy 169 South towards Mankato. The Trail of Terror entrance is on the right look for signs. What are the Dates and Hours of the Trail of Terror? Always see their website for current information, but at the end of September their website reported they are open Thursday through Sunday, October 10-12, 17-19, 24-26, 31 & November 1, 2014. Fridays & Saturdays 7pm - 12:30am and on Sundays from 7-11pm. - Box Office & Attractions close at 10pm & Site closes at 11pm, Rain or shine. The Trail of Terror is only open select Fridays-Sundays, October 10 - November 1, 2014. The admission price includes free parking, all entertainment attractions including the Hotel 666, Howling Pines Woods Walk, and more. You may choose to enter Zombie Paintball, Lockdown, join the Zombie Pub Crawl, eat food and beverages, or enjoy some rides and games, that all have varying costs.

Stearns County
A & G Corn Maze - zombie paintball, corn maze, hayrides, cow train, bounce house, miniature pony rides, farm animals
10448 345th Street, Saint Joseph, MN 56374. Open: Saturdays and Sundays, September 27-October 26, from 11 am until dark. We will also be open Friday, October 17. Payment: cash, debit, Visa, Mastercard, Discover, and American Express. Laughter By Day...Zombies By Night... Get lost in our huge corn maze every Saturday and Sunday, September 27 through October 26, from 11 am until the sun goes down! Looking for something to do with the kids over MEA? We will be open during the day, Friday, October 17th! Made it through the maze quicker than you expected? Don't worry, the fun doesn't stop there! Enjoy a hayride, then take some time to shoot the corn cannon and try the pumpkin sling shot! For the little ones, we also have the cow train, bounce house, miniature pony rides, barnyard animals, and a sandbox to play in!* Before you leave, don't forget to pick your own pumpkins in the pumpkin patch and then warm up at the concession stand with some hot chocolate and a piece a fresh pumpkin pie! Zombie Paintball Shoot is on Friday and Saturday nights, October , after dark; arrive early to avoid long lines! Join our Zombie S.W.A.T. team on Friday and Saturday nights (beginning October 10th-November 1st) and shoot your way through the Zombie infested cornfield! Check out the video below and then come and experience it for yourself! (ADDED: October 02, 2014, website)
Washington County
Haunting Experience On Highway 61 - zombie paintball, haunted hayride, haunted house
10900 E. Point Douglas Rd., Cottage Grove, MN 55016. Phone: 651-459-3001. Big Zombie Hunter Paintball Adventure kicks off its second year with more zombies, more carnage, plus all manner of chaos and wanton destruction of property! Hop on board one of our outfitted paintball trailers and help us rid ourselves of this little vermin problem we can't seem to get a handle on. Running the same nights and times as The Haunting Experience.
Splat Tag Zombie Hunt - zombie paintball hayride
Washington County Fair, 3591 Stillwater Boulevard North, Stillwater, Minnesota 55082. Phone: 612-333-1700. The virus has finally struck. The world as you know it is coming to an end. A 2 1/2 ton cargo truck, you, and other survivors might be the only hope for the future of the human race. Are you hero enough? The Splat Tag Zombie Hunt isn't your traditional hayride. Unlike other Zombie shoot experiences, our ride combines the power of a M35A2 military truck with the accuracy of a semi-automatic .50 caliber rapid fire paintball gun to intensify the zombie hunt experience. We welcome individuals and groups with as many as 8 people (8 participants to a truck) to fight their way to safety on Minnesota's most intense zombie hunt ride! NOTE: Participants are not at risk of being shot. Zombies do not fire back. Our guns are secured down to the truck so no goggles or safety wear is needed. Children ages 8 and up are welcome on the ride when accompanied by a paid adult.
Other locations
---
Looking for Haunted houses and other scary venues?
If hunting zombies with a paintball gun or lasertag isn't your thing, but you like being scared look below for a haunted house (and if there are none on this page; recommend one!)
Chisago County
Dead End Haunted hayride - haunted hayride, haunted house, haunted corn field
Pinehaven Farm, 28186 Kettle River Blvd., Wyoming, MN 55092. Phone:651-462-4848. Email:

[email protected]

. Back for its Fifth year is the Site 66 haunted cornfield. One thing you will notice when you enter this wasteland of broken dreams is the all new terror it holds. With more in your face action and now home to the chainsaw maze, it will create an experience to remember! Starting your adventure off with a bang is the Dead End Hayride. Take a ride into the far corners of Pinehaven farm to experience some of the many things that go on deep in the woods when night falls. The Dead End Hayride then drops you off at the gates of the Sunny Vale Asylum, and that is where the real terror starts.
Clay County
Haunted Farm - Haunted house, haunted maze
1947 130TH Avenue South, Moorhead, MN 56560. Phone: (218) 585-4539. Email:

[email protected]

. Directions: LOCATED 10 MILES SOUTH OF MOORHEAD ON HWY 75. The Haunted Farm is a genuine farm of terror with over 20 years experience in the haunting industry. The farm features various shocking creatures that lurk in woods, 15 energetic and spine-tingling haunted attractions, and a most hair-raising walk through the dark and dangerous woods. The line up changes almost ever year. Enjoy the Haunted House, Madman Morgue, Killer Cave, Insane Clown Room, Dungeon, Vortex, Dark Maze and more. THE WOODS: The walk through the woods is as bone chilling as ever. The nefarious winding trail will be sure to make your hair raise as well as make your spine tingle.
---
And for traditional Halloween kid-friendly fun:
We have loads of related resources here, too.
On our Pick-your-own website, we also have pages with our own simple instructions on canning, freezing and drying many other fruits and vegetables, such as how to make jam, apple butter, applesauce, spaghetti sauce, salsa, pickles, ketchup or freezing corn (these links open new pages, just close them to return here). Be sure to come back at Christmas if you are looking for a cut-your-own Christmas tree farm! Look at the bottom of the page for links to resources on home canning, picking tips, recipes, etc..
I'm always looking for more to add and feedback about any patch, stand or farm you have visited, so write me using the Feedback form! And if you have a farm and want to add it or correct the information, please click on Add My Farm!
Do you know of any more pumpkin patches, corn mazes, or other special Halloween events? Please tell me about them - Click here to write to me!
---
---
Events and related links:
Looking for Haunted Houses in Florida? Here's a website that lists only haunted houses!
Revised: 21-Sep-2017
Minnesota County Map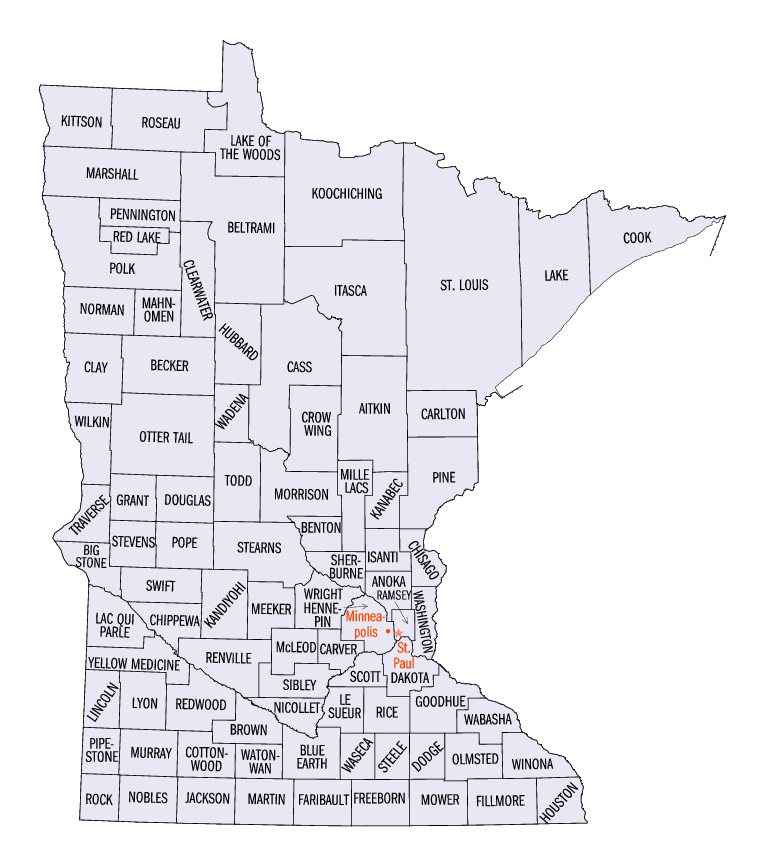 Our other free, informative sites you may like:
Questions, comments, corrections, suggestions or want to recommend a farm to add?
Or write me at



All images and text Copyright � Benivia, LLC 2004,-2014 All rights reserved. Disclaimer and Privacy Policy
Permission is given to link to any page on www.pickyourown.org Do NOT copy and republish this page in whole or part, that is a copyright violation which will be prosecuted: link to the page instead!