2016 Missouri Zombie Paintball Locations!
Zombie paintball is appearing at more and more corn mazes, pumpkin patches and other Fall farm venues in Missouri. Following on the popularity of anything having to do with zombies (remember how the Canadian government even had a zombie apocalypse preparedness day?) many Halloween attractions, particularly those on farms, are having a new event called "zombie paintball".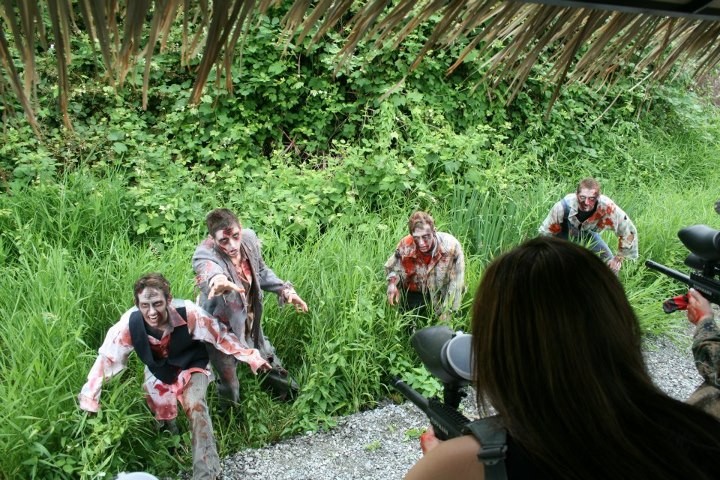 The concept is pretty simple: typically, patrons pay a fee to be given a loaded paintball gun which is mounted on either a haywagon (which drives through the zombie field) or on a ledge (like at a shooting range) and they fire away at zombies (actors dressed to look like zombies, whose clothes and masks protect them from injury).
So, just like in Shaun of the Dead, you get to fire away at zombies staggering around, trying to reach you and eat your brains!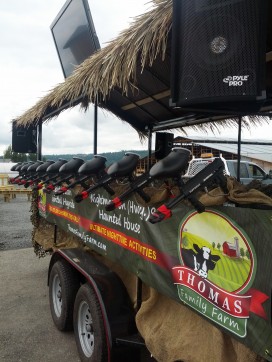 How to find a zombie paint ball venue?
We are continually updating and adding to our list of zombie paintball locations, farms and corn mazes that offer zombie paintball hayrides, zombie paintball trails, zombie lasertag, and indoor facilities, which is growing every day, right here, alphabetically, by county. If you know of any I've missed, please tell me about them - Click here to write to me! To see the zombie locations in this area, Just scroll down the page:
Barry County
Exeter Corn Maze - Zombie Paintball hayride/wagon, Haunted house, Haunted Corn mazes, Haunted Hay rides, wagon rides, Corn mazes (not haunted), Hayrides (not haunted), Pumpkin patch, Pumpkins, Other, Indoor and Outdoor, restrooms, gift shop, concession stand (drinks, snacks and/or food), picnic area, birthday parties
State Hwy MM, Exeter, MO 65647. Phone: 417-846-3959. Open: September 12 -November 1st. Friday 5-10pm Saturday 1-10pm and Sunday 1-6pm. Wednesday and Thrusday by appointment for groups. Directions: See their website for directions. Payment: Cash, Check, Debit cards, Visa/MasterCard, Discover, AmEx . (Suggested by a visitor, ADDED: February 04, 2015)
A visitor writes on February 04, 2015: "Best ever. Once you go here you wont go any where else. They supply all paintball guns and balls. They had two paintball trailers going hauling 12 people each and we had to wait in line at least 45 minutes. So in other words it was big. Everyone seamed t o love it. It was very popular. We had a great time. We go here every year and this place just gets bigger. Lots of very freindly people. They have everything you can imagine for fall fun. I would check out their website or facebook page. They sure do give back to the community. They also have a haunted house and haunted corn maze. Zipline. Just everything you can think of.lol. Check them out. They can fit into every catagory you have on this site.lol"
Jefferson County
CreepyWorld - haunted houses and zombie paintball
1400 S. Old Highway 141, Fenton, MO 63026. Email:

[email protected]

. Creepyworld is located right in the middle of highway 141 between Gravois Road and Arnold just two miles past Gravois Bluff Shopping Center. If you come from hwy 55 you take 141/Arnold left towards Fenton and Creepyworld will be on the right hand side. Go to the Creepyworld page for specific directions. Go to this link then click DIRECTIONS. Creepyworld is America's Biggest and Scariest Haunted Screampark and Haunted House featuring TWELVE haunted houses in ONE location for ONE price located in St. Louis, Missouri near Fenton. Creepyworld features FOUR ALL NEW haunted ATTRACTIONS for 2014 including the all new St Lucifers Hospital and Supermax Prison Riot Escape. Creepyworld features 10 different attractions for one price in one location. Creepyworld also features a haunted paintball hayride for an additional upcharge.
St. Louis County
Battle Creek Paintball - zombie paintball
4274 County Road 220, Kingdom City, MO. Phone: 573-356-6558. You can reach us by phone or fill out the contact form on our website! CONVOY RIDE: Mount up for your Zombie Hunt mission on our military trailer, outfitted with mounted paintball guns and fire upon live zombies through a dark wooded trail. Our customized military truck and trailer will carry up to 16 passengers, each with their own mounted paintball gun. "Recruits" are transported through the "contaminated zone" a predetermined trail through a wooded area, where you will scan for moving targets then lay down fire upon live zombies. The more ammo you bring the more first person shooter action you experience and upgrading to glow in the dark tracers turns the mission into a wicked night hunt! ZOMBIE HUNT ON-FOOT EXTREME EXPERIENCE: Lead by the experienced Zombie Hunt "LT", you will smell the rotting flesh and feel their breath as you scramble through zombie town on foot hunting the undead and fighting to stay alive
Brookdale Farms - haunted corn maze, zombie paintball, pumpkin patch- already gathered from the field, corn maze, straw or hay bale maze, child-sized haybale maze, horse-drawn hay rides, tractor-pulled hay rides, haunted trail, snacks and refreshment stand, restrooms, picnic area, Bouncy castle or moon bounce, pony rides, petting zoo, farm animals, birthday parties
8004 Twin Rivers Rd, Eureka, MO 63025. Phone: 636-938-1005. Email:

[email protected]

. Open: Monday thru Friday by reservation for field trips or other groups; Saturday and Sunday 9am to 6pm; September 12 Thru November 15. Directions: Highway 44 to Highway 109 south Left on Highway W Left on Twin Rivers Road Farm entrance is on the left. Click here for a map and directions. Payment: Cash, Check, Debit cards, Visa/MasterCard. See a news story about the maze here. This year, Gateway Paintball has teamed up with Brookdale Farms in Eureka, MO. Also Zombies are attacking at Brookdale Farms! Brookdale Farms is famous for the largest corn maze in the St. Louis area and many other attractions for outdoor fun. So gather up your friends and family and add the adrenaline rush of the Zombie Hunt! For more details on all three Zombie Hunt venues click on their link and make plans to bring your family and friends!
Bushwackers Paintball at Six Flags - zombie paintball
Six Flags St. Louis, 4900 Six Flags Road, Eureka, MO 63025. Phone: (314) 853-8391. Email:

[email protected]

. Phone: (636) 938-5300 Ext. 6288 - Six Flags Group Bookings. Click here for our Facebook page. Zombie Paintball, Weekends in October our Paintball fields become overridden with Zombies! Come back in October to help eliminate the zombie infestation! You're all familiar with Six Flag's Fright Fest! Don't miss your chance to light up the living dead fighting wave after wave of flesh eating Zombies at Six Flags Paintball Zombie Apocalypse! This adventure will be just the ticket to top off your Fright Fest visit! The Paintball booth is located in the Studio Backlot section of the park in the Axis Building. This is next to the Ninja rollercoaster & the Joker. What's included-Paintball marker, full face mask, body armor, neck guard, safety gloves, paintball jersey, UNLIMITED PAINTBALLS & UNLIMITED AIR FILLS, & a complete safety & orientation briefing. Everything needed to play paintball is included!! Try something new & exciting. Kids have to be 8 years old to play. Call us today!!
Creepyworld - zombie paintball
1400 S Old Highway 141, Saint Louis/Fenton, MO, 63026. Email :

[email protected]

. Creepyworld is the World's longest and best Haunted Screampark with 13 different attractions in one location. In 2015 Creepyworld will feature two all new haunted attractions including a haunted graveyard and a creepy doll house haunted mansion. Creepyworld also features a zombie paintball hayride, and an overall total of 13 haunted attractions all in one location. Creepyworld also features the Ghoul Band and the World's largest pumpkin display. Creepyworld takes over one hour to complete.
Fearfest Haunted House – zombie paintball
6402 W. Hwy 40, Columbia, MO 65202. Phone: (573) 446-FEAR. Email:

[email protected]

. The zombie apocalypse has begun... Ever want to play paintball but didn't like the idea of getting shot? NOWS YOUR CHANCE!!! The innovative team at FEARFEST have created custom trailers with mounted paintball guns that give you the opportunity to enjoy paintball WITHOUT the return fire. THATS RIGHT, this is your chance to "OPEN FIRE" on LIVE zombies around your wagons.
Gateway Paintball / Buskwackers - zombie paintball
14510 Missouri Bottom Road, Bridgeton, MO 63044-3800. Phone: 314-298-3772. Email:

[email protected]

. Open: Regular Schedule: Open Play is every Saturday & Sunday from 10-4 at our Gateway Location!. There is no appointment necessary for Open Play. Call for Details. Open 7 Days a week by reservation. This weekend Starts the Zombie Hunt. Riders can be 6 years old to adults!! Each rider is 20 dollars which includes a ride through our haunted forest & they get 100 paintballs to shoot the Zombies! If you have a group of 20 or more that has been pre-booked you can get the special rate of 15 dollars per rider. Just give us a call to schedule, if you have 20 or more Riders at 314-298-3772. Bushwackers Paintball has joined forces with Gateway Paintball! 96 acres of excitement located in Bridgeton Missouri, between highways 70, 270 and 370 and is just minutes away from anywhere in the St. Louis area. Private groups are available 7 days a week but you must schedule in advance. The thrills and excitement are back at Gateway Paintball! Help clear the Zombie infested forest of the undead at Gateway Paintball's Zombie Hunt!
St. Louis Haunted Paintball Park - zombie paintball
3545 Douglas Rd., Millstadt, IL 62260. This one is in Illinois, click on the the link for their info on the Illinois page.
4900 Six Flags, St. Louis.
I haven't found many Zombie paintball or zombie hunts in this state YET - I am still looking! If you know of any, please tell me about them - Click here to write to me!
---
Looking for Haunted houses and other scary venues?
If hunting zombies with a paintball gun or lasertag isn't your thing, but you like being scared look below for a haunted house (and if there are none on this page; recommend one!)
Moniteau County
Bloody Acres Haunted Forest - haunted trail, pumpkins, , restrooms, concession stand (drinks, snacks and/or food), tours of the operation
58766 Airport Rd, California, MO 65018. Phone: 5736804413. Email:

[email protected]

. Open: October on Friday and Sat Nights 8-11pm. Directions: See their website for directions. Payment: Cash, Debit cards, Visa/MasterCard, Discover, AmEx . This is a Walk through Haunted Forest for adults and kids, approx a 10 min walk with scary creatures of all sorts. Admission is only $5 and there is a concession stand and restrooms available. you can also cook your own hot dogs on a stick around the campfire while you wait to take the tour, There is interactive TV displays playing scary movies as well!
A visitor writes on October 21, 2014: "LOVE IT!!!"
---
And for traditional Halloween kid-friendly fun:
We have loads of related resources here, too.
On our Pick-your-own website, we also have pages with our own simple instructions on canning, freezing and drying many other fruits and vegetables, such as how to make jam, apple butter, applesauce, spaghetti sauce, salsa, pickles, ketchup or freezing corn (these links open new pages, just close them to return here). Be sure to come back at Christmas if you are looking for a cut-your-own Christmas tree farm! Look at the bottom of the page for links to resources on home canning, picking tips, recipes, etc..
I'm always looking for more to add and feedback about any patch, stand or farm you have visited, so write me using the Feedback form! And if you have a farm and want to add it or correct the information, please click on Add My Farm!
Do you know of any more pumpkin patches, corn mazes, or other special Halloween events? Please tell me about them - Click here to write to me!
---
---
Events and related links:
Looking for Haunted Houses in Florida? Here's a website that lists only haunted houses!
Revised: 21-Sep-2017
Missouri County Map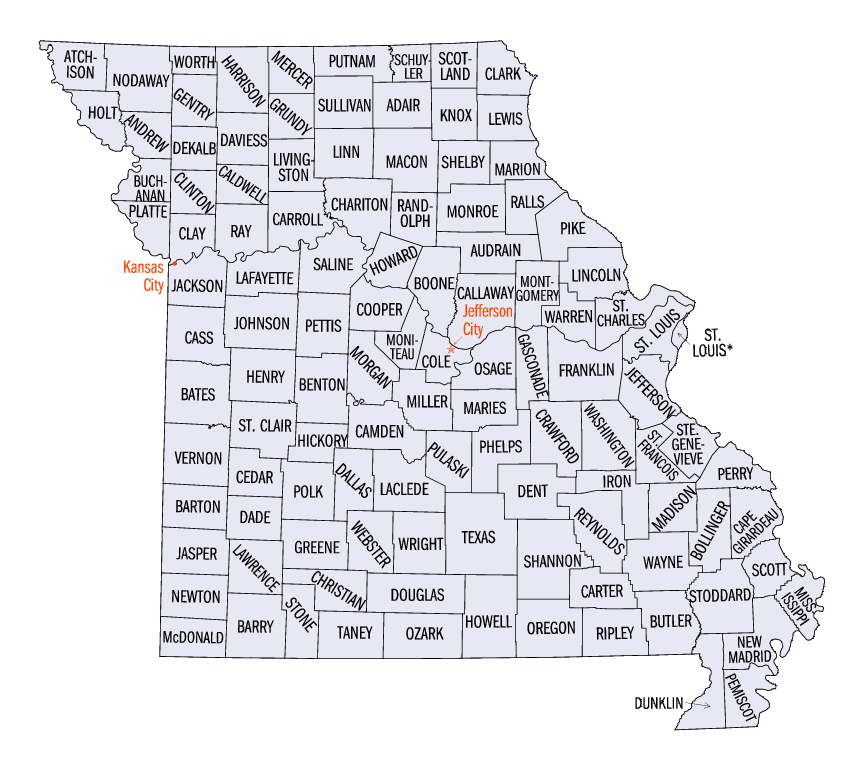 Our other free, informative sites you may like:
Questions, comments, corrections, suggestions or want to recommend a farm to add?
Or write me at



All images and text Copyright � Benivia, LLC 2004,-2014 All rights reserved. Disclaimer and Privacy Policy
Permission is given to link to any page on www.pickyourown.org Do NOT copy and republish this page in whole or part, that is a copyright violation which will be prosecuted: link to the page instead!