2016 New Hampshire Zombie Paintball Locations!
Zombie paintball is appearing at more and more corn mazes, pumpkin patches and other Fall farm venues in New Hampshire. Following on the popularity of anything having to do with zombies (remember how the Canadian government even had a zombie apocalypse preparedness day?) many Halloween attractions, particularly those on farms, are having a new event called "zombie paintball".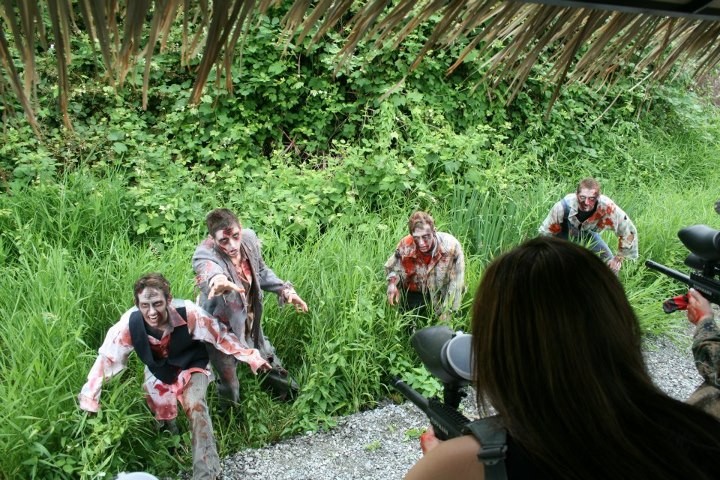 The concept is pretty simple: typically, patrons pay a fee to be given a loaded paintball gun which is mounted on either a haywagon (which drives through the zombie field) or on a ledge (like at a shooting range) and they fire away at zombies (actors dressed to look like zombies, whose clothes and masks protect them from injury).
So, just like in Shaun of the Dead, you get to fire away at zombies staggering around, trying to reach you and eat your brains!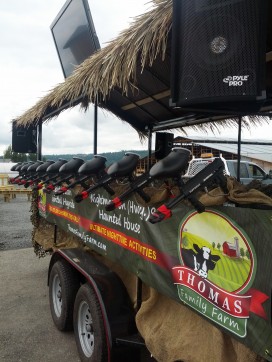 How to find a zombie paint ball venue?
We are continually updating and adding to our list of zombie paintball locations, farms and corn mazes that offer zombie paintball hayrides, zombie paintball trails, zombie lasertag, and indoor facilities, which is growing every day, right here, alphabetically, by county. If you know of any I've missed, please tell me about them - Click here to write to me! To see the zombie locations in this area, Just scroll down the page:
Belknap County
The Haunted Woods - OSG Paintball - zombie paintball, haunted houses
1053 N Barnstead Rd, Center Barnstead, NH 03225. Phone: (800) 707-7529. Zombie Pirate Shoot. FREE WITH ADMISSION. Free with admission to our haunts. Must Purchase paintballs. Can you defend the Pirate Ship from the Zombie Hoards? You will not get shot with paintballs? OSG Paintball has donated their location to The Haunted Woods specifically for this event. Is it scary? Oh yes! It's absolutely terrifying. Is it a hayride? Nope! It's a self-guided walking tour through our four different haunts. Is it appropriate for children? Parental discretion is advised. We are rated one of the scariest parks in New England, so use your best judgment! 4 HAUNTS: Carnival of Terror Come one, come all under the big top: spectacular sights that will have you screaming for your life! Western Town Has Eyes: In the back woods of the old western town, something strange peers through the night. Kindness will not be shown to newcomers; walk at your own risk, for their gaze might just fall upon you... End of Days: When the fog sets in and the moon rises in the sky, beware of the zombies that lurk in dark places. Will you make it out alive or spend eternity walking among the dead? 4 Rooms of Fright: Four different rooms of terror: enter if you dare, leave if you're lucky
Hillsborough County
Spookyworld presents Nightmare New England - zombie paintball
454 Charles Bancroft Highway, Litchfield, N.H. 03052. Phone: 603-424-7999. Email:

[email protected]

. Seeking thrills and chills this Halloween season? Spookyworld says they are the largest and most terrifying haunted destination in the Northeast. Situated outdoors along the banks of the Merrimack River, visitors of Nightmare New England venture in to the sinister countryside as a central character in our twisted trails of terror! Located in Litchfield, New Hampshire, a quick ride over the Massachusetts border, our scream park offers something for everyone. Nightmare New England is home to FIVE SEPARATE haunted attractions on location. Also on-site we have the Naticook Fish and Grill Restaurant, a full bar and much more! We are also host to multiple sideshow attractions including live entertainment, Zombie paintball, Go-Karts, Mini-golf, Batting Cages, Carnival Concessions, Tarot Card Readers, Fire-pits, and Keg Stands.
Strafford County
BOLP Zombie Paintball - zombie paintball
114 Mast Road, Lee, NH, 03861. Phone: (603)765-9852. Email:

[email protected]

. Join BOLP Paintball for our paintball Zombie Walk Test your zombie hunting skills. Come see if you have what it takes to survive the zombie apocalypse. You will be guided on a 20 minute tour of where the outbreak began, armed with paintball guns and enough ammo to take on a small army of zombies. The question is will you survive or will you be dinner? This event is only going on 3 days so make sure you don't miss it. Oct 11, 18, and 25 from 7pm-10pm.
I haven't found many Zombie paintball or zombie hunts in this state YET - I am still looking! If you know of any, please tell me about them - Click here to write to me!
Zombie Paintball, by County
---
Looking for Haunted houses and other scary venues?
If hunting zombies with a paintball gun or lasertag isn't your thing, but you like being scared look below for a haunted house (and if there are none on this page; recommend one!)
No haunted houses recommended yet!
---
And for traditional Halloween kid-friendly fun:
We have loads of related resources here, too.
On our Pick-your-own website, we also have pages with our own simple instructions on canning, freezing and drying many other fruits and vegetables, such as how to make jam, apple butter, applesauce, spaghetti sauce, salsa, pickles, ketchup or freezing corn (these links open new pages, just close them to return here). Be sure to come back at Christmas if you are looking for a cut-your-own Christmas tree farm! Look at the bottom of the page for links to resources on home canning, picking tips, recipes, etc..
I'm always looking for more to add and feedback about any patch, stand or farm you have visited, so write me using the Feedback form! And if you have a farm and want to add it or correct the information, please click on Add My Farm!
Do you know of any more pumpkin patches, corn mazes, or other special Halloween events? Please tell me about them - Click here to write to me!
---
---
Events and related links:
Looking for Haunted Houses in Florida? Here's a website that lists only haunted houses!
Revised:
Warning: filemtime(): stat failed for ZombiePaintballNew Hampshire.php in /home/pumpkinp/public_html/ZombiePaintballNewHampshire.php on line 242
1-Jan-1970
New Hampshire County Map
Our other free, informative sites you may like:
Questions, comments, corrections, suggestions or want to recommend a farm to add?
Or write me at



All images and text Copyright � Benivia, LLC 2004,-2014 All rights reserved. Disclaimer and Privacy Policy
Permission is given to link to any page on www.pickyourown.org Do NOT copy and republish this page in whole or part, that is a copyright violation which will be prosecuted: link to the page instead!