2016 New York Zombie Paintball Locations!
Zombie paintball is appearing at more and more corn mazes, pumpkin patches and other Fall farm venues in New York. Following on the popularity of anything having to do with zombies (remember how the Canadian government even had a zombie apocalypse preparedness day?) many Halloween attractions, particularly those on farms, are having a new event called "zombie paintball".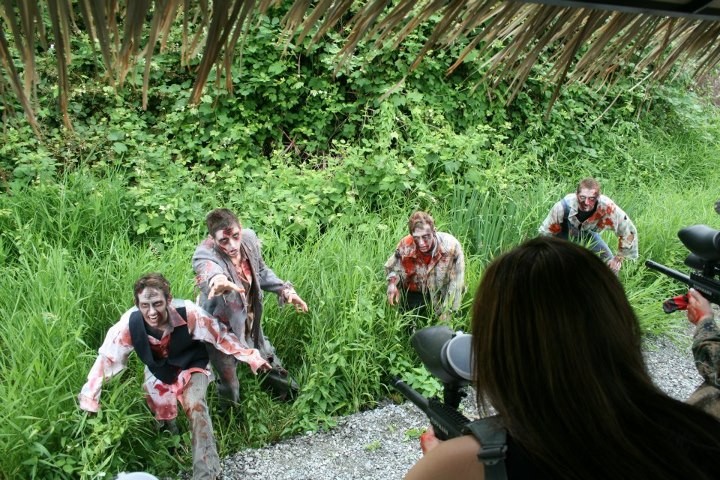 The concept is pretty simple: typically, patrons pay a fee to be given a loaded paintball gun which is mounted on either a haywagon (which drives through the zombie field) or on a ledge (like at a shooting range) and they fire away at zombies (actors dressed to look like zombies, whose clothes and masks protect them from injury).
So, just like in Shaun of the Dead, you get to fire away at zombies staggering around, trying to reach you and eat your brains!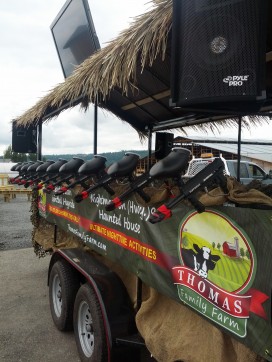 How to find a zombie paint ball venue?
We are continually updating and adding to our list of zombie paintball locations, farms and corn mazes that offer zombie paintball hayrides, zombie paintball trails, zombie lasertag, and indoor facilities, which is growing every day, right here, alphabetically, by county. If you know of any I've missed, please tell me about them - Click here to write to me! To see the zombie locations in this area, Just scroll down the page:
Chemung County
Bradley Farms - pumpkins for sale in the shop or farmstand, pumpkin patch- already gathered from the field, Fall festival, Zombie paintball, we also have pie pumpkins, tractor-pulled hay rides, haunted house, haunted rides, haunted trail, Trick-or-treating event,
1543 Maple Ave, Elmira, NY 14904. Phone: 607-732-0561. Email:

[email protected]

pire.com. Open: Store open daily 9am to 6pm Haunted events open Friday and Saturday 7pm to 10pm in October. Directions: Click here for a map and directions. Payment: Cash, Debit cards, Visa/MasterCard. Click here for our Facebook page. zombie safari paintball is a new attraction this fall season it will join The house of lost souls and trail of terror as part of the Haunted Empire events. (UPDATED: October 14, 2013, from their Facebook page)
A visitor writes: "They have a very scary spook house, hayrides, children's rides and a small zoo. I don't think they have a website. It is a nice place to visit in the fall."
Cortland County
S&J Farms - Zombie paintball, haunted rides, restrooms, picnic area, farm animals, birthday parties, weddings and wedding parties, school tours, group reservations
3227 Zelsnack Road, Third Alarm Paintball, Marathon, NY 13803. Phone: 607-761-0232. Alternate Phone: 607-745-4410. Email:

[email protected]

. Open: Friday and Saturday, from 7pm to 10pm, October 10 to October 31. Click here for current open hours, days and dates. Directions: From the South: Take I-81 North to exit 9 (Marathon). Turn left off ramp onto Route 221. Drive approximately 2 miles to Zelsnack Road on the left. Third Alarm Paintball is at the top of the hill on the right. From the North: Take I-81 South to exit 9 (Marathon). Turn left off ramp onto Route 11. At the light turn right onto Route 221. Drive approximately 2 miles to Zelsnack Road on the left. Third Alarm Paintball is at the top of the hill on the right. Click here for a map and directions. Payment: Cash, Check, Visa/MasterCard, Discover. Click here for our Facebook page. Reservations are required as seats are limited to 10 per half hour ride.
Orange County
Cousins Paintball - paintball, occasionally, it appears they offer zombie paintball
380 Mt. Airy Road,New Windsor, NY 12553. Phone: 800-FLAG-007 . Email:

[email protected]

. Open: Saturday 9am - 4pm, Sunday 9am - 4pm. Come out and enjoy a great day of paintball! Located just minutes off the NY State Thruway's Exit 17, it's fast and easy to get to from New York City and Albany. So Many Reasons To Play!, Fun with friends, Birthday & bachelor parties, Fundraisers & team building, Corporate events, Family outings & church groups, Stay fit. Experience one of the newest and nicest paintball parks in the country! This converted golf course is 60-acres of manicured hills and valleys perfect for paintball excitement. We specialize in bachelor parties, kids parties, religious groups and company outings. Your Private group of 10 or more people can play any day in the week with a reservation and pre-paid deposit. Reservations are made approximately two weeks in advance and based on availability. Our New Windsor field offers..., A full 60-acres for multi-terrain action, An easy location to get to, Paved parking lots, Real bathrooms, Viewing area for spectators.
LainWay Corn Maze - zombie paintball, corn maze, pumpkin patch-pick in the field, pumpkin patch- already gathered from the field, child-sized haybale maze, tractor-pulled hay rides, wagon rides, snacks and refreshment stand, picnic area, school tours
420 Lower Road, Westtown, NY 10998. Phone: 845-544-5487. Email:

[email protected]

. Open: Fridays, Flashlight Nights, October 1 through October 31, from 5pm to 8pm (last exit from corn maze 9pm); Saturdays and Sundays, September 18 through November 7, from 10am to 5pm (last exit from corn maze 6pm). Directions: From New York State Thruway I-84W; Head west on I-84 W; Take exit 3W for US-6 W/New York 17M W toward Middletown; Turn right at US-6 W/New York 17M W; Take the 1st left onto US-6 W (About 6 mins); Turn left at NY-284 S (About 8 mins); Turn left at County Road 1 (About 2 mins); Slight right at Grusz Road (About 2 mins); Turn right at Lower Road Destination will be on the left. Click here for a map and directions. ZOMBIE PAINTBALL HAYRIDE!! Lainway Corn Maze is proud to announce the grand opening of our newest attraction - ZOMBIE PAINTBALL . Zombie Paintball will be open on Friday and Saturday nights from 6:00 pm to 10:00 pm! This weekend only (October 2nd and 3rd), tickets will be on sale for only $15!! Admission price includes a ticket on the zombie trailer, 100 zombie extermination rounds, a gun, and unlimited compressed air! Come on down to Lainway and help rid the farm of Zombies!! Corn Maze and Pumpkin Patch is open on weekends, Saturdays and Sundays, from September 18 through November 7; Open Friday evenings for flashlight nights from October 1 through October 29. Payment: Cash, only. Fresh Apple Cider from local orchard. Local apples, spices, soup mixes, gourds and more.
Queens County
Zombies of NYC Paintball - zombie lasertag
47-11 Van Dam Street, Queens, NY. Phone: (718) 361-8337. Their website says they use modified paintball guns to shoot zombie lasertag. Click here for their Facebook page. The NY Times has a story about this venue here.
ZombieCon NYC - Zombie walk (no paintball)
Zombiecon final destination, 30th Street & 8th Ave, NY, NY. Open: appears to be annual now; 2015 was Saturday October 17th, 11:30am til Night. Our starting location will be announced the day before and zombies shall assemble to put the finishing touches on their zombie make up and begin to terrorize the neighborhood. We will shamble through streets and into fine establishments to quench our terrible thirst for brains. Follow us on Facebook or Twitter for hourly updates. Theme: All zombies are welcome however if you would like to play along with the theme dress as a zombie version of your favorite fairy tale character, childhood tv show host, cartoon star, muppet, beloved movie hero/heroine. Just remember to zombify it. Add blood, add brains, add fun!!
And don't forget if someone asks you "What is going on?" The proper answer is "Brains!". Zombiecon NYC was the first big zombie walk and maintains its uniqueness with themes. We urge all to participate while staying safe and "leaving no trace" at all venues we visit. We are part of a bigger community with many year-around events with more info at kostumekult.com. RSVP.
Mailing List: zombiecon.com
Twitter: @zombieconnyc
Instagram: www.instagram.com/zombieconnyc.
(ADDED: October 18, 2015, JBS)
Tompkins County
Xscream Haunted Woods and Zombie Invasion - zombie paintball
380 Wood Road, Freeville, New York 13068. Phone: (607) 846-8992. Open: see their website; typically it is by appointment, plus a half dozen open nights in late October. Individuals will be given a quick scenario of the last ditch effort to defend the city against the invading zombies (aka human actors) that will be coming at them once the lights come on. Individuals will be given a paintball gun with limited ammo to eliminate the zombies before they reach the city. If the individual successfully eliminates all zombies before they reach the city walls he or she will be declared a winner and the cities hero. Individuals will only be shooting at the zombies, zombies will not be shooting back at them.
I haven't found many Zombie paintball or zombie hunts in this state YET - I am still looking! If you know of any, please tell me about them - Click here to write to me!
---
Looking for Haunted houses and other scary venues?
If hunting zombies with a paintball gun or lasertag isn't your thing, but you like being scared look below for a haunted house (and if there are none on this page; recommend one!)
No haunted houses recommended yet!
---
And for traditional Halloween kid-friendly fun:
We have loads of related resources here, too.
On our Pick-your-own website, we also have pages with our own simple instructions on canning, freezing and drying many other fruits and vegetables, such as how to make jam, apple butter, applesauce, spaghetti sauce, salsa, pickles, ketchup or freezing corn (these links open new pages, just close them to return here). Be sure to come back at Christmas if you are looking for a cut-your-own Christmas tree farm! Look at the bottom of the page for links to resources on home canning, picking tips, recipes, etc..
I'm always looking for more to add and feedback about any patch, stand or farm you have visited, so write me using the Feedback form! And if you have a farm and want to add it or correct the information, please click on Add My Farm!
Do you know of any more pumpkin patches, corn mazes, or other special Halloween events? Please tell me about them - Click here to write to me!
---
---
Events and related links:
Looking for Haunted Houses in Florida? Here's a website that lists only haunted houses!
Revised:
Warning: filemtime(): stat failed for ZombiePaintballNew York.php in /home/pumpkinp/public_html/ZombiePaintballNewYork.php on line 327
1-Jan-1970
New York County Map
Our other free, informative sites you may like:
Questions, comments, corrections, suggestions or want to recommend a farm to add?
Or write me at



All images and text Copyright � Benivia, LLC 2004,-2014 All rights reserved. Disclaimer and Privacy Policy
Permission is given to link to any page on www.pickyourown.org Do NOT copy and republish this page in whole or part, that is a copyright violation which will be prosecuted: link to the page instead!