2016 Ohio Zombie Paintball Locations!
Zombie paintball is appearing at more and more corn mazes, pumpkin patches and other Fall farm venues in Ohio. Following on the popularity of anything having to do with zombies (remember how the Canadian government even had a zombie apocalypse preparedness day?) many Halloween attractions, particularly those on farms, are having a new event called "zombie paintball".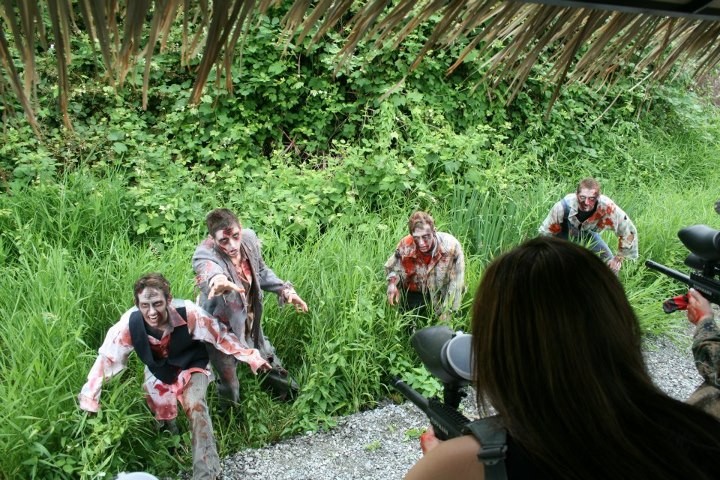 The concept is pretty simple: typically, patrons pay a fee to be given a loaded paintball gun which is mounted on either a haywagon (which drives through the zombie field) or on a ledge (like at a shooting range) and they fire away at zombies (actors dressed to look like zombies, whose clothes and masks protect them from injury).
So, just like in Shaun of the Dead, you get to fire away at zombies staggering around, trying to reach you and eat your brains!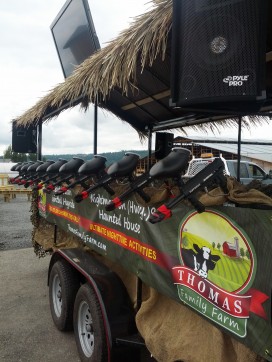 How to find a zombie paint ball venue?
We are continually updating and adding to our list of zombie paintball locations, farms and corn mazes that offer zombie paintball hayrides, zombie paintball trails, zombie lasertag, and indoor facilities, which is growing every day, right here, alphabetically, by county. If you know of any I've missed, please tell me about them - Click here to write to me! To see the zombie locations in this area, Just scroll down the page:
Butler County
Land of Illusion Haunted Scream Park – zombie paintball, haunted houses
8762 Thomas Road, Middletown, OH 45042. Phone: (513) 423-9960. Open: The Zombie Sniper Patrol ride requires its own separate ticket and is closed on Sundays.
Middletown Haunted Trail is closed on Sundays. Open Every Friday & Saturday in September and October, Ticket Sales: 8pm – 1am, Park Hours: 8pm – 2am. Also Open on Sundays in October. Ticket Sales: 8pm – 11pm, Park Hours: 8pm – 11:30pm; Sunday admission includes Voodoo Bayou, Killer Klowns, Dr. Psycho and Temple of Terror haunted attractions. Middletown Haunted Trail and Zombie Sniper Patrol are closed on Sunday.Lock & Load – Fight the Zombie Invasion! You just spent the evening running from the worst monsters and demons of your wildest imagination. Now, it's time to fight back! The new Land of Illusion Zombie Sniper Patrol ride gives you the power to actually hunt down and shoot Zombies before they can escape the woods and run wild in the village. Climb aboard our retrofitted US Army Cargo Truck, settle in behind one of the paintball gun turrets and take aim and fire at the Zombie invasion as your unit navigates the treacherous woods. Turn back the Zombie Apocalypse! Protect the town from the undead! And pick off these freakish mutants before they pick on you.
Cuyahoga County
The Fear Experience - haunted house
10701 Brookpark Rd, Cleveland, Ohio. Phone: 216-245-3327. Email:

[email protected]

. Be sure to call; I see paintball on their website, but nothing specific to zombie paintball this year.
Lorain County
Hauntville - Zombie paintball, Haunted Houses
1579 West River Road, Elyria, Ohio 44035. Phone: 440-655-0016. Directions: Located directly across from Midway Mall, in Midway Crossings Shopping Center, behind Olive Garden restaurant and next to Toys R Us, Look for the big search light in the sky. Yes, you have gotten to shoot at zombies with paintball guns before, but Hauntville Haunted Houses, Ohio's Scariest Haunted Houses, have added a new twist to zombie paintball… 3-D. Ohio's first: "Zombie Hunt in 3-D Paintball" A new, specially designed zombie hunting area, for the 3-D environment, created by Hauntville Haunted House's Scare Masters Production team. Zombie paintball has been taken to a whole new level and dimension with Hauntville Haunted Houses "Zombie Hunt in 3-D Paintball". For a whole new zombie paintball experience!
Medina County
Mapleside Farms - zombie paintball, corn maze, pumpkins, pumpkin patch-pick in the field, pumpkin patch- already gathered from the field, child-sized haybale maze, prepicked produce, gift shop, snacks and refreshment stand, restrooms, horse-drawn hay rides, pony rides
294 Pearl Rd., Brunswick, OH 44212. Phone: 330-225-5577. Fax: 330-225-0665. Email us at:

[email protected]

. Directions: Four miles from the Rte. 82 Strongsville exit on Interstate 71. And for a map to our farm, Click here. Crops are usually available in October. Open: The Farm Market & Bakery and Gift Shop are open Monday thru Thurs from 8 a.m. to 8 p.m, Friday & Saturday from 8 a.m. to 9 p.m. and Sunday from 8 a.m. to 7 p.m. The Apple Farm Restaurant serves lunch and dinner and Sunday Brunch Buffet The Candy Factory Corn maze is open Friday nights, Saturdays and Sundays from September 17 through October 30, 2005. Flashlight nights are every Friday and Saturday from dusk til 10 p.m. Payment: Cash, Check, Visa/MasterCard, Discover. Farm Market & Bakery, Gift Shop, Ice Cream Parlor, Restaurant, deli open year round.
Morrow County
SplaterPark Paintball Games - zombie paintball
5560 County Road 109, Mt. Gilead, OH. Phone: (419) 946-4964. Open: Zombie Hunting Returns September 20,2014. Take some practice shots at the Z.T.R.T.F. (Zombie Target Range Test Facility). Then, board the Z.H.V (Zombie Hunting Vehicle), take your position in front of your zombie exterminator paintball gun, and be driven through the woods of SplatterPark as you embark on your mission. Shoot live zombies and other strategic targets as we unite to eradicate the Zombie Infestation of 2014! Do you have what it takes to survive? Fun for ages 5 and up.
Portage County
Fortress of Fear - Haunted houses, zombie paintball
10268 Hewins Road, Garretsville, Ohio 44231. Phone: 330-322-7853. Email:

[email protected]

. Experience, ZOMBIE ABOMINATION, the NEWLY-ENHANCED attraction this season at the Fortress of Fear ScreamPark! Grab your weapon, man your station, and let the hunt begin
Richland County
Battle Zone Paintball Park - paintball
809 Poth Rd., Mansfield, Ohio. Phone: 419-747-6400. Be sure to call; I see paintball on their website, but nothing specific to zombie paintball this year.
Stark County
Clay's Park Wicked Weekends - haunted houses, monster paintball, carnival rides
13190 Patterson Street NW, N. Lawrence, OH 44666. Phone: (330) 854-6691. Alternate phone: 800 860-4FUN.
I haven't found many Zombie paintball or zombie hunts in this state YET - I am still looking! If you know of any, please tell me about them - Click here to write to me!
---
Looking for Haunted houses and other scary venues?
If hunting zombies with a paintball gun or lasertag isn't your thing, but you like being scared look below for a haunted house (and if there are none on this page; recommend one!)
No haunted houses recommended yet!
---
And for traditional Halloween kid-friendly fun:
We have loads of related resources here, too.
On our Pick-your-own website, we also have pages with our own simple instructions on canning, freezing and drying many other fruits and vegetables, such as how to make jam, apple butter, applesauce, spaghetti sauce, salsa, pickles, ketchup or freezing corn (these links open new pages, just close them to return here). Be sure to come back at Christmas if you are looking for a cut-your-own Christmas tree farm! Look at the bottom of the page for links to resources on home canning, picking tips, recipes, etc..
I'm always looking for more to add and feedback about any patch, stand or farm you have visited, so write me using the Feedback form! And if you have a farm and want to add it or correct the information, please click on Add My Farm!
Do you know of any more pumpkin patches, corn mazes, or other special Halloween events? Please tell me about them - Click here to write to me!
---
---
Events and related links:
Looking for Haunted Houses in Florida? Here's a website that lists only haunted houses!
Revised: 19-Sep-2017
Ohio County Map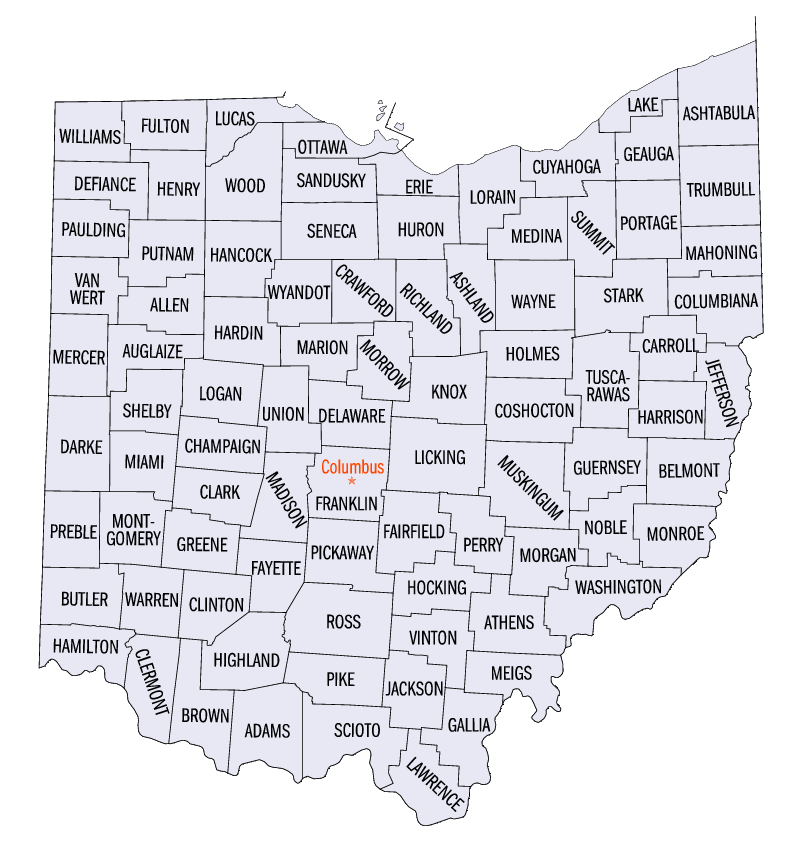 Our other free, informative sites you may like:
Questions, comments, corrections, suggestions or want to recommend a farm to add?
Or write me at



All images and text Copyright � Benivia, LLC 2004,-2014 All rights reserved. Disclaimer and Privacy Policy
Permission is given to link to any page on www.pickyourown.org Do NOT copy and republish this page in whole or part, that is a copyright violation which will be prosecuted: link to the page instead!