2016 Texas Zombie Paintball Locations!
Zombie paintball is appearing at more and more corn mazes, pumpkin patches and other Fall farm venues in Texas. Following on the popularity of anything having to do with zombies (remember how the Canadian government even had a zombie apocalypse preparedness day?) many Halloween attractions, particularly those on farms, are having a new event called "zombie paintball".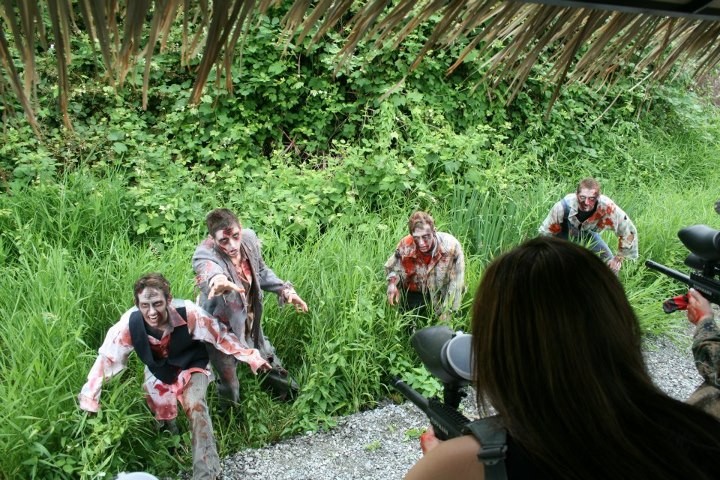 The concept is pretty simple: typically, patrons pay a fee to be given a loaded paintball gun which is mounted on either a haywagon (which drives through the zombie field) or on a ledge (like at a shooting range) and they fire away at zombies (actors dressed to look like zombies, whose clothes and masks protect them from injury).
So, just like in Shaun of the Dead, you get to fire away at zombies staggering around, trying to reach you and eat your brains!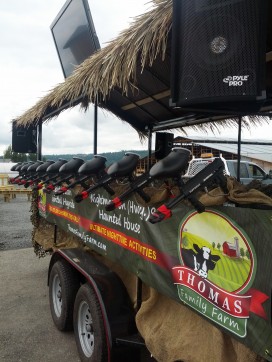 How to find a zombie paint ball venue?
We are continually updating and adding to our list of zombie paintball locations, farms and corn mazes that offer zombie paintball hayrides, zombie paintball trails, zombie lasertag, and indoor facilities, which is growing every day, right here, alphabetically, by county. If you know of any I've missed, please tell me about them - Click here to write to me! To see the zombie locations in this area, Just scroll down the page:
Bexar County
Pumpkin Hollow Fall Festival - Zombie paintball, pumpkin patch- already gathered from the field, Fall festival, cow train / barrel train rides, concessions / refreshment stand, porta-potties, picnic area, face painting, carnival rides, pony rides, petting zoo, farm animals, school tours
8739 State Hwy 151, San Antonio, TX 78250. Phone: (210) 379-9359. Email:

[email protected]

. Open: Every Friday - Sunday in October starting October 3, Friday 3pm-10pm; Saturday 11am-10pm with family-friendly Karaoke/DJ 12pm-4pm; Sunday 11am-7pm. Directions: right next to Willies Grill and Icehouse. GPS usually places patrons further down on 151. We are in between the crossroads of Ingram and Potranco. About 5 minutes from Sea World. Click here for a map and directions. Payment: Cash, only.
Zombicon San Antonio DefconZ - Zombie walk (no zombie paintball)
Plaza Del Rey Ballroom, 2716 Fredericksburg Rd, San Antonio, TX 78201. Event date: OCTOBER 24, 2015, doors open at 5:00 pm to 12:00 am. FREE PARKING. WELCOME ONCE AGAIN ALL "ZOMBIE - SURVIVOR" HORROR FANS TO zombie con 2015 defcon-z. THE fourth ANNUAL "ZOMBIE -SURVIVOR" horror CONVENTION To take PLACE IN SAN ANTONIO TEXAS. COME DRESSED AS a "ZOMBIE or SURVIVOR" HORROR MOVIE or VIDEO GAME CHARACTER. ENTER the COSTUME CONTEST FOR A CHANCE TO WIN AN EXCITING PRIZE. EVERYONE IS ENCOURAGED TO COME IN COSTUME OR BE CIVILIAN "ZOMBIE" FOOD! COME CHECKOUT WHAT THE ARTISTS HAVE TO OFFER IN "THE GALLERY OF HORROR" ALONG WITH OTHER WORKS OF ART. MAKE YOUR WAY THROUGH "THE VENDORS GRAVEYARD" and SEE WHAT BONES TO PICK FROM AN ASSORTMENT OF COLLECTIBLES (T-SHIRTS, FIGURES, SURVIVAL GEAR) AND MANY OTHER FRIGHTFUL GOODS. DARE TO SEE WHAT "THE EXHIBITORS GALLOWS" HAVE ON DISPLAY FOR YOUR GHOULISH EXCITEMENT. Craving a bite to eat??? ENTER "THE ZOMBIE BRAIN EATING CONTEST" OR stop by the zombie feeding area and enjoy a full zombie feast! AWAKEN the dead at "ground zero" WITH the heavy sounds of dj JAMS rattling your bones and jiggling your brains!!! VISIT OUR ENTIRE WEBSITE FOR full DETAILS and admissions.
Zombieville Texas - zombie paintball
10011 Moursund Blvd., San Antonio, Texas 78221. Email:

[email protected]

. Directions: LOCATED in the SOUTHSIDE OFF LOOP 410, (Previously Moursund Flea Market). Zombieville is a 6-acre course where you can fulfill your dream of shooting a real life zombie (with paint balls of course). We have combined a haunted house, paintball course, and videogame into one where you navigate on foot through a trail filled with pure ZOMBIE MAYHEM! Story line: You are among a group of survivors who must shoot your way through attacking zombies and make it to an extraction point before Zombieville is bombed back to the stone age!!! So...good luck. Zombies or creatures in zombieville cannot hurt, hit or or touch you. All performers, zombies, creatures CAN NOT and WILL NOT touch, bite, or hit you. But, they may scare the pants off of you. Same goes for players. You absolutely cannot touch, hit or throw any objects at our actors, performers, staff, zombies monsters. BUT, you can SHOOT ZOMBIES with paintballs ALL NIGHT!!
El Paso County
Terror Trail Haunted House and Zombie Adventure - zombie paintball shoot, haunted trail, haunted house
401 Anthony Rd, Canutillo TX 79835. Email:

[email protected]

. Open: from Friday Oct 3rd through Saturday Nov 1st 2014, If you are tired of the same old black walled haunted warehouse then you should come see the Texas Terror Trail Haunted House on El Paso's westside in Canutillo. WinkeyDoodles Paintball Adventures transforms at night after they close into the Terror Trail haunted house. You and your friends will be horrified by what you see and feel. The terror starts September 27th. Open every Friday and Saturday night from 730-1130 Sunday nights 7:30-10pm. October 31 open from 730pm- last ticket sold at 945. We are also open Friday and Saturday. The Haunted House is a walk through attraction, however the Zombie Paintball Adventure is a ride in which you and nine others are seated on our Zombie Eradication vehicle, and taken to the Zombie feeding grounds, where you can shoot them with the mounted paintball guns.
Fort Bend County
TANK'S Paintball Park Inc.Texas Zombie Hunt - zombie paintball, paintball
22011 Southwest Freeway, Richmond, TX 77469. Phone: 281-492-2301. Open: see their website. The ZOMBIE APOCALYPSE has hit and you are recruited. Join the hunt this fall in helping us save TEXAS against these undead intruders.TX ZOMBIE HUNT has the best equipped teams with specially designed guns and state of the art bullets filled with ZOMBIE KILLING SERUM. Each team will be taken where the ZOMBIES have been seen and ask for your help in wiping them out. WILL YOU STEP UP TO THE CHALLENGE?
Harris County
Houston Haunted Houses / Houston Scream Fest - Zombie Paintball, Haunted House, Live Stage Shows, Concerts,
1500 Elton St, Houston, TX 77034. Open: Rain or Shine, 8 pm to 12 am Friday & Saturday Nights; 8 pm to 10:30 pm on all other nights. More than just a haunted house. We are a complete haunted scream festival. We have music and scary movies playing on big screens with characters wandering around the park for photo opportunities. Plus Unlimited entrance to all Haunted Houses, Zombie Paintball Shoot, Live Stage Shows, Concerts, Unlimited entrance to Club Blood 18 and up only, Horror Movies, Midway Games, Vendor Booths, Access to Adult Beverages 21 and up only and Air conditioned Restrooms. You can shoot at the walking dead zombies in our zombie maze with paintball markers. We have live concerts from different bands each night on stage. We also have performances from freak shows and side shows on stage. Visit the midway and play carnival games or have some food from vendors. You can shop for novelty Halloween items or watch horror films on the big screen. Visit Club Blood and dance under the lights to music spinning from a live Dj and enjoy adult beverages at the bar. Or get the fright scared out of you at one of our 8 haunted houses. The Houston Scream Fest has the best FREE well lit patrolled parking! We also have CLEAN indoor restrooms that are air conditioned.
Tarrant County
Strangling Brothers Haunted Circus - Haunted house, Zombie hunt
2602 Mayfield Road, Grand Prairie, Texas 75052. Open: Fridays and Saturdays from mid September through October 7 then every day but Sunday until November 1; The fearful adventure begins each night at 7:30 pm; see this page for current days and hours. They have added a Zombie Hunt attraction intended to take fear and terror to a whole new level. New for the 2015 season, the interactive zombie experience brings video gaming to life with a maze of apocalyptic ruins of narrow hallways and rooms with dark corners. Participants will battle larger than life zombie monsters in fierce combat using a mounted paint ball gun at five shooting stations. Strangling Brothers patrons will walk through an incredible haunted house made from 25 freakishly tricked out semi-trailers. The haunted scenes inside and outside are arranged in a maze filled with cutting-edge animatronics, innovative lighting and mind-blowing special effects. During the hour-long walk-through, guests come face to face with freaks and misfits, making this the scariest haunted house on earth. This new dimension in Halloween fun and fear begins with it a unique experience of animated clowns, Zombie dancers and a host of other freaks waiting to introduce fans to the Strangling Brothers Experience! Ticket prices start at $25 per person for the Haunted House and $25 for the Zombie Hunt or $40 for both attractions. Tickets can be purchased at the door or online. Discount coupons are available at Zurchers, Big O Tires and Techna Glass.
Looking for Haunted houses and other scary venues?
If hunting zombies with a paintball gun or lasertag isn't your thing, but you like being scared, look below for a haunted house (and if there are none on this page; recommend one!)
Brazoria County
Fearshire Farms - haunted corn maze, haunted field, haunted house
1100 S Walker St, Angleton, TX 77515. Phone: 979-848-3327. Email:

[email protected]

. Open: dates in 2015: September 25, 26; October 2, 3, 9, 10, 16, 17, 23, 24, 29, 30, 31; Ticket Booth opens at 7:00 pm; Haunting starts at dark; Ticket booth closes at 11:30 pm (9:30 pm on October 29th night since it's a weeknight). We keep haunting until we've scared all of the ticket-holders off of the property (or buried the ones that didn't survive!) Directions: From Houston; Take 288 South to Angleton. Pass Angleton West Columbia exit and taking next exit CR 290. Take left at stop sign. Follow CR 290 watching for Fearshire Farms signs.
Fearshire Farms is a "must do" event every October. We have Haunted Attractions for thrill seekers of every level. Fearson's Farm House and Dead End Corn Maze are for the strong of heart. The Curtain Chaoz and Haunted Hay Ride are great family fun for all ages. New this year is Spooky Jacks, a corn maze designed for younger guest in the spirit of the Halloween Season. Click on each attraction name for more information. Attractions: Fearsons Farm House, Dead End Corn Maze, Curtain Chaoz, Haunted Hay Ride, Spooky Jack's, Other things to do at the farm: While you are waiting on your friends to regroup you can roast marshmallows for Smores at the Community Campfire, or enjoy watching a classic scary movie under our covered pavilion. Visit venders booths like Temporary Tattoos or Shoot the Corn Cannon ($1.00 for 3 shots). Food and Drinks are available at our ticket booth and Food Vendor tents. *No outside food or drinks allowed.
---
And for traditional Halloween kid-friendly fun:
We have loads of related resources here, too.
On our Pick-your-own website, we also have pages with our own simple instructions on canning, freezing and drying many other fruits and vegetables, such as how to make jam, apple butter, applesauce, spaghetti sauce, salsa, pickles, ketchup or freezing corn (these links open new pages, just close them to return here). Be sure to come back at Christmas if you are looking for a cut-your-own Christmas tree farm! Look at the bottom of the page for links to resources on home canning, picking tips, recipes, etc..
I'm always looking for more to add and feedback about any patch, stand or farm you have visited, so write me using the Feedback form! And if you have a farm and want to add it or correct the information, please click on Add My Farm!
Do you know of any more pumpkin patches, corn mazes, or other special Halloween events? Please tell me about them - Click here to write to me!
---
---
Events and related links:
Looking for Haunted Houses in Florida? Here's a website that lists only haunted houses!
Revised: 21-Sep-2017
Texas County Map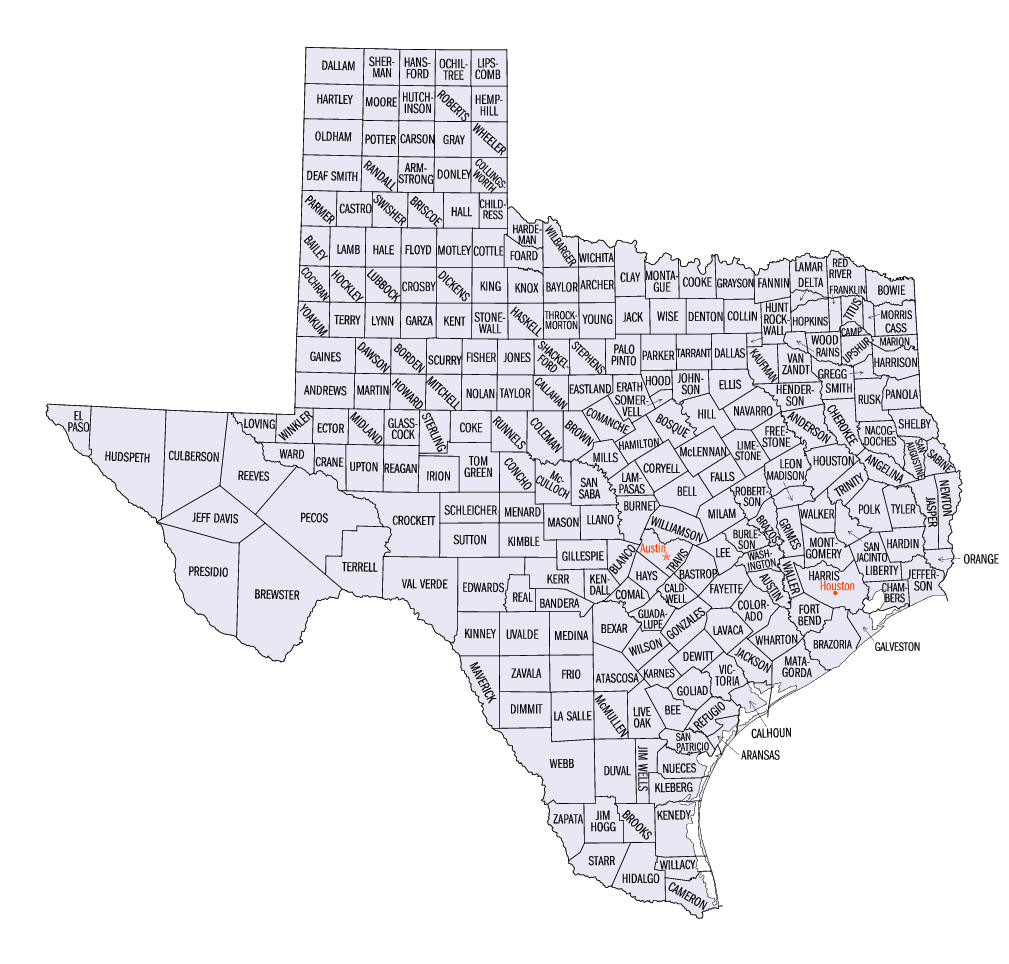 Our other free, informative sites you may like:
Questions, comments, corrections, suggestions or want to recommend a farm to add?
Or write me at



All images and text Copyright � Benivia, LLC 2004,-2014 All rights reserved. Disclaimer and Privacy Policy
Permission is given to link to any page on www.pickyourown.org Do NOT copy and republish this page in whole or part, that is a copyright violation which will be prosecuted: link to the page instead!