2016 United Kingdom Zombie Paintball Locations!
Zombie paintball is appearing at more and more corn mazes, pumpkin patches and other Fall farm venues in the United Kingdom (UK). Following on the popularity of anything having to do with zombies (remember how the Canadian government even had a zombie apocalypse preparedness day?) many Halloween attractions, particularly those on farms, are having a new event called "zombie paintball".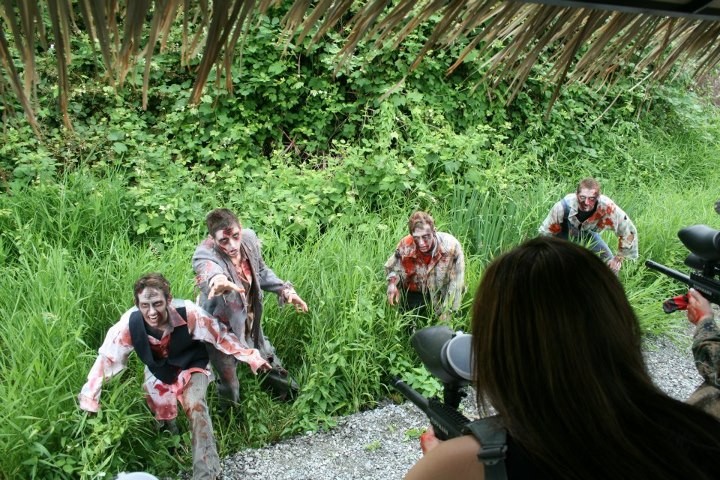 The concept is pretty simple: typically, patrons pay a fee to be given a loaded paintball gun which is mounted on either a haywagon (which drives through the zombie field) or on a ledge (like at a shooting range) and they fire away at zombies (actors dressed to look like zombies, whose clothes and masks protect them from injury).
So, just like in Shaun of the Dead, you get to fire away at zombies staggering around, trying to reach you and eat your brains!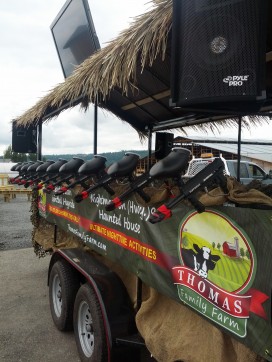 How to find a zombie paint ball venue?
We are continually updating and adding to our list of zombie paintball locations, farms and corn mazes that offer zombie paintball hayrides, zombie paintball trails, zombie lasertag, and indoor facilities, which is growing every day, right here, alphabetically, by county. If you know of any I've missed, please tell me about them - Click here to write to me! To see the zombie locations in this area, Just scroll down the page:
England
Bunker 51 Zombie Swat Training - Zombie Paintball
3 Herringham Road, North Greenwich, London SE7 8NJ. Phone: 0845 617 0685. Fax: 020 7068 0059. Email:

[email protected]

. Booking information email:

[email protected]

. Due to high demand for this event we are announcing a series of further dates. This is a full experience and will last for approximately 3.5 hours. Limited tickets are available, and pre-booking is essential to avoid disappointment. The experience runs every Sunday with limited Friday and Saturday sessions also available. Private sessions are also available on the dates below and on weekdays. Please check out the dates that still have spaces available over the coming months* Zombie S.W.A.T Training London HQ - Zombie Action Day in London. The invasion has begun and soon London will be swarming with the UNDEAD. Step inside the battle zone; face your biggest fears and fight to save the world from imminent disaster. The end is near and you must learn how to survive. Luckily you are one of the selected few deemed worthy to undergo intense zombie survival training from our undead response unit. Not only will you get to handle at least 3 different types of weaponry, you will also be taught life-saving techniques in how to immobilise and destroy the zombie hoard. Zombie Fun Activities: You will be given a secret evacuation point in the heart of London, and then be transported by our mission commanders to London's underground zombie HQ, code name: BUNKER 51. The decommissioned nuclear Bunker, has been a research facility for zombie observation for over a decade and now with rumours of zombies attacking in London, Bunker 51 is ready to train recruits in the essentials of zombie survival.
Combat Paintball Ltd - Zombie Paintball
Thetford Forest Plot 2010, Roudham Heath, Thetford, England, UK. Phone: 0845 260 4567. Alternate Phone: 07802 493885. Email:

[email protected]

. COMBAT ZOMBIE GRAVEYARD is a floodlit night game Located in the insanely creepy Thetford Forest. Upon arrival you will undergo a crash course bootcamp including a briefing on the situation, weapons training, then time to suit up and head out into the zone. Your mission - locate and rescue a group of missing scientists and discover the cause of the outbreak and if possible...stop the plague. Armed only with a paintball gun and all the guts you can muster, the ZOMBIE GRAVEYARD will push you to the edge....and maybe over! Our Site is complete with a 2 storey church, crypts and coffins this floodlit zone in Thetford forest provides the ultimate location for a night of zombie paintballing. If you wish to visit our site in dayligh you can play our other exiting zones including:
Tank Tastic
Holy Grail
Black Hawk Down
Fuel Dump
Football Frenzy
Special Ops Paintball: The Next Generation - zombie paintball
Borough Road, Saint Helens, UK WA10 3TN. Phone: 07903768684. Email:

[email protected]

. Open: on the VERY last Friday of the month we will host our famous ZOMBIE 'FRIGHT NIGHT' PAINTBALL. Journey Through our football pitched size battlefield fighting your way through zombies following along with 6 separate unique mission scenarios to choose from. Using over 1000 Different obstacles within the combat arena, you and your team will fight a horde of zombies. PITCH BLACK, SMOKE, LAZERS and BLOOD. Need we say more. "not for the faint hearted". Click here for a link to our Facebook page.
Scotland
Wales
---
Looking for Haunted houses and other scary venues?
If hunting zombies with a paintball gun or lasertag isn't your thing, but you like being scared look below for a haunted house (and if there are none on this page; recommend one!)
No haunted houses recommended yet!
---
And for traditional Halloween kid-friendly fun:
We have loads of related resources here, too.
On our Pick-your-own website, we also have pages with our own simple instructions on canning, freezing and drying many other fruits and vegetables, such as how to make jam, apple butter, applesauce, spaghetti sauce, salsa, pickles, ketchup or freezing corn (these links open new pages, just close them to return here). Be sure to come back at Christmas if you are looking for a cut-your-own Christmas tree farm! Look at the bottom of the page for links to resources on home canning, picking tips, recipes, etc..
I'm always looking for more to add and feedback about any patch, stand or farm you have visited, so write me using the Feedback form! And if you have a farm and want to add it or correct the information, please click on Add My Farm!
Do you know of any more pumpkin patches, corn mazes, or other special Halloween events? Please tell me about them - Click here to write to me!
---
---
Events and related links:
Looking for Haunted Houses in Florida? Here's a website that lists only haunted houses!
Revised: 20-Sep-2017
United Kingdom County Map
Our other free, informative sites you may like:
Questions, comments, corrections, suggestions or want to recommend a farm to add?
Or write me at



All images and text Copyright � Benivia, LLC 2004,-2014 All rights reserved. Disclaimer and Privacy Policy
Permission is given to link to any page on www.pickyourown.org Do NOT copy and republish this page in whole or part, that is a copyright violation which will be prosecuted: link to the page instead!