2016 West Virginia Zombie Paintball Locations!
Zombie paintball is appearing at more and more corn mazes, pumpkin patches and other Fall farm venues in West Virginia. Following on the popularity of anything having to do with zombies (remember how the Canadian government even had a zombie apocalypse preparedness day?) many Halloween attractions, particularly those on farms, are having a new event called "zombie paintball".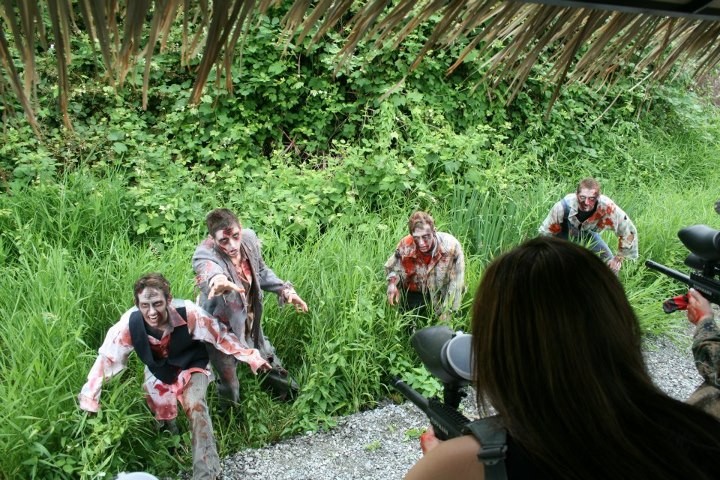 The concept is pretty simple: typically, patrons pay a fee to be given a loaded paintball gun which is mounted on either a haywagon (which drives through the zombie field) or on a ledge (like at a shooting range) and they fire away at zombies (actors dressed to look like zombies, whose clothes and masks protect them from injury).
So, just like in Shaun of the Dead, you get to fire away at zombies staggering around, trying to reach you and eat your brains!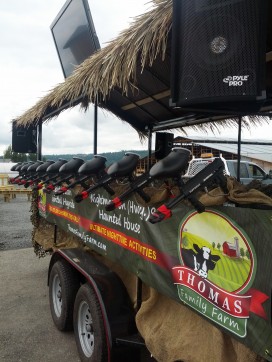 How to find a zombie paint ball venue?
We are continually updating and adding to our list of zombie paintball locations, farms and corn mazes that offer zombie paintball hayrides, zombie paintball trails, zombie lasertag, and indoor facilities, which is growing every day, right here, alphabetically, by county. If you know of any I've missed, please tell me about them - Click here to write to me! To see the zombie locations in this area, Just scroll down the page:
Grant County
Maysville Volunteer Fire Company Zombie Paintball Hunt - Zombie paintball,
10330 Lunice Creek Highway, Maysville, WV 26833. Phone: 304-749-7731. Alternate Phone: 304-851-7316. Fax: 304-749-8087. Email:

[email protected]

. Open: Every Friday and Saturday from 6 pm to 11 pm, October 3 to November 1 Halloween Night Thursday from 6 pm to 11 pm October 31. Click here for current open hours, days and dates. Directions: Payment: Cash, only. Come out and help and support Maysville Volunteer Fire Company in the zombie outbreak in Maysville, WV. We need your help in shooting these "live zombie's" with paint balls in order to keep them from taking over the firehouse and getting past the firemen and answering 911 calls. The zombie's can't shoot back, keep them from getting out of Grant County. Remember aim for their heads. Can't wait to see you all there.
---
Looking for Haunted houses and other scary venues?
If hunting zombies with a paintball gun or lasertag isn't your thing, but you like being scared look below for a haunted house (and if there are none on this page; recommend one!)
Kanawha County
Dead Screamers - Haunted house (Dead Wood Circus)
2000 Coonskin Dr, Charleston, WV 25311. Phone: 304-549-0696. Open: October 17, 18, 24, 25, 30, 31, and November 1 from 7:00pm to 11:00pm. Directions: See their website for directions. Payment: .
Scareview Grave Schoul - haunted house, concessions / refreshment stand, porta-potties
High Street, Saint Albans, WV 25177. Phone: 304-546-5151. Open: Friday and Saturday 7 pm to midnight September 27 to October 31 and November 1. Directions: Turn left at West Side Volunteer Fire Department (West Main Street Saint Albans) onto Coal River Road. Turn onto High Street at the first fork in the road. School is located on your right on the hill. Click here for a map and directions. Payment: Cash, only. Price of admission is $10 per person or $8 per person with a can food donation per person. This haunted house is sponsored by West Side Volunteer Fire Department. All food donations go to Christ's Kitchen/Food bank. Proceeds from ticket sales go to the FD for training, equipment etc to help us better serve our community.
---
And for traditional Halloween kid-friendly fun:
We have loads of related resources here, too.
On our Pick-your-own website, we also have pages with our own simple instructions on canning, freezing and drying many other fruits and vegetables, such as how to make jam, apple butter, applesauce, spaghetti sauce, salsa, pickles, ketchup or freezing corn (these links open new pages, just close them to return here). Be sure to come back at Christmas if you are looking for a cut-your-own Christmas tree farm! Look at the bottom of the page for links to resources on home canning, picking tips, recipes, etc..
I'm always looking for more to add and feedback about any patch, stand or farm you have visited, so write me using the Feedback form! And if you have a farm and want to add it or correct the information, please click on Add My Farm!
Do you know of any more pumpkin patches, corn mazes, or other special Halloween events? Please tell me about them - Click here to write to me!
---
---
Events and related links:
Looking for Haunted Houses in Florida? Here's a website that lists only haunted houses!
Revised:
Warning: filemtime(): stat failed for ZombiePaintballWest Virginia.php in /home/pumpkinp/public_html/ZombiePaintballWestVirginia.php on line 208
1-Jan-1970
West Virginia County Map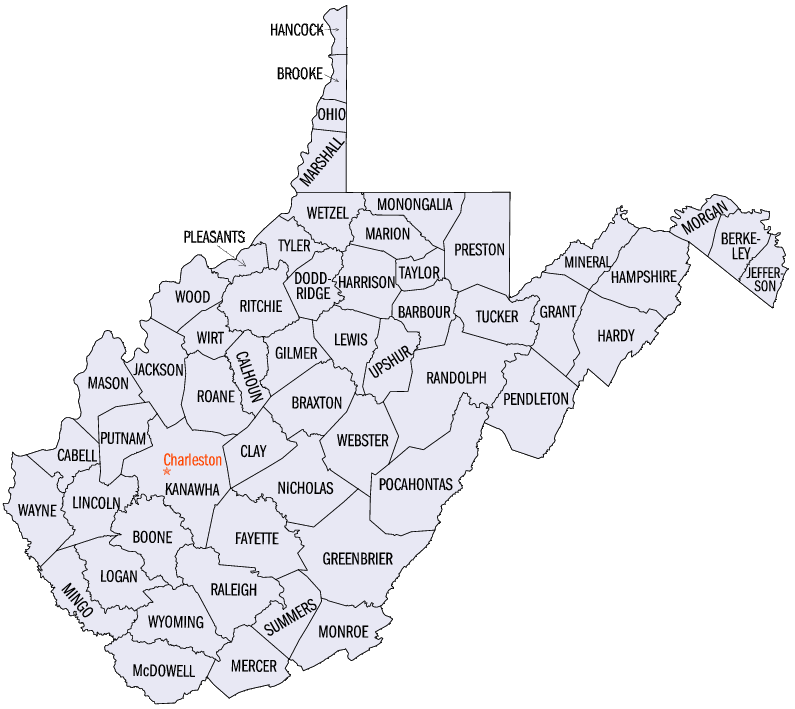 Our other free, informative sites you may like:
Questions, comments, corrections, suggestions or want to recommend a farm to add?
Or write me at



All images and text Copyright � Benivia, LLC 2004,-2014 All rights reserved. Disclaimer and Privacy Policy
Permission is given to link to any page on www.pickyourown.org Do NOT copy and republish this page in whole or part, that is a copyright violation which will be prosecuted: link to the page instead!