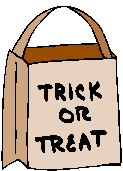 Halloween Tips for Safety and Fun!
Hype and Hysteria?
According to a university professor who researched it, no child has ever been killed or seriously harmed by poisoned candies or fruit. Nonetheless, many parents freak out every year. A little common sense and basic caution goes a long way.
Common Sense
Trick or treat in neighborhoods that you know.

Be careful crossing streets, take young children by the hand.

Dark color costumes are hard to see at night; GZive your kids various lights, glowsticks, reflectors, etc., front and back... and incorporated into the costume, so they don't look like a safety-dork. For example, IronMan has a light on his chest and on his palms... a stick-on LED light works for that!

Check candies for anything odd. Again, it's never happened, but you don't need to be the first, in an age of rampant terrorism.

No open flames or spark sources near costumes.
Links to more website that have more detailed safety information:
Halloween Safety Websites
Paranoia and More
Some of the more paranoid precautions are below.
Don't eat apples. They hide razor blades. (it hasn'thappened)

Don't eat candy until we take it to the nearest emergency room to have it X-rayed. See above.

Don't eat anything that isn't factory-sealed. It is likely to contain poisons, toxins or hallucinogens.

Don't eat anything homemade, sealed or otherwise. See above.

Don't ring the doorbell of anyone you don't know personally. A pervert might answer.

Don't get close to groups of teenagers. They capture children, mummify them in toilet paper and set them on fire.

Don't cross any streets. You'll get hit by a runaway vehicle driven by aforementioned teenagers.

Don't run. You will trip over your costume. OK, this could actually happen, my children run and fall down every day... and I know I did...And then I got up again.