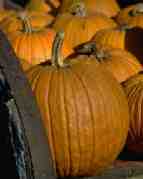 Looking for a local pumpkin patch, corn maze, hayride, gourds and other Halloween activities in Western Nova Scotia? Scroll down this page and you will see the all of those in Western Nova Scotia, sorted by county. Some are farms, where you take a hay ride out into the field, others are elaborate farm stands with mountains of pumpkins and other activities and some are simple roadside stands. Most have loads of pumpkins to choose from. To really make it fun for your kids, look for those that have the extra activities, like a corn maze, spook house, or hayride. There is usually a small fee for the mazes (of course, the more elaborate mazes tend to charge more. Hayrides are often free. ALWAYS call before you go to confirm the info, they don't always report changes to me!
And if you know of one I missed and want to add it or correct the information, please let me know! If you are looking for pumpkin weigh-offs and the US and world's largest pumpkins, see this page! Want to do a fundraiser selling pumpkins? See this page! There are affiliate links on this page. Read our disclosure policy to learn more.
Finally, my boys are in Boy Scouts and raising money for their troop and their trips and activities, so if you are looking for popcorn (many types), chocolate, coffee, k-cups or to donate to both the Scouts and U.S. military troops, click here and help the Boy Scouts!
Updates for February 2020
Most pumpkin patches and corn mazes usually open by mid September, some earlier! You may also like a local zombie event or Zombie Paintball!. The world's best pumpkin pie recipe is here, and the pie crust recipe is here! And we have home canning, preserving, drying and freezing directions. You can access many pumpkin and other recipes and other resources from the drop down menus at the top of the page or the site search.
NOTE: Many of the farms are dropping their websites and switching to Facebook pages - but they don't tell anyone, including search engines like Google, Bing, Yahoo or us, or redirect their website, thus breaking all links to them. If a link is broken please click the "click here to report a broken link or blank page" so we can find the replacement link! Thanks!
After Halloween, find a Christmas tree at a local Christmas tree farm (and enjoy a bonfire, smore, hot chocolate and free hayrides, and often Santa visits! And next Spring, you'll want to take your children to a free Easter egg hunt - see our companion website to find a local Easter Egg hunt. If you have any questions or suggestions, feel free to write me!
Pumpkin Patch Listings, by county
Click on Resources above, if you need a county map
Annapolis
Digby
Kings
Boates Vinegar & U-Pick - apples & pears
432 Bligh Road. . Contact: Brian or Keith Boates, Phone: 902-678-7671, Fax: 902-678-0771, Email: kb@xcountry.tv
Dempsey Corner Orchards - Apples, blueberries, carrots, cherries, corn (sweet), currants (red and black), grapes, onions, pears, peaches, plums, pumpkins, raspberries, summer squash, winter squash, strawberries, other vegetables, pumpkin patch-pick in the field, pumpkin patch- already gathered from the field, straw or hay bale maze, child-sized haybale maze, prepicked produce, snacks and refreshment stand, restrooms, picnic area, tractor-pulled hay rides, petting zoo
2717 Route 221, Aylesford, NS B0P 1C0. Email us at: dempseycornerorchards@ns.aliantzinc.ca. Directions: Just north of exit 16 in the Annapolis Valley and follow the bright pink signs. Our hours are: 10 to 6 7 days per week Payment: Cash, Check.
Elderkin's Farm Market and U-Pick - apples, pears, pumpkins, Trout
#10362 Hwy #1, Greenwich, Nova Scotia. Phone: 902-542-7198, Fax: 902-542-3842. Email: elderkinsapples@accesswave.ca. Directions: Take exit 11 off Hwy 101, keep right to wolfville
On site features: full line farm market, Scotsburn ice cream, sweet & hard cider, bakery items made from scratch with no additives or preservatives, crafts, gifts, fruit trees, perennials and shrubs for sale, adopt-a -tree. Facilities/attractions: blossom tours, wagon rides, fish pond, farm animals, picnic tables and the best view in the Valley with a pleasant walk. Contact: Peter Elderkin,
Foote Family Farm - apples, pears, plums, pumpkins
1972 Woodville Road, Woodville, Nova Scotia. Phone: 902-678-4371, Fax: 902-678-1375, Email: trina@footefamilyfarm.com. Directions: north of Highway 221 at Woodville. On site features: honey, apple cider, beekeeping supplies, walking trail, picnic area. Contact: George or Trina Foote,
Fuller Brothers Farm - apples, pears, plums, pumpkins
Avonport, NS. Phone: 902-542-1825, Fax: 902-542-0613, Email: jk.fuller@ns.sympatico.ca. Directions: Turn left at Exit 9 off 101, follow signs for 1 mile, 40 minutes from metro. On site features: washroom facilities, pre-picked apples, pears, plums, peaches, pumpkins. Contact: Jonathan Fuller,
Gates U-Pick - apples (Cortland, Macs, Gravs, Red Delicious, Spy, Nova Mac, Mira, Prima just to name a few varieties), pears, pumpkins
1263 Starr's Point Road, Port Williams. Phone: 902-542-9340, Fax: 902-542-1656. Directions: Take exit 11 off 101 Hwy at Old Orchard Inn, follow signs to Port Williams. On site features: pre-picked fruit and a no-spray section, school buses welcome, free wagon rides, picnic tables, ducks and geese on ponds. Open: 9 am to 6 pm, September 1-October 30.. Contact: Doug or Marianne Gates,
Maize Maze - corn maze
Elmridge Farm, 765 Baines Road, Centreville, Nova Scotia, B0P 1J0. (anyone have a phone number for them?)
Noggins Corner Farm Ltd. - Corn Maze, Barnyard Adventure, U-Pick pumpkins, apples and flowers.
10009 Hwy #1, Greenwich, Nova Scotia, Canada. Phone: 902-542-5515. Directions: Exit 11 off Hwy 101, proceed to bottom of the hill, look for large Farm Market sign on the roof, turn left on Hwy # 1. Noggins Corner Farm is about 500 yd down the road on your right. Open: 10:00 am - 8:00 pm. Historic walking trails. Admission; adults $5.00,
children (5 - 15) $4.00, under 5 free. Come visit our farm market featuring Valley grown farm, fresh produce including, peaches, pears, over 30 varieties of apples, sweet corn, squash and all sizes of pumpkins.
Oakview Farm - No pesticides are used, apples, peaches, raspberries (black), strawberries, Fresh eggs, U-pick and already picked, porta-potties
7 Longspell Branch, Kingsport, NS B0P 1H0. Phone: (902) 582-7454. Fax: 9025827454. Email: oakview@xcountry.tv. Open: Hours and availability of crops to pick varies considerably; please call or email for current availability and hours. Directions: Take exit 11 on highway 101, proceed north to Canning and stay on highway 221 to Kingsport. Click here for a map and directions. Strawberry season is typically July 1 to July 20th; Peach season is typically August 15 to September 15. We do not use pesticides on the crops. Payment: Cash, only. Click here for our Facebook page. We are a non spray farm. We have free run brown eggs available at the farm. (UPDATED: July 10, 2018)
Stirling Fruit Farms - strawberries, apples, corn maze, pumpkins
10317 Highway 1, Greenwich, Nova Scotia, Canada B4P 2R2. Phone: 902-542-3763.Email: greatapples@stirlingfruitfarms.ca. Open: daily, but Always check ahead for hours of operation. We have seasonal U-Picks at our Wolfville location in the Annapolis Valley. Join us in the summer for our Strawberry U-Pick and from early September to the end of October for our Apple U-Pick and Pumpkin U-Pick. Enjoy fall fun on our hayrides and get lost in our popular corn maze! Click here for a link to our Facebook page. (ADDED: July 20, 2018, JBS)
Stonehenge Farm - apples
2380 Harmony Road, Aylesford. Phone: 902-847-9146, Email: r.t.johnson@ns.sympatico.ca. Directions: Exit 16 off Hwy 101, south 7 km on Victoria Road, Left at Harmony Road sign. On site features: adopt your own apples tree with certificate and tree sign. Tourism attractions in the local area: Oaklawn Farm Zoo - 4 km.
Willowbank Upick Farm - pumpkins, Pick-your-own apples, corn maze, pumpkin patch-pick in the field, pumpkin patch- already gathered from the field, haunted corn maze, straw or hay bale maze, tractor-pulled hay rides, haunted house, picnic area, pony rides, petting zoo, farm animals, birthday parties, weddings and wedding parties, school tours
Starrs Point, Exit 11 off 101 Highway, Port Williams, NS B0P 1T0. Phone: 902 542 9153 . Fax: nil. Email: info@willowbankupick.com. Open: Early September to Late October 7 days a week; 9am to 5:30pm. Click here for current open hours, days and dates. Picking updates: Click here for updates. Directions: Take Exit 11 off the 101 highway (Greenwich) Head North on route #358 to Port Williams, follow the signs for the Historic Prescott Museum and watch for Willowbank Upick signs along the way. Turn Right at the white church in Port Williams on to Starr's Point Road. We are only 5 minutes from the Old Orchard Inn which is located at exit 11 off the 101. Click here for a map and directions. Open Each Fall the weekend after Labor Day, until Late October. Payment: Cash, only. A family operation who welcome you to our home on the beautiful Cornwallis River, with nice views of Acadia University, the town of Wolfville and Acadian dykelands.
Lunenburg
Indian Garden Farm - This farm has upicks and wagon rides and farm tours in late September. Does anyone know what else they offer? Click here to write to me!
15401 Hwy 3, Hebbville, Nova Scotia. Directions: located off Highway #3 down the hill from the cemetery.
Queens
Do you know of any pumpkin patches, corn mazes, or other special Halloween events in this county? Please tell me about them - Click here to write to me!
Shelburne
Yarmouth