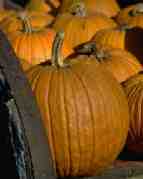 Looking for a local, pumpkin patch, corn maze, hayride, gourds and other Halloween activities in Southeast Florida? Scroll down this page and you will see the aall of thoses in Southeast Florida, sorted by county. Some are farms, where you take a hay ride out into the field, others are elaborate farm stands with mountains of pumpkins and other activities and some are simple roadside stands. Most have loads of pumpkins to choose from. To really make it fun for your kids, look for those that have the extra activities, like a corn maze, spook house, or hayride. There is usually a small fee for the mazes (of course, the more elaborate mazes tend to charge more. Hayrides are often free. ALWAYS call before you go to confirm the info, they don't always report changes to me!
And if you know of one I missed and want to add it or correct the information, please let me know!
Updates for August 2016
August 2016 many corn mazes are open now (see this website for only cornmazes). Pumpkins will be ready starting in mid September, scroll down. And be sure to try the latest fun, Zombie Paintball, see this website!.
Pumpkin Patch Listings, by county
Click on Resources above, if you need a county map
Broward County
A Not So Spooky Halloween - trick or treating,
Pompano Citi Centre, 1955 N. Federal Hwy. Pompano Beach, FL 33062. Phone: 954-943-4683. Open: one day only, on Friday, October 31st, from 5 pm to 8 pm but CALL THEM FIRST - their website is not updated since last year. Put on your best Halloween costumes and join us at Pompano Citi Centre for some not-so-spooky Halloween fun! There will be music and games with Witch Anna at 5 pm, a special Wizard Show at 6 pm, free candy bags, and trick-or-treating at participating stores starting at 6:30 pm. You can also ride the Carousel for free! This event is for children 10 & under. Adult supervision is required. Admission to this event is free. (ADDED: September 25, 2015, JBS) (ADDED: September 13, 2014, from their website)
Batten's Farmers Market -

Uses natural growing practices

, pumpkins for sale in the shop or farmstand, pumpkin patch- already gathered from the field, Fall festival, child-sized haybale maze, we also have pie pumpkins, horse-drawn hay rides, farm market, gift shop, concessions / refreshment stand, restrooms, picnic area, face painting, inflatables/bounce house, pony rides, petting zoo, farm animals, birthday parties, weddings and wedding parties, school tours, group reservations
5151 SW 64 Avenue, Davie, FL 33314. Phone: 954-990-7820. Email: farmersmarket@nsied.org. Open: Check their website; it still says they are closed, and will open late September, but they are usually open the month of October. Click here for current open hours, days and dates. Pumpkin updates: Click here for updates. Directions: Located about a mile west of the Turnpike on Davie Road between Griffin and Stirling in Broward. Click here for a map and directions. Strawberry fields open for u-pick starting December 14th. We use natural practices, but are not yet certified Organic. Payment: Cash, Check, Debit cards, Visa/MasterCard, Discover, AmEx. Click here for our Facebook page. Visit Batten's Farmers Market for locally grown produce at great prices. Try our fresh food lunch specials (subs, platters, soups, snacks) or one of our all natural juices, milkshakes and smoothies. We have a monthly fish fry with live music the 2nd Friday of each month. Weekend kid activities are typically offered and our free petting zoo is open every day during market hours. Restrooms and seating for meals/snacks also available indoors and outdoors. Holiday catering menu available online. (UPDATED: September 26, 2015, JBS) (ADDED: December 06, 2013)
Broward County Parks Hayrides and Campfires - hayrides, campfires
Quiet Waters Park, 401 S. Powerline Rd., Deerfield Beach, FL. Phone: 954-357-5100. Open: September 25, October 23, November 20, December 11; Fridays, 7-9:30 pm; other parks locations and dates are below. $3.50+sales tax per person ages 3 and up – Includes one hayride and one bag of fixings for s'mores. Preregistration and prepayment are required (except at T.Y. Park) by calling or visiting the park of your choice. T.Y. Park accepts cash only. Other Parks:
Tradewinds Park & Stables
January 15, January 29, February 26
3600 W. Sample Rd., Coconut Creek
954-357-8870
T.Y. (Topeekeegee Yugnee) Park
October 23, November 20, December 18, January 22, February 19
3300 N. Park Rd., Hollywood
954-357-8811
Easterlin Park
January 8, February 5, February 12, March 4
1000 N.W. 38th St., Oakland Park
954-357-5190.
(ADDED: September 26, 2015, JBS)
Broward Library Halloween Happenings - Halloween story time, custom events and other activities
Many locations, Fort Lauderdale, FL. Phone: 800-385-3885. Open: Click on the link for a comprehensive listing of Halloween activities at the county's libraries. (UPDATED: September 26, 2015, JBS) (UPDATED: October 10, 2013, from their website) (UPDATED: October 13, 2011)
Coral Ridge Presbyterian Church HarvestFest - Fall festival, tractor-pulled hay rides,
5555 N. Federal Highway, Fort Lauderdale, FL 33308. Phone: 954-771-8840. Email: info@crpc.org. Open: October 28, 2015 from 5:30-8:00pm. Directions: Click here for a map and directions. Payment: Cash, only. Click here for our Facebook page. Join us as we gather together as a church and community for a night of fun fall festivities at our annual HarvestFest celebration. Bring your family, co-workers, neighbors, & kids to enjoy a night of bounce houses, food concessions, petting zoo, games, a special area for Pre-K children, and much more.
Admission and participation are free! Please feel free to bring canned goods to help us restock our food pantry. FOOD TRUCKS are coming this year, and the food will be available for a small cost. (UPDATED: September 26, 2015, JBS) (UPDATED: October 06, 2014, JBS) (UPDATED: October 10, 2013, from their website) (ADDED: October 22, 2011)
Fern Forest Nature Center - Ghosts and Goblins Family Fun Night, pumpkin photo area
201 Lyons Road South, Coconut Creek, FL. Phone: 954-970-0150. Open: Saturday before Halloween in October (Call to confirm!) from 6-8 PM. Fun, games, prizes, a costume contest, plus arts and crafts and a photo area with pumpkins in it for a nominal fee. Refreshments for sale. The evening concludes with an age-appropriate story. Ages 2-10. (UPDATED: October 10, 2013, from their website)
First Presbyterian Church - pumpkin patch- already gathered from the field,
1630 Hollywood Blvd., Hollywood, FL 33020. Phone: 954-922-8558. Email: firstpresp@aol.com. Open: check the calendar on their website; Month of October: Monday through Saturday: 9:30am to Dusk Sunday: 11:00am to Dusk. -PUMPKIN PATCH October 17th – 31st. Also they will have plenty of events, see their website. Fall festival on Friday, October 23, 2015 from 5 pm to 8 pm, with: Hayride, Petting Zoo, Fire Engine, Games, Face Painting, Food & Fun! (UPDATED: September 26, 2015, JBS) (UPDATED: October 06, 2014, JBS) (UPDATED: October 10, 2013, from their website) (UPDATED: October 13, 2011) (ADDED: October 19, 2009, suggested by a visitor)
Flamingo Road Nursery - pumpkins for sale in the shop or farmstand, pumpkin patch- already gathered from the field, Fall festival, we also have pie pumpkins, horse-drawn hay rides, Honey from hives on the farm, farm market, gift shop, concessions / refreshment stand, restrooms, picnic area, birthday parties, weddings and wedding parties, school tours
1655 Flamingo Road, Davie, FL 33325. Phone: 954-476-7878. Alternate Phone: 954-235-9397. Fax: 954-476-8388. Email: info@flamingoroadnursery.com. Open: Pumpkin Patch, Nursery, Gift Shop, Farmers Market and Deli open 7 days a week; hours are Sunday through Friday, 8 am to 6 pm; Saturday, 9 am to 6 pm; Also, every weekend in October, we have horse - drawn hayrides on Saturday 12 to 3 pm and Sunday 1 to 4 pm; Face Painting by Curly Sue, Saturday 11 am to 3 pm and Sunday 12 to 4 pm. Click here for current open hours, days and dates. Directions: Located one mile south of Interstate 595 on the west side of Flamingo Road. Click here for a map and directions. 4th Annual Fall Harvest Festival featuring Broward County's Biggest and Best Pumpkin Patch; Fun for the entire family! Harvest Market, Free Garden Talks, Gardening Workshops, Applefest and Apple Sampling, Live Music, Horse-drawn Hayrides, Face Painting, Seasonal Delights including Candied Apples, Cider, Roasted Corn and much more;;. Payment: Cash, Check, Debit cards, Visa/MasterCard, Discover, AmEx. Click here for our Facebook page. Click here to see the YouTube event video. (UPDATED: October 06, 2014, JBS) (UPDATED: October 10, 2013, from their website) (UPDATED: October 01, 2012) (UPDATED: October 13, 2011, from their website) (ADDED: October 27, 2010)
Museum of Discovery & Science - IMAX movies and Halloween-themed events
401 SW Second Street, Fort Lauderdale, FL. Phone: 954-467-6637. Open see their website for dates and hours. Celebrate Halloween Week at the Museum with frighteningly fun crafts and gruesome games. See their website for the dates on the events and exhibits. Call the Museum for special Halloween activities. Take the jelly bean taste test, touch snakes, gators and bugs and event play the GrossOut Showdown. Make sure to dress to impress for our Halloween Costume Contest. If you dare, taste edible bugs! (UPDATED: October 10, 2013, from their website) (UPDATED: October 13, 2011, from their website)
Parkridge Baptist Church - pumpkin sale, Trunk or Treat Annual Community Event
5600 Coral Ridge Dr, Coral Springs, FL. Phone: 954-346-9009. Open: Trunk or treat is on October 31st from 6 to 8 pm; pumpkin patchj is open from October 5th; Monday-Friday 1pm - 8pm, Saturday 11am - 8pm, Sunday 11am - 3pm. This safe alternative to Halloween will provide games, bounce house, hot dog dinners, FREE candy, popcorn and snow cones. You can come in costume, too. (UPDATED: September 26, 2015, JBS) (UPDATED: October 11, 2011, from their website)
Pine Island Park/ Multipurpose Center - haunted house, pumpkin patch
Robbins Open Space Park, 4005 Hiatus Road, Davie, FL. Phone: 954-797-1076. Open: See their website for current dates and a full list of events: Sunday, October 25, 2015, from 1:00pm - 5:00pm is South Florida Trail Riders' Horse Costume Contest and Parade and South Florida Clogger's Family Friendly Haunted House. For a Fee: Halloween Pumpkin Patch, Snacks and Food, Haunted House, Face Painting. Free: Bounce Houses, Climbing Wall, Halloween Games, Spooky Music with DJ Jeff, Petting Farm. Costume Contest: 3 Age Groups: 5 & under, 6-8, 9-12. Fun Contest for Kids of All Ages!. (UPDATED: September 26, 2015, JBS) (UPDATED: October 10, 2013, from their website) (UPDATED: October 13, 2011, from their website)
Quiet Waters (and other parks) Family Campfires, Hayrides and Smores - Family Hayride, S'mores and Campfire
401 S. Powerline Rd., Deerfield Beach, FL. Phone: 954-360-1315. Saturday, September 29 from 6:30-8:30pm. Gather 'round for some old fashioned fun with a hayride and marshmallow roast around a campfire. The hayride costs $3 and includes hot chocolate and the makings for 'Smores. The campfire is free after park admission of $1. Additional refreshments also available. Fridays, 7 - 9:30 p.m. $3.50/person ages 3 and up – Includes one hayride and one bag of fixings for s'mores. Preregistration and prepayment are required by calling or visiting the park of your choice. Here are the locations, but click the link above for updates:
$3.50/person ages 3 and up – Includes one hayride and one bag of fixings for s'mores. Preregistration and prepayment are required by calling or visiting the park of your choice.
Easterlin Park - October 24, November 21, January 23
1000 N.W. 38th St., Oakland Park
954-357-5190
Quiet Waters Park - October 10, November 7, December 12
401 S. Powerline Rd., Deerfield Beach
954-357-5100
Tradewinds Park & Stables - January 9, February 6, February 20, March 6
3600 W. Sample Rd., Coconut Creek
954-357-8870
(UPDATED: October 06, 2014, JBS) (UPDATED: October 10, 2013, from their website)
St.Ambrose Pumpkin Patch - pumpkin patch- already gathered from the field,
380 South Federal Highway, Deerfield Beach, FL 33441. Phone: 9548957613. Email: lttlejeannie@aol.com. Open: 5pm to 9pm from 10/11 to 10/15 and from 9am to 9pm or later on weekends 10/16 to 10/30. Directions: approx. 1/4 south on Federal Highway off Hillsboro Blvd, on east side of street. Click here for a map and directions. Payment: Cash, Check, Visa/MasterCard, Discover, AmEx. We have a large assortment of pumpkin, guords, corn stalks, hay etc. The pumpkins are sent from Klickman farms in Ohio. Our picture display brings many people back year after year. Come get your pumpkins, gourds, corn stalks, hay, and baking pumpkins! (UPDATED: October 11, 2015) (UPDATED: September 26, 2015, JBS) (ADDED: September 13, 2014, suggested by a visitor)
Young At Art Children's Museum - Art-Rageous Halloween Party
11584 W. State Road 84, Davie, FL. Phone: 954-424-0085. Open: Friday, October 30, 2015 from 3 pm to 8 pm. Fun for the entire family, this year's Halloween celebration includes a museum-wide experience with a range of colorful, art-filled and spooktacular activities. Visitors will enjoy celebrating Halloween early as they don their favorite costumes; create Halloween decorations, accessories and trick-or-treat bags; dance to Halloween-themed music; participate in the costume parade and costume contest; trick-or-treat; pumpkin painting workshop; and more! ADMISSION PRICE: $14 per person; $12 for Broward County residents, seniors and children over age 1; and $11 for military members their immediate families. Event is FREE with Museum paid admission. (UPDATED: September 26, 2015, JBS) (UPDATED: October 06, 2014, JBS) (UPDATED: October 10, 2013, from their website) (UPDATED: September 27, 2010)
Martin County
D and D Family Farms - pumpkins for sale in the shop or farmstand, pumpkin patch- already gathered from the field, Fall festival, cow train rides, train rides, corn maze, haunted corn maze, kiddie (mini) corn maze, straw or hay bale maze, corn cannon, goat walk, we also have pie pumpkins, tractor-pulled hay rides, Bounce house, Honey from hives on the farm, Fresh eggs, U-pick and already picked, farm market, concessions / refreshment stand, porta-potties, restrooms, picnic area, Bounce house, petting zoo, birthday parties, weddings and wedding parties, school tours
5059 SW Citrus Blvd, Palm City, FL 34990. Phone: 772-463-1330. Email: Danddfarms@ymail.com. Open: during the month of October, Monday to Saturday 9am to 5:30 pm, Sunday 10am until 4:30pm. Directions: If using GPS use 5059 SW 48th ave. Click here for a map and directions. Payment: Cash, Check, Debit cards, Visa/MasterCard, Discover, AmEx. Click here for our Facebook page. From a pumpkin patch to apple cider donuts the fall festival has it all. Hayrides, train rides, barrel train rides, petting zoo, face painting, giant slide and playground, sorghum maze and the pumpkin patch. In December, come back for the Farm of Lights. In December everyone is running around buying this and decorating that. The hustle bustle can be overwhelming. Why not take a night off and make a memory. We decorate the farm with lights and you can ride the train, take a hayride, roast some marshmallows by the campfire to make s'mores and rela(UPDATED: September 26, 2015, JBS) (UPDATED: October 04, 2014, from their website) (UPDATED: December 05, 2012)
Pumpkin Towne - pumpkin patch- already gathered from the field, inflatables/bounce house
14 N. Old Dixie highway (u.s. 1), Jupiter, FL 33458. Phone: 561-744-5198. Alternate Phone: 5616979377. Email: courtney@thepotterypatch.com. Open: 7 days a week, from 9 am to 9 pm, October 10 to October 31. Click here for current open hours, days and dates. Directions: N.W. Corner of Indiantown Road and Old Dixie Highway. Click here for a map and directions. Payment: Cash, Check, Debit cards, Visa/MasterCard. We have a variety of fresh pumpkins so you can find the perfect one for decorating, carving, or for making pumpkin pie. Pricing is based on weight in pounds except for the mini pumpkins which are less than a dollar each. It's not just about picking your own pumpkin, its about getting in the Fall spirit. Join us at one of our pumpkin patches where your kids can enjoy bounce houses, hay bales for climbing, head cutout photo ops and other fun fall activities. (UPDATED: September 26, 2015, JBS) (ADDED: October 03, 2014)
Miami-Dade County
Aventura Mall - Trick-or-treating at the Mall
19501 Biscayne Blvd., Aventura, FL. Phone: 305-663-4852. Open: Call, or see their events list, unfortunately, they usually don't update it until the last minute. Candy stations, character cut-outs, photo opportunities and our holiday train will keep the little munchkins entertained. (UPDATED: September 26, 2015, JBS) (UPDATED: October 06, 2014, JBS) (UPDATED: October 10, 2013, from their website) (UPDATED: October 13, 2011, from their website)
Adventure Attractions Zombie Adventure - zombie paintball
Action Town Florida Family Fun Center, 7965 West 2nd Ct, Hialeah FL 33014.
Phone: 321-939-2464. Open: Show times are Friday and Saturday nights from 7p - 12a October 4th - October 26th; but call first, their website hasn't been updated since 2014. The adventure is on a first-come-first-serve basis; no reservations needed or taken. The 2013 Zombie Adventure will be $54.95 + sales tax. (UPDATED: September 26, 2015, JBS) (ADDED: September 27, 2013, from their website)
Coconut Grove Pumpkin Patch Festival - pumpkin patch- already gathered from the field, carnival rides, kids hay maze, corn stalk maze, hayrides, concessions / refreshment stand, Inflatables/bounce house
Peacock Park, 2820 McFarlane Road, Miami, FL 33133. Phone: 954-530-0350. Open: Click here for current open hours, days and dates. In 2015; October 24 and 25, from 10 am to 6 pm. Directions: Click here for a map and directions. Payment: Cash, Debit cards, Visa/MasterCard, AmEx. Click here for our Facebook page. The Coconut Grove Pumpkin Patch Festival is back and more wonderFALL than ever, featuring a true pumpkin patch with 5,000 pumpkins to pick from! INCLUDED in the entrance fee ($10 for Adults & $15 for Kids 12 & Under), are UNLIMITED kids carnival rides, the kids hay maze, a dress-your-own scarecrow village, corn stalk maze, hay ride, and on-going shows & activities on our main stage! Adults will love the Pumpkin Food Court offering savory & sweet pumpkin delights (and delicious fair food) and our Pumpkin Beer Garden!. (UPDATED: September 26, 2015, JBS) (UPDATED: October 06, 2014, JBS) (ADDED: September 04, 2013)
House of Terror Amusement Park - Halloween themed amusement park
Miami International Mall, 1455 NW 107 Ave., Miami, FL. Phone: 305-263-1413. Email: tsoberon@uniprogroup.com. Open: late September through, November 1st; Monday to Thursday from 6 pm to 12 Midnight and Friday to Sunday from 5 pm to 12 Midnight. Miami's only professionally produced haunted house and park attraction, ghouls and goblins will scream their way through a two-acre haunted house and enjoy amusement rides, carnival food, interactive games and more. In addition, the House of Horror concert stage will feature performances by the hottest acts in South Florida and local DJs who will spin the spookiest tracks, on select evenings. Admission: Pay one price, ride all night! Contact Miami International Mall at or House of Horror for more information. (UPDATED: September 26, 2015, JBS) (UPDATED: October 10, 2013, from their website) (UPDATED: October 13, 2011, from their website)
Key Biscayne Community Church Pumpkin Patch - pumpkin patch- already gathered from the field, pumpkins, white pumpkins, also gourds, corn stalks and other Halloween supplies.
355 Glenridge Rd, Key Biscayne, FL, 33149. Phone: 305-361-2411. Email: kbcc@juno.com. Open: The Pumpkin Patch opens on October 15 and runs daily through October 31. Prices range from 50 cents to $50. (UPDATED: October 06, 2014, JBS) (UPDATED: October 10, 2013, from their website) (UPDATED: October 11, 2011)
The Little Farm - Pumpkins, Scarecrows, Pony rides, Farm animals
13401 SW 224 Street, Miami, FL 33170. Phone: 305-258-3186. Email: TheFarmer@thelittlefarm.us. Directions: US1 or Turnpike Extension to either SW 216th street or Quail Roost drive, then West to SW 134th Avenue, then South on SW 134th Avenue. Open: October 4th thru 31st, Pumpkin Patch is open Monday to Friday from 3 pm to 7 pm, Saturday and Sunday from 10 am to 7 pm; PARKING FEE $5 (Most days, cash only); NO PER PERSON ENTRY FEE; NO RESERVATIONS REQUIRED, 1 Free Pony Ride with each Pumpkin Purchased. $1 from sale of the first 500 pumpkins will be given to a local charity. No Coolers, "Parties" or Pets are Permitted on the Premises. + Scarecrow Kits & Harvest Decor. Refreshments available for purchase . Payment: Accepting Cash and Credit for purchases. (UPDATED: September 26, 2015, JBS) (UPDATED: October 06, 2014, JBS) (UPDATED: October 10, 2013, from their website) (UPDATED: October 13, 2011, from their website)
Metrozoo MetroBoo - Halloween events
12400 SW 152 Street, Miami, FL. Phone: 305-251-0400. Open October 15-31. Open: see their website for this year's dates. Celebrate Halloween at the zoo with four events: The Monster Masquerade: Costumed adults ages 21 and over are invited to the biggest Halloween party in South Florida. Spooky Zoo Nights an after-hours family event, features Dr. Wilde's Creepy House, spooky tram rides, ghoulish carousel rides, and chilling story-telling. Zoo Boo: Families and kids ages 12 and under are invited to trick-or-treat in costumes, participate in costume contests, watch special performances, make Halloween crafts, and lots more. Dr. Wildes Creepy House, a 7,000 square-foot haunted house, is guaranteed to send chills up and down your spine when it debuts October from 11 a.m. to 5 p.m. NEW! Halloween Fright Night - Young adults can enjoy a haunted house with live actors, a DJ, a live band and more! Bloody wine, beer and tasty bites will be available for purchase. (UPDATED: September 26, 2015, JBS) (UPDATED: October 10, 2013, from their website) (UPDATED: October 13, 2011, from their website)
Miami Lakes United Methodist Church Pumpkin Patch - pumpkin patch- already gathered from the field,
14800 NW 67th Ave. Miami Lakes, FL 33014. Phone: (305) 821-7274. Open: October 7th - 31st; daily from 10:00am – 9:00pm. Three full truckloads of pumpkins are coming this year beginning October 7. A truckload contains over 2000 pumpkins and weighs over 43,000 pounds! Pumpkins of all sizes will be available for purchase along with decorative gourds of all shapes and related retail items. Our Picnic-in-the-Patch, Pumpkin Carving Contest and Bonfire are scheduled for Saturday, October 10th beginning at 5:00pm. The pumpkin carving contest starts at 5:00 with prizes followed by a bonfire complete with s'mores and acoustical guitar music. Feel free to bring your own food or purchase a hamburger or hotdog when you come. Drinks and chips will also be available for purchase. Bring a blanket to sit on but please leave the alcoholic beverages at home. School Field Trips will be held every weekday morning from 9:00-noon beginning Monday, October 6 and running through Friday, October 24. The children will enjoy the new obstacle course along with jokes, songs and science experiments. All our activities are sure to entertain and educate children up through 4th grade. Cost is $6.00 per child and includes all the interactive activities, songs, refreshments (cookies and lemonade or water), a little pumpkin for each child, a goodie bag which includes a coin for a free kids meal at any Flanigan's restaurant, and a group photo for the classroom. Call 305-821-7274 to schedule. Click here for more information! (UPDATED: September 26, 2015, JBS) (ADDED: October 06, 2014, from their website)
Miami Seaquarium - Monster Splash,
4400 Rickenbacker Causeway, Miami, FL. Phone: 305-361-5705. Open: There's nothing on their website for this year yet; check their website in October; 4 Days & Nights of Fun & Frights For The Whole Family. Trick or Treating at Sharky's Sweet Tooth Stations. Little Monsters Play Area with Slides, bounce houses & unlimited fun. Thrilling Halloween themed animal shows. Lolita's Dance Party Featuring Live DJ and Miami Seaquarium Characters. Monsters in the Mangroves Haunted Walk. And much more. (UPDATED: September 26, 2015, JBS) (UPDATED: October 10, 2013, from their website)
Parrot Pirate Jungle Island - trick-or-treating
MacArthur Causeway/Interstate 395, 1111 Parrot Jungle Trail, Miami, FL. Phone: 305-258-6453. Open: CALL OR CHECXK THEIR WEBSITE BEFORE YOU GO!. Trick-or-treating throughout the park, daily costume contests, face painters, arts & crafts and more. A portion of the proceeds benefit Radio Lollipop at Miami Children's Hospital. Halloween Spooktacular. Calling all princesses, goblins, superheroes and angels: There is only one place to be this Halloween weekend and that's Jungle Island's Spooktacular! In honor of the spookiness, kids (age 3-10) come in the Jungle for just $5 with a full paying adult! From trick-or-treating through the Jungle, interactive Witch's lair, kid-friendly haunted forest, and more, kids of all ages will enjoy a family friendly, fun-filled day on Jungle Island. Plus, everyone can enter into our annual Costume Contest. Jungle Island's Spooktacular. (UPDATED: September 26, 2015, JBS) (UPDATED: October 10, 2013, from their website)
Pinto's Farm - pumpkins for sale in the shop or farmstand, concessions / refreshment stand, restrooms, face painting, pony rides, farm animals, birthday parties, school tours, group reservations
14890 Sw 216 St, Miami, FL 33170. Phone: (305)258-6067. Email: information@pintofarm.com. Open: October, 2015 Saturday and Sunday: 11:00 am – 7:00 pm; Thursday, Friday and Monday: 3:00 pm – 7:00 pm. Directions: Click here for a map and directions. Payment: Cash, Debit cards, Visa/MasterCard, AmEx. Click here for our Facebook page. Pumpkin Patch - themed admission include:
Paddle Boat Rides, Hay Rides, Pony Rides, Race Track, Access to the Petting Zoo. (UPDATED: September 26, 2015, JBS) (UPDATED: February 20, 2015) (ADDED: September 29, 2014)
Sadowski Park, Arch Creek Park, Barnes Park and other Parks - Halloween Family Campfire and Night Walk
7555 SW 79 Ave., Miami, FL. Phone: 305-255-4767. Open: one date each month in October, November and December. CALL BEFORE YOU GO Join park naturalists to learn about scary night- time critters and then search for them on the trail after dark. Afterwards, enjoy a campfire with a marshmallow roast and star viewing with Southern Cross Astronomical Society. October 23, 7-9: 30 pm. Pre-registration is required $5 per person. (UPDATED: October 10, 2013, from their website)
Southland Mall - Radio Disney's trick or treat Street Party
20505 S. Dixie Highway, Miami, FL. Phone: 305-235-8880. Open: Two events; both on Saturday, October 31st; trick or treating from 1 pm to 3 pm; then kid's club from 4 pm to 6 pm. Join us for Fun, Safe, Climate-Controlled Trick or Treating! Kids' Club Event. Halloween Event. Don't miss our monthly Kids' Club event, sponsored by South Florida Parenting! Event will feature games, spooky tattoos, crafts and costume contest with prizes! Halloween Trick or Treating, sponsored by Miami Children's Hospital. Candy-filled goodie bags will be distributed from 1-3pm (while supplies last) near the fountain area by TJ Maxx.x ALL ACTIVITIES FREE. (UPDATED: September 26, 2015, JBS) (UPDATED: October 10, 2013, from their website) (UPDATED: October 13, 2011, from their website)
Palm Beach County