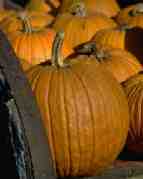 Looking for a local, pumpkin patch, corn maze, hayride, gourds and other Halloween activities in North Carolina? Scroll down this page and you will see the aall of thoses in North Carolina, sorted by county. Some are farms, where you take a hay ride out into the field, others are elaborate farm stands with mountains of pumpkins and other activities and some are simple roadside stands. Most have loads of pumpkins to choose from. To really make it fun for your kids, look for those that have the extra activities, like a corn maze, spook house, or hayride. There is usually a small fee for the mazes (of course, the more elaborate mazes tend to charge more. Hayrides are often free. ALWAYS call before you go to confirm the info, they don't always report changes to me!
And if you know of one I missed and want to add it or correct the information, please let me know!
Updates for August 2016
August 2016 many corn mazes are open now (see this website for only cornmazes). Pumpkins will be ready starting in mid September, scroll down. And be sure to try the latest fun, Zombie Paintball, see this website!.
Pumpkin Patch Listings, by county
Click on Resources above, if you need a county map
Clatsop County
Do you know of any more pumpkin patches, corn mazes, or other special Halloween events in this county? Please tell me about them - Click here to write to me! (If you are the owner of the farm, use this form: add your listing)
Columbia County
St. Frederic's / Oregon Hill Farms Annual Pumpkin Festival - pumpkin patch- already gathered from the field, Fall festival, tractor-pulled hay rides, Bounce house, restrooms, face painting, pony rides
St. Frederic's Catholic Church, 175 S. 13th Street, St. Helens, OR 97051. Phone: 503-397-0148. Email: info@oregonhill.com. Open: Two days: October 11, 2014 from 9 am to 4:30 pm and October 12, 2014 from 10:30 am to 4:00 pm. Directions: Hwy 30 into Street Helens. Turn right (if coming in from Portland) on Columbia Blvd. Follow to 13th Street. If coming from Longview or Astoria, you will turn left on Columbia Blvd. Festival is on 13th Street and cross street is Columbia Blvd. This is a fundraiser for the church and is presented by Oregon Hill Farms; Canned goods donations accepted for the St; Vincent De Paul food pantry. Payment: Cash, Debit cards. This is a fundraiser event with FREE admission. Locally grown pumpkins (UPDATED: July 29, 2014) (UPDATED: August 29, 2013) (UPDATED: June 26, 2009) (ADDED: June 12, 2008)
Tillamook County
Kilchis River Pumpkin Patch & Corn Maze - corn maze, pumpkin patch-pick in the field, hayrides, haunted maze, pony rides,
9455 Kilchis River Rd., Tillamook, OR 97141. Phone: 503-815-3762. Email: zweifel@oregoncoast.com. Open: October 12-14, 19-21, and 26-28th; with these hours, Fridays from 5 pm to 9pm, Saturdays from 12 pm to 9pm, and Sundays from 12 pm to 5 pm. Directions: Just past the 2 mile marker on Kilchis River Rd. We have a 5 Acre Corn Maze - $5.00 entrance fee (2012) 1,000's of U-Pick Pumpkins, Designer pumpkins & gourds this year, kids Maze, Hay Rides, Explore the maze at night on Friday & Sat, Bring your own flashlight for our Haunted Maze Oct 27th at Dusk $7.00, Fundraiser for SAFE & cross country, Bring Your Boots & Rain gear, Miniature Horse Wagon Rides on Saturdays weather permitting ($2.00 with corn maze tickets otherwise $5.00/ride.).(ADDED: October 11, 2012)
A visitor writes on October 11, 2012: "This farm does a corn maze for the county in October. Could you please contact them and ask if you can add them to your Pumpkin Patches and More.org. I think it would help their business and help more people in the county find them through a search engine. Thank you!"

Washington County
Amaze in Grace Gardens - you pick (in the field) Pumpkins from September Through October
& 2985 SW Golf Course Rd, Cornelius, OR, 97113. Phone: 503-939-7050. Email us at: redwinemarion@verizon.net. Sept/October - Tuesday through Sunday 11:00-6:00 corn maze and free hay rides and hay bale maze for kids in October Port-a-potty for customers. And at the stand from Sept-October - corn, tomatoes, peppers, apples, mums, onions, call for availability (ADDED: August 16, 2008) (UPDATED: September 11, 2010)
Baggenstos Farm Store - Pumpkin Patch. 3 free hayride wagons, hay mazes, gourds, corn maze, indian corn, hay bales, corn stalks, raspberries, marionberries, potatoes,
15801 SW Roy Rogers Road, Sherwood, OR, 97140. Phone: 503-590-4301. Email Address jimbag@easystreet.com. Potatoes: Russets, Yukon golds, reds & purples. winter squash, fresh farm produce, snacks, picnic tables. Group/school tours welcome, schedule early. Third annual Potato Festival October 2 & 3. Usually available: Season: June 1-December 1, daily 9-6. Russets, Yukon golds, reds & purples. Pumpkin Patch September 29-October 31 7 days a week, 10-5:30. Open: daily 9-6. Directions: Located on Roy Rogers Rd. 3 miles west off of Pacific Hwy.; or 1.5 mi south from Scholls Ferry Rd.
Blooming Junction -

Uses natural growing practices

, pumpkins, pumpkins for sale in the shop or farmstand, pumpkin patch-pick in the field, pumpkin patch- already gathered from the field, straw or hay bale maze, we also have pie pumpkins, wagon rides, gift shop, restrooms, picnic area (bring your own food)
35105 Nw Zion Church Road, Cornelius, OR 97113. Phone: 503-681-4646. Email: info@bloomingjunction.com. Open: Open daily, please see our website for hours during current season. Click here for current open hours, days and dates. Directions: Take the North Plains exit off of highway 26 and go south towards Hillsboro. Go approximately 1 1/2 miles and take a right turn onto Zion Church Road. Go about a mile and a half and we are on the right side, just past the intersection of Zion Church with Susbauer Road. Click here for a map and directions. Payment: Cash, Check, Debit cards, Visa/MasterCard, AmEx. Click here for our Facebook page. (UPDATED: May 16, 2016)
Cornell Farm - pumpkins for sale in the shop or farmstand, pumpkin patch- already gathered from the field, Honey from hives on the farm, gift shop, restrooms, birthday parties, weddings and wedding parties, school tours, group reservations
8212 Sw Barnes Road, Portland, OR 97225. Phone: 503-292-9895. Email: info@cornellfarms.com. Open: By the middle of September, our pumpkins has arrived; We are open from 9:00 am to 6:00 pm every day of the week. Click here for current open hours, days and dates. Directions: We are 7 minutes west of downtown via West Burnside. 1 mile east of Street Vincent Hospital via SW Barnes. Click here for a map and directions. Payment: Cash, Debit cards, Visa/MasterCard, Discover, AmEx. Click here for our Facebook page. We are a year-round full service garden center known throughout the Portland Metro area for having an extensive collection of everything you need to keep your garden and home beautiful. Being a local, family owned business, we pride ourselves in growing over 800 varieties of annuals and perennials on the property. By growing so much ourselves, and sourcing the rest from the best partners around, we ensure the highest quality products possible. (ADDED: November 12, 2015)
Dairy Creek Farm and Produce -

Follows organic practices

, pumpkins, pumpkin patch-pick in the field, pumpkin patch- already gathered from the field, Fall festival, child-sized haybale maze, Pumpkin Weigh-Off, Honey from hives on the farm, Fresh eggs, picnic area, farm animals, birthday parties, weddings and wedding parties, school tours, events at your location (call for info)
23295 NW highway 47, Buxton, OR 97109. Phone: 503 324 7819. Alternate Phone: 503 970 4739. Fax: 503 324 0525. Email: dd@dairycreekfarm.com. Open: 10:00am - 6:45pm daily. Directions: Click here for a map and directions. We follow organic practices, but are not yet certified. Payment: Cash, only. (ADDED: August 14, 2010)
Duyck's Peachy-Pig Farm - pumpkins in patch, apples, apricots, asparagus, beans, berries (black, blue, blackcaps, Chehalems, logan, marion, rasp, straw, young), cherries, cukes (reg & lemon), corn, dill, eggplant, figs, filberts, garlic, grapes, honey, onions, (reg & Walla Walla), peaches, pears, peppers (Bell & hot), prunes, plums, pumpkins, rabbits, rhubarb, tours, tomatoes, walnuts, weaner pigs, grapes & golf balls.
34840 SW Johnson School Road, Cornelius, OR, 97113. Phone: 503-357-3570. Email: duycks@coho.net. Directions: 4 mi S of Hillsboro on Hwy 219. R on Simpson Rd. R on Johnson Sch. Rd. go 3 miles or take 10th Street out of Cornelius 3 miles; L at golf course, R on Johnson School Rd. 1 mile. Usually available: May-December. Open: Tuesday to Saturday from 9am to 6pm, Sunday from 12noon to 6pm, and closed all day on Monday. U-pick & we pick. Bring containers, children & food stamps welcome. See & touch animals. Tours: Schools, birthday parties, pumpkins in patch, etc. May thru October. Picnic area, panoramic view, natural well water. Custom filbert harvesting. (UPDATED: August 22, 2008)
Farmington Grape Library -

Uses natural growing practices

, pumpkins, pumpkin patch-pick in the field, we also have pie pumpkins, porta-potties
24270 SW Farmington Road, Beaverton, OR 97007. Phone: 503-641-6087. Alternate Phone: 503-628-1912. Fax: . Email: auic@aol.com. Open: Dawn to Dusk, Saturdays and Sundays in October; Or by appointment. Directions: 7 miles west of Beaverton: Douth side, 1/4 mile past Jacktown Road. Click here for a map and directions. We use natural practices, but are not seeking organic certification. Payment: Cash, only. (UPDATED: October 06, 2013)
Greenville Farms - pumpkins, corn maze,
43775 NW Greenville Road, Forest Grove, OR, 97116-8230. Phone: 503-359-4763. Email: Sid@wifi-nw.com.
Hagg's Tree Farm & Pumpkin Patch - They stopped their pumpkin patch in 2005. But they've got a Christmas tree farm - see their website or this listing.
18175 McCormick Hill Road, Hillsboro, OR 97123. Phone: 503-628-1007.
Email: haggs@hevanet.com.

Jim Dandy Farm

- pumpkins, tomatoes, pumpkin patch-pick in the field, pumpkin patch- already gathered from the field, corn maze, haunted corn maze, prepicked produce, restrooms, picnic area, farm animals
45770 NW Sunset Hwy, Banks, OR 97106. Phone: 503-324-3954. Email us at: truss9958@aol.com. Directions: From Portland, Beaverton, Hillsboro take Sunset Hwy(26) to mile post 49 at Manning. And for a map to our farm, click here. Crops are usually available in September, October. Open: 9:00-7:00 Daily Payment: Cash, only. Farm Market. Free corn maze, Daytime The Haunted Farm.
K&H Family Farms -

pumpkins, squash, hayrides




11350 S.W. Tualatin-Sherwood Road, Tualatin,OR 97062.

Phone: 503-692-5749. 10 miles from PDX. June-November, S Hayrides on weekends in October.
Koch Family Farm - pumpkins, Indian corn, gourds, squash & straw, hayrides, sweet corn, pole beans, tomatoes, peppers, jam, honey, cucumbers.
11350 SW Tualatin-Sherwood Road, Tualatin, OR, 97062. Phone: 503-692-5749. Directions: Located on Tualatin-Sherwood Road near Avery Road. Look for signs. U-pick or ready-picked on order. Bring your own containers. Children welcome. See & touch animals available. Hay rides on weekends in October. Tours: daycare groups, schools or birthday parties. Usually available: June-Nov. Open: Call for hours & availability.
Lakeview Farms - pumpkins, pumpkin patch-pick in the field, train rides, corn maze, straw or hay bale maze, child-sized haybale maze, gift shop, snacks and refreshment stand, restrooms, face painting, pony rides, petting zoo
31345 N W North Ave North Plains Or 97133, north plains, OR 97133. Phone: 503-647-2336. Fax: 503-647-5960. Email us at: loneoakland@msn.com. Directions: On North Avenue directly across from the North Plains grade school And for a map to our farm, click here. Crops are usually available in October. Open: Monday 9 to 5 Sunday 10 to 5 Payment: Cash, Check, Visa/MasterCard, Discover, AmEx.
Lee Farms Pumpkin Patch - pumpkin patch, hayrides, farm animals, hay maze, bounce house, pony rides
21975 SW 65th Avenue, Tualatin, OR 97062. Phone: 503-638-1869. Email: info@leefarmsoregon.com. Directions: Click here for a map and directions. Open: 7 days a week; weekdays in October from 3:00pm-6:00pm and Weekends from 9:00am-6:00pm. Payment: Credit cards accepted, fall hay rides. Cut your own Christmas trees. Open Nov 14 for Christmas season. Closed Nov 1-13 for Christmas change over. Restrooms available. Large parking lot and indoor barn so no worry about bad weather. Fresh cider and cider donuts, Weekend Hay Rides, Weekend Pony Rides, Fresh Kettle Corn, Country Kitchen, Our Country Store carries many fun holiday decorations from gourds and Indian corn to straw bales and corn stocks. We also have a great selection of decorations to get you in the holiday spirit. (ADDED: November 2, 2008) (UPDATED: October 05, 2011, from their website)
Oliphant Orchard - Apples, cherries, pumpkins
23995 SW Pacific Highway, Sherwood, OR, 97140. Phone: 503-625-7705. Open: 9-6 weekdays, 9-5 Saturday & Sunday or until sold out. Call ahead – orders taken. U-pick, ready-pick and ready-pick on order. Bring your own containers, some containers supplied. School groups welcome! Apples, cherries - sweet and pie (U-pick, we pit, commercial pitter!), peaches, plums, prunes, pears, pumpkins, flowers, walnuts, hazelnuts. Usually available: July-October when fruit is available.

Peter's Pumpkins and Squashes

-

No pesticides are used

, pumpkins, pumpkins for sale in the shop or farmstand, pumpkin patch-pick in the field, pumpkin patch- already gathered from the field,
24270 SW Farmington Road, Beaverton, OR 97007. Phone: 503-628-1912. Alternate Phone: 503-641-6087. Email: auic@aol.com. Open: October weekends; Call first please, before you come; Also available mid - week by appointment. Directions: 7 miles west of Beaverton. On your left 1/4 mile past Jacktown Road, or if you are coming from Hillsboro, on your right 1/4 mile past Tile Flat Road. Click here for a map and directions. We do not use pesticides on the crops. Payment: Cash, Check. also known as Farmington Grape Library. (ADDED: October 06, 2013)
Plumper Pumpkin Patch - Pumpkins, Pony Rides, Hayrides, hay mazes, flowers, Christmas trees.
11435 NW Old Cornelius Pass Rd, Portland, OR, 97231. Phone: 503-645-9561. Email us at: jim@plumperpumpkins.com. Directions: click here for directions. Open: September 22 - October 31, 9 a.m. to 5:30 p.m. daily. Christmas trees starting November 24. Farm animals: Pot Belly pigs, Llama, Calves, Goats, Rabbits, Turkeys, Chickens, and more. Hayrides, hay mazes with slides, concession stand, covered picnic tables, Rubber Duck Races, Pumpkin Bowling, Pumpkin Flinging Trebuchet-Demonstrated each weekend from 11 a.m. to 5 p.m. on the hour. Pumpkin Cannon, Pumpkin Slingshots (for a fee), Pony Rides during October on the weekends starting at 11 a.m. for an additional cost. Fresh Produce from Country Store, bee hives and fresh honey, play structure, Tipi and Picnic area, Group Tours and Field Trips, Birthday Parties & Corporate events, and of course.....the Pumpkin Patch.
Roloff Farm - pumpkins, peaches
NW Grossen Drive, Hillsboro, OR 97124. Open: The farm will be open Fridays & Saturdays during the month of October on: Fridays, Saturdays & Sundays from 10am to 6pm, October 3 to October 26, 2014 . Directions: Click here for a map. October is a very special time of year at Roloff's Farm! The ONLY pyo crops offered are pumpkins during October. A visit to our pumpkin patch and the annual tour through the Roloff family's private playground have long been a tradition for many local families. U Pick Pumpkins... Wagon Tours.... Kids Amazing Adventure Area.... Animals (even a baby tiger)!, kids train, spooky forest, games, entertainment and FUN for everyone of all ages! Among the various structures are a picturesque Western Town, an incredible three-story Tree House, a massive Medieval Castle and even a full-size Pirate Ship. Because they were constructed for the enjoyment of the Roloff family and friends, they were not designed to be used for recreational purposes by the general public. The Roloff family has made LIMITED access available to the public only during October's Pumpkin Patch season due to the number of requests to "tour" the property. Matt and the Roloff family star in The Learning Channel's TV show "Little People, Big World." (Note: the name is often misspelled as Rolloff or Rollof ) (UPDATED: September 04, 2014)
Schlichting Century Farms / Gramma's Place - pumpkins, pumpkin patch-pick in the field, pumpkin patch- already gathered from the field, corn maze, tractor-pulled hay rides,
17995 SW Scholls-sherwood Road, Sherwood, OR 97140. Phone: 503-625-3312. Alternate Phone: 503-936-3637. Fax: 503-625-7456. Email: dswachlin@yahoo.com. Open: Monday through Saturday, 10am to 6pm Sundays 11am to 5pm May - October 31st. Directions: 1.5 miles West of 99W on Roy Rodgers Road at intersection off Scholls-Sherwood Road. Click here for a map and directions. Pumpkin Patch, hayrides, Uncle Don's Pumpkin Cannon, corn maze; We will be harvesting our Super Sweet Corn in September/October; Come visit our year round, on-farm self service wild bird seed outlet store. Payment: Cash, Check, Debit cards, Visa/MasterCard, WIC Vouchers, SFMNP Vouchers. Please bring your own bucket for U-Pick. (UPDATED: June 22, 2009)
Smith Berry Barn - follows organic practices, pumpkin patch- already gathered from the field, straw or hay bale maze, child-sized haybale maze, tractor-pulled hay rides, prepicked produce, gift shop, restrooms, picnic area, farm animals
24500 SW Scholls Ferry Road, Hillsboro, OR 97007. Phone: 503-628-2172.

Directions: Scholls Ferry Rd. 10 miles SW of Washington Square in Scholls.

Click here for a map and directions. Click here for current open hours, days and dates. Click here for picking updates. Crops are usually available in June, July, August, September, October. Open: Seasonal hours vary, please check our website for current information. We follow organic methods, but are not yet certified. Payment: Cash, Check, Visa/MasterCard. Additionally we grow numerous varieties of squash and over 25 varieties of apples that are ready picked. (UPDATED: June 23, 2008)