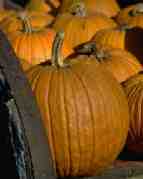 Looking for a local pumpkin patch, corn maze, hayride, gourds and other Halloween activities in Southeast New York State? Scroll down this page and you will see the all of thoses in Southeast New York State, sorted by county. Some are farms, where you take a hay ride out into the field, others are elaborate farm stands with mountains of pumpkins and other activities and some are simple roadside stands. Most have loads of pumpkins to choose from. To really make it fun for your kids, look for those that have the extra activities, like a corn maze, spook house, or hayride. There is usually a small fee for the mazes (of course, the more elaborate mazes tend to charge more. Hayrides are often free. ALWAYS call before you go to confirm the info, they don't always report changes to me!
And if you know of one I missed and want to add it or correct the information, please let me know! If you are looking for pumpkin weigh-offs and the US and world's largest pumpkins, see this page! Want to do a fundraiser selling pumpkins? See this page!
Finally, my boys are in Boy Scouts and raising money for their troop and their trips and activitites, so if you are looking for popcorn (many types), coffee or to donate to both the Socuts and U.S. miltary troops, click here and help the scouts!
Updates for March 2017
Although most pumpkin patches and corn mazes are now closed, it is time to tag your Christmas tree at a local Christmas tree farm (and enjoy a bonfire, smore, hot chocolate and free hayrides, and often Santa visits! And next Spring, you'll want to take your children to a free Easter egg hunt - see our companion website to find a local Easter Egg hunt. In the meantime, you may find a local zombie event or Zombie Paintball!.
The world's best pumpkin pie recipe is here, and the pie crust recipe is here! And we have home canning, preserving, drying and freezing directions. You can access recipes and other resources from the drop down menus at the top of the page or the site search. If you have any questions or suggestions, feel free to write me!
Pumpkin Patch Listings, by county
Click on Resources above, if you need a county map
Columbia County
Samascott Orchards - pumpkins, Pick-your-own apples, corn maze, pumpkins for sale in the shop or farmstand, pumpkin patch-pick in the field, pumpkin patch- already gathered from the field, Honey from hives on the farm, Fresh eggs, Cider mill (fresh apple cider made on the premises), restrooms, picnic area (bring your own food), farm animals
5 Sunset Avenue, Kinderhook, NY 12106. Phone: 518-758-7234. Fax: 518-758-7067. Email: info@samascott.com. Open: Monday to Friday, from 8 am to 6 pm; June 1 to October 31. Click here for current open hours, days and dates. Pumpkin updates: Click here for updates. Directions: Click here for a map and directions. Corn maze is open at Samascott's Garden Market, Saturday and Sunday, September 1st through October 31st. Payment: Cash, Visa/MasterCard, Discover. Click here for our Facebook page. (UPDATED: September 29, 2015, JBS) (UPDATED: April 24, 2014) (UPDATED: October 14, 2013, from their website) (UPDATED: September 20, 2011)
Samascott Garden Market - corn maze, farm market, pumpkins
​65 Chatham Street, Kinderhook, NY 12106. Phone: (518) 758-9292. Fax: (518) 610-8006. Open: Friday and Saturday from 9 am to 9 pm, Sunday to Thuirsday from 9am - 8:00pm Corn maze hours are Saturday and Sunday from 11am - 5pm. (UPDATED: September 29, 2015, JBS) (UPDATED: October 14, 2013, from their website)
V&R Saulpaugh & Sons - pick-your-own grapes and pumpkin
2329 Route 9, Livingston, NY 12541. Phone: (518)537-6494. We sell only what we grow and pick fresh daily. We have crops from mid-September to mid-October. Hours: Every day 8am to 6pm, June through October
Wintje Farms - Pick your own apples, pears and pumpkins.
Route 9G, Germantown, NY 12526 - (518)537-6072 - Open June thru November.
Delaware County
Dutchess County
Greene County
Hull-O Farms - corn maze, hayrides,
10 Cochrane Road, Durham, NY 12422. Phone: (518) 239-6950. Email: CornMaze@Hull-o.com. Open: Seasonally, Labor Day - last weekend in October; from 11:00 am – 4:00 pm Weekends Only; plus Labor Day (Monday) & Columbus Day (Monday); Open Weekdays by appointment. Directions: Click Here for Directions. Find your way through the twists and turns of our 15 acre corn maze! We can be can be the perfect family vacation in the Catskills for you and your family. Hay Rides Will Have You Smiling from "Ear-To-Ear!" (included in Admission Price) Climb on board our hay ride for a fun trip to the corn maze! Home-Made Goodies; Take home some of these seasonal specialties: Indian corn, popcorn-on-the-ear, pickles, local honey & local syrup. Pumpkin Picking: We have quite a selection to choose from. (UPDATED: September 29, 2015, JBS) (UPDATED: October 14, 2013, from their website)
Orange County
Apple Ridge Orchards -

Uses integrated pest management practices

, pumpkins, Pick-your-own apples, pumpkins for sale in the shop or farmstand, pumpkin patch-pick in the field, tractor-pulled hay rides, wagon rides, Bounce house, Honey from hives on the farm, concessions / refreshment stand, porta-potties, picnic area, Bouncy castle, petting zoo, farm animals, birthday parties, weddings and wedding parties, school tours, events at your location (call for info)
101 Jessup Road, Warwick , NY 10990. Phone: 845-987-7717. Email: info@appleridgeorchards.com. Open: Monday thru Thursday by reservation only 9 to 5pm; Friday, Saturday, Sunday and all holidays open to the public 9am to 6pm, August 15th to November 15th. Click here for current open hours, days and dates. Pumpkin updates: Click here for updates. Directions: Click here for a map and directions. Peaches: August 15th to early September, Apples: early September to November, Pumpkins: middle September to October 31st. We use integrated pest management practices. Payment: Cash. Click here for our Facebook page. Apple Ridge Orchards (formerly known as Jessup Road Orchard), the most scenic pick-your-own apple orchard, peach orchard and pumpkin patch throughout the Warwick Valley–home to more than 15 varieties of pick-your-own apples. From Labor Day to Thanksgiving, we offer schools, groups, families, friends and visitors an opportunity to enjoy breathtaking scenery, while experiencing the beauty and fragrance of nature's finest apples, peaches, and pumpkins. (UPDATED: September 29, 2015, JBS) (UPDATED: October 14, 2013, from their website) (UPDATED: April 01, 2011)
Bellvale Farms - pumpkins, pumpkin patch-pick in the field, pumpkin patch- already gathered from the field, prepicked produce, snacks and refreshment stand, restrooms, tractor-pulled hay rides
385 Route 17A (PO BOX 200), Bellvale, NY 10912. Phone: 845-988-5414. Fax: 845-987-7460. Email us at: amytim@warwick.net. Directions: Route 17A between Greenwood Lake and Warwick. Follow big orange pumpkin signs directly to patch. And for a map to our farm, click here. Crops are usually available in October. Open: Sat/Sunday 10-dusk October call before visiting Payment: Cash, Check. Every fall season children long for the days to pick pumpkins from a genuine pumpkin patch. Ours is open weekends in October. Take a free hayride to our five-acre pumpkin patch surrounded by corn fields and wildlife. 450 acre crop and livestock farm, roadside vegetable stand and Creamery featuring homemade ice cream, shakes, sundae's and more. (UPDATED: September 29, 2015, JBS)
Hoeffner Farms - pumpkins, Christmas trees.
405 Goodwill Road, Montgomery, NY, 12549. Phone: 845-457-3453. Open: May-Dec 25. Monday to Saturday, 9-6. Sun 9-4. Vegetable and bedding plants. Hanging baskets, seasonal fruits and vegetables. (UPDATED: September 30, 2015, JBS)
LainWay Corn Maze - corn maze, pumpkin patch-pick in the field, pumpkin patch- already gathered from the field, child-sized haybale maze, tractor-pulled hay rides, wagon rides, zombie paintball, snacks and refreshment stand, picnic area, school tours
420 Lower Road, Westtown, NY 10998. Phone: 845-544-5487. Email: lainwaymaze@gmail.com. Open: Fridays, Flashlight Nights, October and usually the first week in November, from 5pm to 8pm (last exit from corn maze 9pm); Saturdays and Sundays, September 18 through November 7, from 10am to 5pm (last exit from corn maze 6pm). Directions: From New York State Thruway I-84W; Head west on I-84 W; Take exit 3W for US-6 W/New York 17M W toward Middletown; Turn right at US-6 W/New York 17M W; Take the 1st left onto US-6 W (About 6 mins); Turn left at NY-284 S (About 8 mins); Turn left at County Road 1 (About 2 mins); Slight right at Grusz Road (About 2 mins); Turn right at Lower Road Destination will be on the left. Click here for a map and directions. Corn Maze and Pumpkin Patch is open on weekends, Saturdays and Sundays, from September 18 through November 7; Open Friday evenings for flashlight nights from October 1 through October 29. Payment: Cash, only. Fresh Apple Cider from local orchard. Local apples, spices, soup mixes, gourds and more. (UPDATED: September 30, 2015, JBS) (UPDATED: October 14, 2013, from their website) (ADDED: September 22, 2010)
Late Bloomer Farm -

Certified Organic

, pumpkin patch-pick in the field, pumpkin patch- already gathered from the field, child-sized haybale maze, we also have pie pumpkins, tractor-pulled hay rides, wagon rides, porta-potties
Route 207 & Lagrange Road, Campbell Hall, NY 10916. Phone: 845-742-8705. Email: summerset@frontiernet.net. Open: Weekends from 10am to 6pm, September 24 to October 31. Directions: Click here for a map and directions. We are certified organic for some crops. Payment: Cash, Visa/MasterCard, WIC Vouchers, SFMNP Vouchers. Click here for our Facebook page. (UPDATED: September 30, 2015, JBS) (ADDED: September 01, 2011)
Lawrence Farms Orchards - Apples, Pears
39 Colandrea Road, Newburgh, NY 12550. Phone: 845-562-4268. Our Spring/Summer Pick Your Own season begins with fresh, juicy, sweet strawberries, usually starting in mid-June. During this season we also offer for picking English Shelling Peas, Sugar Snap Peas, several Lettuce varieties, Beets and Greens, Red and Black Currants, and Gooseberries. Toward the end of June we also have Pick Your Own Sweet and Tart Cherries. We open of our Summer/Fall Pick Your Own season in mid-August for tree ripened Peaches, Sweet Corn, and early variety of Apples Throughout the fall season we offer later ripening varieties of Apples, as well as Seedless and Table Green Beans, Tomatoes, many varieties of Hot and Sweet Peppers, Cabbages, Beets, Spinach, Eggplant, Broccoli. U-pick strawberries, sweet and tart cherries, vegetables, Peaches, Sweet Corn, Grapes, Prune Plums, and Pumpkins. Click here for a link to our Facebook page. (UPDATED: September 30, 2015, JBS) (UPDATED: October 14, 2013, from their website)
A visitor writes on September 09, 2012: (positive) "I was hesitant after reading some negative reviews about Lawrence Farms Orchard (ed: on other websites) in Newburgh NY but I'm so glad we gave it a try anyway. The staff were friendly and helpful. The fruit and vegetables were plentiful and reasonably priced. The farm is beautiful. The children's village is really creative and the kids loved it. All around a great experience!"
A visitor writes on July 01, 2010: (positive) "Just got back from a fantastic visit at Lawrence Farm Orchards and I can not say enough wonderful words about our trip. Called in the morning to confirm what was available for picking. The owner was very specific about crop availability (spinach, peas (all kinds) lettuce, zucchini, and limited raspberries and gooseberries. He apologized for not having more fruit available which was unnecessary as we completely understand crops vary from day to day. I must say that the one previous negative review of the farm was a concern, but we took the chance and made the 40 minute trip to the farm and boy are we glad we did. When we arrived at the farm, he took the time to point out all areas of the farm as well as location of the crops and to go over when new crops would be ready for pick your own. The vegetables were magnificent. I have never seen lettuce that big and healthy before. The zucchini were also quite large and the spinach was also A+. He even told us we were more the welcome to verify the raspberry bushes if interested. The prices were great. The farm is huge with a variety of animals to look at and feed including goats, swans, chickens, ducks, and horses (though you can only really feed the swans/ducks and goats. The farm also has a great old fashioned children's village with wooden houses and interior furniture. Our children 5, 3, and 2 did not want to leave. As well as a quaint farm stand with wonderful jellies, jams, and other homemade goods. They also have food including pizza, hot dogs, french fries, ice cream, cider doughnuts, etc. to snack. We left with enough peas, spinach, lettuce, and zucchini to last quite some time and were amazed how cheap it all was. 10 pounds of zucchini, 2 pounds of spinach, 1 pound of peas, and a head of lettuce - 22 dollars - how can you go wrong. They have an abundance of crops for pick your own (in late July/early august they often have 12 different fruits and vegetables to pick) and also give you the option of filling out postcards which they mail letting you know when peaches, apples, strawberries, and Christmas trees are ready for picking. We will most definitely be back to Lawrence farms and everyone is looking forward to it. I highly recommend this farm as it has quickly become a family favorite. I am surprised someone had such a bad experience with Lawrence Farms because they were so welcoming, helpful and genuine. If you have the opportunity to visit, especially with kids, this is one place not to miss."
A visitor writes on May 24, 2010: (positive) "I have visited about four times a year for the last three years and been very happy. It is a wonderfully kid-friendly location with big open spaces, well-groomed picking areas, play area, farm animals, and a corn maze in summer. It is far enough away from the city that it doesn't turn into a complete zoo like Westchester farms. It is true that cheaper farms can be found for adults who are doing serious picking, but for a great day with the family (especially with young kids) this user-friendly farm is a fantastic option." (UPDATED: May 24, 2010)
Manza Family Farm - U-pick apples and pumpkins. Craft store, hay maze, farm animals, hayrides, farm stand, cut your own Christmas trees
730 Route 211, Montgomery, NY, 12549. Phone: 845-692-4363. Email: tommanza@aol.com. Open: Daily Apr 1-Dec 24, 9-5. Straw maze in October. Nursery and cut your own Christmas trees. Visit with Santa and live reindeer weekends in December. FALL FESTIVAL WEEKENDS IN OCTOBER. Pick your own pumpkins are grown on 20 acres of farm land and are part of the farms traditional Fall Festival starting in October. Tractor drawn hayrides and pony rides on weekends, a straw maze, farm animals and a farm stand are also featured during this festival. Weekday School and Community Group Field Trips are available .(UPDATED: September 30, 2015, JBS) (UPDATED: May 12, 2015, JBS) (UPDATED: October 14, 2013, from their website)
Maples Farm - Pumpkin picking, hayrides, barnyard animals, hay maze and haunted barn
749 Route 17M, Middletown, NY, 10940. Phone: 845-344-0330. Open: From the last week in September through Otcober, Monday – Saturday 8am – 6pm
Sunday 9am – 6pm; hayrides run continuously every Saturday, Sunday and Columbus day; from 10:30 to 5 pm and weekdays at 4:30 pm and 5 pm. Local produce, homemade fudge and baked goods, country crafts, flowers & gifts. Pumpkin picking, hayrides, barnyard animals, hay maze and haunted barn in October. Cut Christmas trees, wreaths and poinsettias in December. (UPDATED: September 30, 2015, JBS) (UPDATED: October 14, 2013, from their website)
Mr. Apples Orchard - apples, pumpkins
25 Orchard Street, High Falls, NY 12440. Phone: (845) 687-0005. Alternate phone: (845) 687-9498. Email: FELIPEMANZANA2002@YAHOO.COM. You can pick from August until November. Do you like Mcintosh variety? Macs start in early September. Cortlands are super. The juicy flavor is crunchingly refreshing. Pears are finished by mid-September. September is surely my favorite apple month. October is the month for Red Delicious; the old style ones that actually taste good. Also get our famous "Russet" Golden Delicious. You can still pick Golden Delicious in November. A light frost won't hurt them. You can find other varieties too --- mix them. The orchard is just the size you like. We will show you where to go. Follow the blue barrels for a healthy invigorating apple hike. When you arrive, check in at our rustic orchard stand. Pick pumpkins and maybe take a hayride, just down the road. Low Spray Orchard! ick Your Own Apples & Get Away for a Quiet Day in the Country. Don't like so many Chemicals? Like Natural Flavor? HERE WE ARE...COME AND GET THEM; LOOK FOR THE "ORGANIC SPOT" & WORRY NOT! (UPDATED: September 30, 2015, JBS)
Ochs Orchard - U Pick Apples, pumpkins
4 Ochs Lane, Warwick NY, 10990. Phone: (845) 986-1591. E-mail: ochsorch@warwick.net. Also, Roadside Stand, Farm Market with Cider . Open 9 am to 5 pm, daily. We are best known for our spectacular views. Pack a picnic lunch and a blanket and while you are picking in the orchard, enjoy. Our petting zoo has ducks, miniature goats, "Misty" the Sicilian donkey and "Eeyore" the miniature donkey. On the weekends, we have a variety of baked goods & pies. We offer a wide variety of our own homemade ice cream. Many flavors made from fruits we grow right here. On weekends in the fall, we also provide hot food from our eatery with-in the store. Come on in to our beautiful room with tables & chairs to enjoy your lunch. Also, near the farm market you can enjoy our Pick-Your Own flower garden. The butterflies are waiting for you! (UPDATED: May 12, 2015, JBS)
Overlook Farm Market - Pick your own apples and pumpkins, hay maze.
Route 9W, Newburgh, NY, 12550. Phone: 800-291-9137 or 845-562-5780. Fall harvest weekends feature hay maze and fishing at the pond. Picnics packed in your basket or ours. Petting zoo. 4 miles north of I-84. Open: March-Dec, 8-8. Closed Tues. (UPDATED: May 12, 2015, JBS) (UPDATED: October 14, 2013, from their website)
Pierson's Farm & Greenhouse -

No pesticides are used

, pumpkins for sale in the shop or farmstand, pumpkin patch-pick in the field, pumpkin patch- already gathered from the field, Fall festival, corn maze, haunted corn maze, child-sized haybale maze, tractor-pulled hay rides, haunted house, Fresh eggs, farm market, gift shop, porta-potties, inflatables/bounce house, petting zoo, farm animals, birthday parties, school tours, group reservations
1448 Route 211 W, Middletown, NY 10940. Phone: (845) 386-1882. Email: PIERSONFARM1790@GMAIL.COM. Open: Monday to Friday, from 10 am to 4 pm; Saturday and Sunday, from 10 am to 6 pm, Last weekend in September to October 31. Click here for current open hours, days and dates. Directions: We are located on the edge of Middletown, in the Town of Mount Hope and Otisiville is on our property line. Try to use a Google Map not yahoo currently and/or be sure you're heading "West" on 211. We are not by Montgomery. You're gonna love this 200 year old family farm!. Click here for a map and directions. Payment: Cash, Visa/MasterCard, Discover, AmEx. Our farm offers a scenic tractor ride to our cattle and onto a 5 acre pumpkin patch! We offer our grass fed freezer beef by the pound from our country gift store. (UPDATED: September 29, 2016) (UPDATED: May 12, 2015, JBS) (UPDATED: September 29, 2014) (UPDATED: October 17, 2012) (UPDATED: November 13, 2009)
Pennings Orchard - U Pick Apples, pumpkin patch, pony rides, hayrides, face painting, children's maze
169 South Rt 94, Warwick NY, 10990. Phone: (845) 986-7080. E-mail: jackpennings@hotmail.com. Located on over 60 acres of farmland the apple orchard offers over 15 varieties of apples available for picking September through November. Our U-Pick season offers activities for the whole family including hayrides, pumpkin picking, pony rides, face painting, live music, and outdoor dining. Our activities include the

u-pick, farm market, beer garden,pumpkin fields, hayrides,farm animals, kiddie maze and more. Also, Roadside Stand. Picking dates are estimated and can vary. Please feel free to call us for our "ready to pick list" and ask if you are looking for a certain variety on a particular day. (UPDATED: May 12, 2015, JBS)
Slate Hill Orchards - U-pick apples, concord grapes, pumpkins and vegetables, hayrides, bounce house, cider
Route 6, Slate Hill, NY, 10973. Phone: 845-355-4493. Email: info@slatehillorchards.com. Open: Mon - Sun: 7:00 am - 6:00 pm. Directions: 6 miles west of Middletown. Quality fruits & vegetables, honey, maple syrup, preserves, apple cider, cheeses, fruit cake. Direct receivers of Florida and California citrus. Year-round. Fun For The Entire Family!... Hay Rides, Farm Tours, Food & Drinks, Tastings & Samplings, Hay Maze, Bounce House, Gourmet Fudge, Freshly Bakes Cider Donuts, Candy & Carmel Apples Made Fresh Daily, Fresh Cider, Nature Path & More.. (UPDATED: October 14, 2013, from their website)
Soons Orchards & Farm Market - Apples, Pumpkins
23 Soons Circle, New Hampton New York, Phone: 845-374-5471. E-mail: info@soonsorchards.com. Apples (Weekends & Columbus day, mid-September to end Oct) and Pumpkins (starts 3rd September weekend, with hayride) Also Available: (fall harvest) Corn Stalks, Gourds, Indian Corn, Mums. Directions: Just off Rt 17M; one mile off I-84 (exit 123); short drive from Woodbury Commons outlets; between Middletown and Goshen. Open: August 1 to April or later (call), Everyday 9 to 6:00 pm; after Thanksgiving 9 to 5:30 pm. There is also a roadside marketing with apples (28 varieties!), Peaches, Sweet Corn, Apple Cider, Homemade Pies and Baked Goods, Melons, Pumpkins, Squash, Homegrown Summer Vegetables plus other local produce like onions and potatoes. Halloween Hay Maze for kids. (year round) Honey, Jams, Jellies, Maple Syrup, Apple Butter, Fudge. (UPDATED: May 12, 2015, JBS)
W Rogowski Farm, LLC - pumpkin patch- already gathered from the field, tractor-pulled hay rides, Honey from hives on the farm
327-329 Glenwood Road, Pine Island, NY 10969. Phone: 845-258-4574. Fax: 845-258-4595. Email: info@rogowskifarm.com. And for a map to our farm, click here. Crops are usually available in All year. Open: Seasonally - as of 12/4/07 to Monday to Thursday 9 to 6 Friday - Sunday 9 to 7 Call to confirm. Payment: Cash, Check, Visa/MasterCard, AmEx. (UPDATED: May 12, 2015, JBS)
Wright Family Farm - pumpkins, pumpkin patch-pick in the field, corn maze, tractor-pulled hay rides, Maple Syrup from trees on the farm, snacks and refreshment stand, restrooms, picnic area, farm animals, birthday parties, school tours
325 Kings Highway, Warwick, NY 10990. Phone: 845-986-1345. Fax: 845-986-1345. Directions: Please visit our website for directions. And for a map to our farm, click here. Crops are usually available in June, July, August, September, October. Open: Vegetable stand open daily; All of the vegetables are picked fresh each day; Corn Maze open from 10:00 am to 6:00 pm with two flashlight nights; Please visit website for details; Pumpkin picking open from 10:00 am to 6:00 pm Christmas trees open from 12:00 pm to 8:00 pm. Farm Fresh Vegetables Available from July 4th through mid October with a self serve stand; Corn Maze opens labor day weekend and goes through Halloween; Pumpkin picking begins the last weekend in September and continues through Halloween; We begin selling Christmas trees the day after thanksgiving. Payment: Cash, Check, Visa/MasterCard. (UPDATED: May 12, 2015, JBS) (UPDATED: June 07, 2008)
Otsego County
Putnam County
Outhouse Orchard - apples, pumpkins, hay rides, Christmas trees
130 Hardscrabble Road, Croton Falls (North Salem), NY 10519. Phone: (914) 277-3188. They have pick your own apples and specialty jams and jellies. The farm has been family run farm since 1890's. Directions: located 15 minutes from the Holiday Inn in Mt. Kisco. Click here for a map, more directions and GPS bearings. (Apples Picking through Halloween, Pumpkins sale at end of September Hayrides, Pony Rides)(UPDATED: May 12, 2015, JBS)
Salingers Orchards Inc. - Pumpkins for sale
Guinea Rd, Brewster, NY. Phone: 845-277-3521. Directions: from Route I- 684, North or South- Take Exit 8 - Hardscrabble Road, and turn right at end of the ramp. Then, turn left at the Getty gas station. From this point our signs will guide you to the orchard. From Brewster- Take Route 22 South for about 3 miles to County Route 55, (Deans Corners Road) a left turn. Then, take your first right (Guinea Road) and the orchard is a mile up the road. This is a farms stand; all produce is already picked including apples (NOT PYO),
Rockland County
Concklin Orchards - Apples, corn maze, pumpkins, pumpkin patch-pick in the field, pumpkin patch- already gathered from the field, child-sized haybale maze, prepicked produce, gift shop, snacks and refreshment stand, restrooms
2 South Mountain Rd, Pomona, NY 10970. Phone: 845-354-0369. Email us at: concklins@aol.com. Directions: Family owned since 1712. Home of the famous Apple Cider Donuts. Farm store, fresh pressed cider. Our own & locally grown produce, on the premises bakery, pies, cookies & cakes from century old recipes. Gourmet & organic foods, cheeses, teas & coffees. Farmers markets in tri-state area. Mail Orders welcome. Fall events: Pick Your Own Apples & pumpkins, pumpkin patch, corn maze, haunted house, soft bounce, soft slide. School tours & birthday parties by appointment. Directions: From New York City: George Washington bridge to the palisades interstate parkway north, approximately 30 minutes to exit 12, turn left at stop sign turn right at lights (route 45 north) we are 1/2 a mile on the right. See the website for directions from other starting points. Click here for picking updates. And for a map to our farm, click here. Crops are usually available in September, October. Open: Farm Store open daily 8am to 6 pm Closed January and February Please call ahead or check our website for dates and events information Payment: Cash, Check, Visa/MasterCard, Discover, AmEx. (UPDATED: May 12, 2015, JBS)
Dr. Davies Farm - PYO apples, pumpkins.
Routes 304, Congers, NY 10920. Phone: (914) 268-7020. Open: everyday 10 am to 4:30 pm. Directions: from New York City: Cross George Washington Bridge, take the Palisades Parkway and get off at Exit 5N (303 N) Stay on Route 303 for 10 miles & Merge with Route 9W and stay North. Turn left onto RT 304. Farm stand is one quarter mile on the left. Also a farm stand with a variety of fresh produce and a picnic area. (UPDATED: May 12, 2015, JBS)
Duryea Farms - pumpkins, apples, tomatoes, peppers, cucumbers
101 Ackertown Road, Chestnut Ridge, NY 10952. Phone: (845) 356-1988. Special area for children's birthday parties (which include pony rides - parties only).
The Orchards of Concklin - Apples, corn maze, pumpkins, pumpkin patch-pick in the field, pumpkin patch- already gathered from the field, child-sized haybale maze, prepicked produce, gift shop, snacks and refreshment stand, restrooms
2 South Mountain Road, Pomona, NY 10970. Phone: 845-354-0369. Email us at: concklins@aol.com. Directions: From New York city: George Washington bridge to the palisades interstate parkway north, approximately 30 minutes to exit 12, turn left at stop sign turn right at lights (route 45 north) we are 1/2 a mile on the right. See the

website

for directions from other areas! And for a map to our farm, click here. Crops are usually available in September, October. Open: Farm Store Daily, 8 am to 6 pm Pick Your Own September and October Saturday and Sundays only, 10am to 5pm Closed January and February Apples September through end of October Pumpkins second week in October thru end of October Payment: Cash, Check, Visa/MasterCard, Discover, AmEx. Family owned since 1712. Home of the famous Apple Cider Donuts. Farm Store, fresh pressed cider. Our own & locally grown produce, on the premises bakery, pies, cookies & cakes from century old recipes. Gourmet & organic foods, cheeses, teas & coffees. Fall events: Pick your own apples, school tours, birthday parties, corn maze. Farmers markets in tristate area. (UPDATED: May 12, 2015, JBS)
Sullivan County
Cunningham Family Farms - corn maze, pumpkins for sale in the shop or farmstand, pumpkin patch-pick in the field, pumpkin patch- already gathered from the field, haybale pyramid
233 Hurd Parks Road, Swan Lake, Bethel, NY 12783. Phone: 845 583-4083. Open: September through November 2012, weekends from 11am to 5pm. Directions: See their website for directions. Payment: Cash, Debit cards, Visa/MasterCard . We also have indian corn, acorn squash, gourds, and cornstalks available. Everything you need for fall decorating right here on the farm.(ADDED: September 21, 2012, suggested by a visitor)
Ulster County
DuBois Farms U-Pick - Apples, Pears, Grapes, and corn maze, pumpkins, Hayrides, Farm Animals and Children's Activities
209 Perkinsville Road, Highland, NY 12528. Phone: (845) 795-4037. Email: upick@duboisfarms.com. Open: August 17th-November 3rd, daily, 10am-5pm. Groups by appointment: Monday-Friday. October: 7 days/week: 9:00 am to 5:00pm. Groups by appointment. Directions: From New York City: Take NYS Thruway (I-87) Exit 18. Exit east onto Route 299 for 5.5 miles. Turn right onto US-9W for 4.6 miles. Turn right onto Perkinsville Road- go 0.8 mile; or take Taconic State Parkway to exit NY55W toward Poughkeepsie for 8 miles. Cross Mid-Hudson Bridge. Exit from Mid-Hudson Bridge (US44-NY55) south to US-9WS for 2.2 miles. Turn right onto Perkinsville Road- go 0.8 mile. Click here for a map and directions. Farm Market and Café. Weekend Barbeques. Pick Your Own Nectarines, Plums, Apples, Pears, Peaches, Grapes, Tomatoes, Eggplant, and Pumpkins. Farm Market and Café, Bakery. Delicious desserts, including homemade apple cider donuts, served warm; cotton candy; snow cones; etc. Weekend Barbeques. Expanded 2-acre corn maze, tractor-pulled wagon rides, contests with prizes, visits with farm animals, and much more. "Tiny Town"- a child-sized, colorful, and fun village in a park-like shaded area. Pony Rides. Payment: Cash, Major Credit Cards Accepted. (UPDATED: May 12, 2015, JBS) (UPDATED: October 14, 2013, from their website)
A visitor writes on September 05, 2011: "There is a festival every weekend. The calendar of events is on the website. They make fresh apple cider donuts which are awesome!! The bakery is great! And they have Tiny Town, a child sized village. My family had so much fun!!!"
Hurds Family Farm - Pick-your-own apples, pumpkin patch-pick in the field, pumpkin patch- already gathered from the field, Fall festival, train rides, corn maze, straw or hay bale maze, child-sized haybale maze, tractor-pulled hay rides, Pumpkin Weigh-Off, gift shop, snacks and refreshment stand, restrooms, picnic area, petting zoo, farm animals, birthday parties, school tours, events at your location (call for info)
2187 Route 32, Modena, NY 12548. Phone: (845)883-7825. Email: susan@hurdsfamilyfarm.com. Open: same. Directions: Click here for a map and directions. Payment: Cash, Check, Debit cards, Visa/MasterCard, Discover, AmEx. More information: Corn Maze, School Tours, Events, Apple Picking, Recipes, Healthy Apple Twists, Photo Gallery, and a Map. Click here for their coupons! A real Fall Harvest experience ... and folks come back to the farm's Tree Plantation to harvest their own fresh Christmas trees! In the Fall ... For the young and young-at-heart, enjoy apple and pumpkin picking, hayrides, bonfires, and a cornfield maze. Feed farm pets at the Critter Corner and play at the Kid's Corral. Visit an 18th Century Dutch Threshing Barn for country gifts and refreshments. (UPDATED: May 12, 2015, JBS) (UPDATED: October 14, 2013, from their website) (UPDATED: April 22, 2010)
Jenkins & Lueken Orchards - Apples, pumpkins, pumpkin patch-pick in the field, corn maze, prepicked produce, tractor-pulled hay rides, raspberries, blackberries, Precut Christmas trees, Christmas wreaths and boughs, trees tied
69 Yankee Folley road, New Paltz, NY 12561. Phone: 845-255-0999. Email: adapc@bestweb.net. Open: 9AM to 6PM - Monday-Friday; 9AM to 7PM Saturday and Sunday; Closed Wednesdays from January 1 - May 1. Call ahead during summer months for produce availability. Payment: Cash, Check. Directions: And for a map to our farm, Click here. Our bakery is open producing fresh baked pies, brownies, and other tasty treats! Call or visit to pre-order your baked goods. Christmas tree varieties: PreCut varieties: Balsam Fir, Douglas Fir, Fraser Fir. (UPDATED: September 29, 2015, JBS) (UPDATED: October 14, 2013, from their website)
Kelder's Farm - pumpkins, winter squash, other vegetables, corn maze, pumpkin patch-pick in the field, pumpkin patch- already gathered from the field, straw or hay bale maze, prepicked produce, gift shop, snacks and refreshment stand, restrooms, picnic area, tractor-pulled hay rides, petting zoo
5755 Route 209 , Kerhonkson, NY 12404. Phone: 845-626-7137. Fax: 845-626-7137. Email us at: info@kelderfarm.com. And for a map to our farm, Click here. Open: every day 10am-6pm. Payment: Cash, Check, Visa/MasterCard. Educational tours are offered April-October. Our tours are for all ages and curriculums! Give our knowledgeable and friendly staff a call. Fall Harvest Weekends every weekend until the end of October. Hayrides to the pumpkin patch and a variety of pick your own apples, concord grapes, sweet corn, red raspberries, tomatoes, cherry tomatoes, beans, peppers, onions, eggplant, squash, and u-cut flowers! Jumping pillow is up, up, up and the animals are here for you to visit! (UPDATED: May 12, 2015, JBS) (UPDATED: October 14, 2013, from their website)
A visitor writes on October 11, 2008: "We love this farm and we've been there many times. Now they're advertising: Strawberries, Blueberries, Blackberries, Raspberries, Pumpkins When we went last summer we picked blueberries, corn and potatoes. We also bought some loose flowers. "
Maynard Farms - Apples, nectarines, pears, peaches, pumpkins, pumpkin patch-pick in the field, prepicked produce, restrooms
326 River Road, Ulster Park, NY 12487. Phone: 845-331-6908. Email: Maynardorchards@aol.com. Directions: Half way between Poughkeepsie and Kingston off of Rt. 9w on to River Rd. And for a map to our farm, Click here. Crops are usually available in August, September, October. Open: Saturday and Sunday 10am to 5pm also Columbus Day Payment: Cash, only. (UPDATED: September 29, 2015, JBS) (UPDATED: October 14, 2013, from their website)
Minard Farms - Apples, pumpkins, pumpkin patch-pick in the field, prepicked produce, snacks and refreshment stand, restrooms, picnic area, tractor-pulled hay rides
Hurds Rd, Clintondale, NY 12515. Phone: 845-883-7102. Email us at: minardfarms@msn.com. Directions: NYS Thruway (I87) exit 18, turn right onto Rt 299. Right at 1st traffic light onto South Ohioville Rd to stop sign. Turn left onto Hurds Rd - we are .25 miles on left. And for a map to our farm, Click here. Click here for picking updates. Open: 10:00 am to 5:00 pm, August 28-November 1. Payment: Cash, only. We have over 100 acres of orchard full of easy-to-reach, beautiful ripe apples. We also grow peaches, nectarines, asian pears, raspberries & strawberries (for making jams & jellies), pumpkins, gourds and various vegetables. At our farm market you will find apple cider donuts (we dare you to eat just one!), our own fresh pressed apple cider and pear cider, homemade pies, homemade jam, jellies & fruit butters, local honey, NY cheeses, NY maple syrup, homemade soap and much more. Oh – don't forget the roasted corn on the cob and hay wagon rides through the orchard. Bring a picnic lunch or visit our snack bar. Picnic tables are available at the farm market and in the orchard. We also have clean, modern restrooms at the farm market for your convenience. Look for our apple in the sky. 75 miles from NYC. (UPDATED: May 12, 2015, JBS) (UPDATED: October 14, 2013, from their website)
Prospect Hill Orchards - Apples, cherries, nectarines, pears, peaches, pumpkins, winter squash, pumpkin patch-pick in the field, corn maze, snacks and refreshment stand, restrooms, picnic area, tractor-pulled hay rides
40 Clark's Lane, Milton, NY 12547. Phone: 845-795-2383. Fax: 845-795-5345. Email: info@prospecthillorchards.com. Directions: Route 87 North to Exit 17 in Newburgh Route 84 East to Exit 10 Route 9W North, 10 miles north of Newburgh, to village of Milton. Follow the bright yellow "Prospect Hill Orchards" signs Go here for directions to our farm. Open: Weekends Only 9 a.m. to 4 p.m. Cherries available after June 20th each year, Friday, Saturday and Sunday Peaches, Nectarines available 2nd, 3rd, 4th weekends in August Apples, pears, pumpkins available mid-Sept- mid to October. Events Calendar: Kid's Days-last weekend in September Johnny Appleseed Cider Festival-Columbus Weekend Payment: Cash, only. (UPDATED: May 12, 2015, JBS) (UPDATED: October 14, 2013, from their website)
R. I. C. H. Farms - pumpkin patch, Hayrides
260 Glasco Turnpike, Saugerties, NY 12477. Phone: 845-247-8910. Email: richfarms2006@aol.com. Directions: click here for directions. Open: Pumpkin Picking season is Sunday, October 1st through 31st, every day from 11-5pm. Every Weekend: Corn Walk, Bounce House, Hayrides
Refreshments available.
Rondout Valley Growers Association - apples, blueberries, pumpkins, raspberries (Autumn, red), strawberries, Honey from hives on the farm, Maple Syrup from trees on the farm, Fresh eggs, Cider mill (fresh apple cider made on the premises), farm market
Route 209, Accord, NY 12484. Phone: 845-626-1532. Email: info@rondoutvalleygrowers.org. Open: May through November. Directions: Click here for a map and directions. Payment: Cash, Check, Debit cards. Click here for our Facebook page. We refer you to the wide variety of PYO farms in the Rondout Valley region. Our growers use minimal chemical inputs, and produce apples, raspberries, strawberries, blackberries, blueberries, corn (sweet), vegetables, flowers, grapes, and pumpkins. (UPDATED: May 12, 2015, JBS) (ADDED: July 22, 2012)
Saunderskill Farms - apples, corn maze, pumpkins, Tractor-Drawn Hay Rides, Horse-Drawn Hay Rides weekends
41 Garden Lane, Accord, NY. Phone: 845-626-7103. Open: April 15 - October 31; Daily 9-7, November- December; Tuesday through Sunday 9-5. Raspberries: July - Mid October, Pick your own raspberries, Pumpkins: mid September - October 30th. Pick your own Pumpkins begins with Tractor-Drawn Hay Rides, Horse-Drawn Hay Rides weekends in October 1-4PM, Free Corn Maze and Hudson Valley Draft Horse Association Fall Harvest Day.(UPDATED: May 12, 2015, JBS) (UPDATED: May 25, 2014, from their website)
Stone Ridge Orchard - Apples, blueberries, currants (red and black), other berries, pumpkins, raspberries, strawberries, tomatoes, pumpkin patch-pick in the field, pumpkin patch- already gathered from the field, prepicked produce, gift shop, snacks and refreshment stand, restrooms, picnic area, tractor-pulled hay rides
3012 Rt 213 POB 867, Stone Ridge, NY 12484. Phone: 845/687-2587. Fax: 845/687-4379. Email us at: info@stoneridgeorchard.com. Directions: From I-87 (NYS Thruway) take Exit 19 to rt 209 south. Go 10.5 miles through the town of Stone Ridge. At the 2nd light turn left, go 2/10th of a mile to our farm stand (on the left hand side of the road. Come on in! Click here for a map to our farm. Crops are usually available in June, July, August, September, October. Open: September through October, 9-6, 7 days a week. Nestled in the Shawangunk mountains near the Catskills, Stone Ridge Orchard provides 115 acres of apples, raspberries, pumpkins, cider and other great farm products to pick or choose from in our farm stand. We're located in Stone Ridge, NY, between the hamlets of Stone Ridge and High Falls. Our farm stand is open 7 days a week from September through October for apple picking. Please call for u-pick hours of other crops and events during the year. Payment: Cash, Check, Visa/MasterCard, Discover, AmEx. (UPDATED: May 12, 2015, JBS) (UPDATED: October 14, 2013, from their website)
Tantillo's Farm Market - pumpkins, Pick-your-own apples, pumpkins for sale in the shop or farmstand, pumpkin patch-pick in the field, pumpkin patch- already gathered from the field, tractor-pulled hay rides, wagon rides, gift shop, concessions / refreshment stand, porta-potties, picnic area, school tours
730 State Route 208, Gardiner, NY 12525. Phone: (845) 256-9109. Email: twolenbev@juno.com. Open: Click here for current open hours, days and dates. Directions: Click here for a map and directions. Apples: Mid September through October Cherries: June through Early July Tomatoes: August through September Pumpkins: September through October. Payment: Cash, Check, Debit cards, Visa/MasterCard, Discover. Click here for our Facebook page. (ADDED: October 25, 2012)
Wallkill View Farm Market - U-Pick Pumpkins, Free Weekend Hayrides, Family Picnic Area, Corn Maze, Mums,
15 Route 299 West, New Paltz, NY 12561. Phone: 845-255-8050. Email us at: info@WallkillView.com.
A visitor writes on October 17, 2008: "it was the nicest farm in the area. the quality of all the vegetables, flowers, baked goods, etc. was great. they do a cool maze with corn and sunflowers lining the road side; they also have hayrides and hidden places in the corn mazes with picnic tables. i don't remember any animals, most of the information can be found on the website". (UPDATED: October 14, 2013, from their website) (ADDED: October 17, 2008, suggested by a visitor)
Weed Orchards - pumpkin patch-pick in the field, pumpkin patch- already gathered from the field, child-sized haybale maze, tractor-pulled hay rides, wagon rides, Pick-your-own apples, prepicked produce, snacks and refreshment stand, restrooms, picnic area, face painting, pony rides, petting zoo, farm animals, birthday parties, school tours
43 Mt Zion Rd, Marlboro, NY 12542. Phone: 845-236-2684. Email: weedfarms@msn.com. And for a map to our farm, Click here. Open: August 15th - August 31st open only on weekends from 10-5. August 31st - last weekend in October open every day from 10-5. Peaches and Tomatoes from start approx. August 15th. August 31st until late October is when the rest of our fruit is available. Bakery, hay rides, entertainment, is only avialable on weekends.Click here for picking updates. Payment: Cash, Check, Visa/MasterCard. (UPDATED: May 12, 2015, JBS) (UPDATED: October 14, 2013, from their website)
Wilklow Orchards - pumpkins, Pick-your-own apples, pumpkins for sale in the shop or farmstand, pumpkin patch-pick in the field, pumpkin patch- already gathered from the field, tractor-pulled hay rides, Cider mill (fresh apple cider made on the premises), concessions / refreshment stand, porta-potties, picnic area, farm animals, birthday parties, school tours
341 Pancake Hollow Rd, Highland, NY 12528. Phone: (845) 691 2339. Fax: (845) 691 8325. Open: seven days a week from 9am to 6 pm; Labor day through Halloween. Click here for current open hours, days and dates. Directions: Click here for a map and directions. Payment: Cash, Check, Debit cards, Visa/MasterCard, Discover. (UPDATED: May 12, 2015, JBS) (UPDATED: October 14, 2013, from their website) (ADDED: September 27, 2011)
Wright's Farm - Apples, cherries, pumpkins, pumpkin patch-pick in the field, pumpkin patch- already gathered from the field, prepicked produce, gift shop, snacks and refreshment stand, restrooms, picnic area
699 State Route 208, Gardiner , NY 12525. Phone: 845-255-5300. Fax: 845-255-5301. Email us at: mbtbcbsbmb@aol.com. And for a map to our farm, Click here. Click here for picking updates. Crops are usually available in June, September, October. Open: Our farm market is open 7 days a week 8:00 to 6:00 year round. Pick your own is open 8:00 to 4:30 7 days a week Call or check website for exact dates for pick your own. Cherry picking late June to begin of July. Apple picking Mid September to end of October. Pumpkin picking last weekend in September to last day in October Payment: Cash, Check, Visa/MasterCard. We have a fabulous farm market too. Spring and Summer we have beautiful bedding plants and hanging basket of sale. Fall we have hundreds of mums and fresh picked fruits and veggies. Winter we have apple wood for sale to keep you warm and cozy all winter long. (UPDATED: May 12, 2015, JBS) (UPDATED: October 14, 2013, from their website)
Westchester County