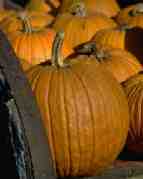 Looking for a local pumpkin patch, corn maze, hayride, gourds and other Halloween activities in Western New York State? Scroll down this page and you will see the all of thoses in Western New York State, sorted by county. Some are farms, where you take a hay ride out into the field, others are elaborate farm stands with mountains of pumpkins and other activities and some are simple roadside stands. Most have loads of pumpkins to choose from. To really make it fun for your kids, look for those that have the extra activities, like a corn maze, spook house, or hayride. There is usually a small fee for the mazes (of course, the more elaborate mazes tend to charge more. Hayrides are often free. ALWAYS call before you go to confirm the info, they don't always report changes to me!
And if you know of one I missed and want to add it or correct the information, please let me know! If you are looking for pumpkin weigh-offs and the US and world's largest pumpkins, see this page! Want to do a fundraiser selling pumpkins? See this page!
Finally, my boys are in Boy Scouts and raising money for their troop and their trips and activitites, so if you are looking for popcorn (many types), coffee or to donate to both the Socuts and U.S. miltary troops, click here and help the scouts!
Updates for August 2017
Although most pumpkin patches and corn mazes are now closed, it is time to tag your Christmas tree at a local Christmas tree farm (and enjoy a bonfire, smore, hot chocolate and free hayrides, and often Santa visits! And next Spring, you'll want to take your children to a free Easter egg hunt - see our companion website to find a local Easter Egg hunt. In the meantime, you may find a local zombie event or Zombie Paintball!.
The world's best pumpkin pie recipe is here, and the pie crust recipe is here! And we have home canning, preserving, drying and freezing directions. You can access recipes and other resources from the drop down menus at the top of the page or the site search. If you have any questions or suggestions, feel free to write me!
Pumpkin Patch Listings, by county
Click on Resources above, if you need a county map
Cattaraugus County
Pumpkinville (Pawlowsky Family Farm) - apples, Pick Your Own Pumpkin, Corn maze, Cider Mill (Custom Press by Appointment), Pony Rides, Hay Rides, Corn cannon, Goat Mountain,
4844 Sugartown Rd. , Great Valley, NY, 14741. Phone: 716-699-2205. Open: every day, 9 AM to 7 PM, from the 3rd Saturday in September through October 31st. Directions: Use caution when using a GPS. It may take you to the wrong place. Follow the orange Pumpkinville signs and arrows to our farm; from the North - Follow 219 South into Ellicottville. When coming into the village of Ellicottville, take the first left. This is Sugartown Road. Follow Sugartown Road for 6 miles. Pumpkinville is on the left. Just minutes from Ellicottville, NY and Holiday Valley Ski Resort. click here for a map to Pumpkinville. Dogs are welcome if on a leash and well mannered. Also, Pumpkinville Magical Attractions, jams & jellies, maple & honey products, candy, fudge, harvest bounty and more. Fresh made cider in cider mill. Helicopter rides on weekends. (UPDATED: October 14, 2013, from their website)
A visitor writes on May 18, 2008: "This has been an area I have been going to since I was a child, and I am now sharing with my children, plus people who did not know this area existed. It is so beautiful to pick your own pumpkin while drinking fresh apple cider and freshly made donuts, and be surrounded by the autumn beauty on the hill sides all around us. This is a great place to take the family for the day. I go back every year I can, and sometimes more. They have a story land, goat mountain, hay rides, corn maze, pony rides, farm animals, craft barn, cider press demonstration with samples, corn cannon shooting and more. They also have little wagons free to anyone to use, so you do not have to carry those heavy pumkins. You can even bring your own apples to be pressed with appointment only. Admission is FREE "
Chautauqua County
Falcone Farms - Pick-your-own apples, pumpkin patch- already gathered from the field,
1707 King Road, Forestville, NY 14062. Phone: 716-965-2503. Fax: 716-962-2469. Email: falconefarms@msn.com. Directions: for a map to our farm, click here. Open: Click here for current open hours, days and dates. U pick apples and U pick grapes (Concord and Niagara) available from September 15th-November 1. Payment: Cash, Check. We offer a variety of apples (Paula Reds, Cortland, McIntosh, Macoun, Melrose, Crispin, Spigold, Northern Spy, Rome, Red Delicious, Ida Reds)that mature at different times during the season. Call to find out what variety is being picked....it changes weekly. Pumpkins and squash(Sweet Mama, Blue Hubbard, Red Eye, Butternut) are already picked. Fresh, local cider is available too! (UPDATED: October 14, 2013, from their website) (UPDATED: September 18, 2008)

Harvest Happenings

- pumpkins for sale in the shop or farmstand, pumpkin patch- harvested and laid out on the ground or lawn, Fall festival, cow train / barrel train rides, straw or hay bale maze, tractor-pulled hay rides, concessions / refreshment stand, porta-potties, restrooms, picnic area, picnic area (bring your own food), face painting, farm animals, birthday parties, school tours, group reservations, events at your location (call for info)
2929 Route 39, Forestville, NY 14062. Phone: 7166791240. Email: Harvesthappenings@netsync.net. Open: Monday to Saturday from 10 am through 6pm, Sunday from 1 to 6pm September 17 through October 31. Directions: Exactly one mile off route 20 on the right. For a map to our farm, click here. Payment: Cash, only. (UPDATED: October 10, 2016)
Erie County
Awald's Berry Farm - pumpkin patch- already gathered from the field, corn maze, haunted maze, prepicked produce, blueberries, currants (red and black), pumpkins, raspberries, gift shop, snacks and refreshment stand
2195 Shirley Road, North Collins, NY 14111. Phone: 716 337 3162. Fax: 716 337 3600. Email: awaldsfarm@aol.com. Open: Pumpkin Patch: 9am until dusk Last weekend in September through Halloween. Directions: We are located about 30 miles southwest of Buffalo, NY and 12 miles from Hamburg, NY. We are one block off of Route 62 in the Town of North Collins. Here is the easiest way to visit us: >From the NYS Thruway, simply exit at 57A at Eden/Angola. Go 3 miles east to Eden on Eden Evans Center Rd and make a right on Route 62 (going south). Gurney Avenue is 5 miles south on Route 62 and on the right. We are at the end of Gurney Avenue (one block off of Route 62). (Gurney Ave is the third street on the right past the light in North Collins). And for a map to our farm, Click here. Crops are usually available in July, August, September, October. A visit to our Pumpkin Patch has become a family tradition for many people in our local communities. In fact, several folks who visited our Pumpkin Patch as kids now bring their own children! We grow just about every size of pumpkin, from the 6 oz Jack-Be-Littles all the way up to 400 lb Atlantic Giant behemoths. 100 to 200 lb Burpee Prizewinners. Payment: Cash, Check. Click here for our Facebook page. (UPDATED: October 14, 2013, from their Facebook page)
Fergus Farms A-Maze-Ing Adventures - corn maze, pumpkins for sale in the shop or farmstand, pumpkin patch- already gathered from the field, Fall festival, haunted corn maze, tractor-pulled hay rides, Bounce house, porta-potties, birthday parties, school tours
1810 Porterville Road, East Aurora , NY 14052. Phone: 716-997-2503. Email: info@A-MAZE-INGADVENTURES.com. Open: The Harvest festival runs October 6, 7, 13 and 14 from 1 to 3pm; The Haunted maze runs October 19, 20, 21, 26, 27, and 28 from 6:30 pm to 9 pm. Click here for current open hours, days and dates. Directions: Click here for a map and directions. Payment: Cash, only. (UPDATED: October 14, 2013, from their website) (ADDED: December 30, 2011)
Frightworld, America's Screampark - Fall festival, haunted house, haunted trail, gift shop, concessions / refreshment stand, porta-potties, restrooms, picnic area, birthday parties, weddings and wedding parties, school tours, group reservations
1460 French Road, Cheektowaga, NY 14043. Phone: 716-881-FEAR. Email: info@frightworld.com. Open: October: weekdays: 6:30pm to 10pm, weekends: 6:30pm to 1am. Click here for current open hours, days and dates. Directions: Click here for a map and directions. Payment: Cash, only. Click here for our Facebook page. Buffalo's biggest and best indoor screampark is back for the 2014 seaso n.Located in Buffalo, NY. Frightworld has been voted one of the best haunted houses in the country and featured on the Travel Channel. Come experience all 5 haunted attractions, which will be sure to leave you panic stricken with chills going up your spine. Frightworld has new designs, new scares, and amazing special effects. Come see and experience why Frightworld is everyone's favorite haunted house. (UPDATED: August 29, 2014) (UPDATED: August 24, 2013) (ADDED: August 31, 2012)
The Great Pumpkin Farm - corn maze, pumpkins, pumpkin patch-pick in the field, pumpkin patch- already gathered from the field, straw or hay bale maze, child-sized haybale maze, horse-drawn hay rides, tractor-pulled hay rides, prepicked produce, gift shop, snacks and refreshment stand, restrooms, picnic area, face painting, pony rides, petting zoo, farm animals, birthday parties, weddings and wedding parties, school tours
11199 Main Street, Clarence, NY 14031. Phone: 716-759-8483. Fax: 716-759-6351. Email: info@greatpumpkinfarm.com. Directions: 7 miles from the NY State thruway I-90 Exits 49 or 48a on Route 5, Main Street. Click here for a map and directions. Open: Every Day 10am to Dusk; from the Last weekend in September thru October 31st; special events on weekends. Payment: Cash, Check, Visa/MasterCard, Discover, AmEx. Loads of entertainment every weekend, group tours on weekdays, gift store open every day. (UPDATED: October 14, 2013, from their website)
Greg's U-Pick Farm - corn maze, pumpkins for sale in the shop or farmstand, Honey from hives on the farm, farm market, restrooms, farm animals
9270 Lapp Rd, Clarence Center, NY 14032. Phone: (716)-741-4239. Open: Daily 10am to 6pm; and the corn maize is open weekends and Columbus Day 10am-5pm or by group appointments. Directions: 2.8 miles off Transit Rd. Click here for a map and directions. Strawberries: Mid-June, Blueberries: Mid-July, Blackberries: Mid-August. Payment: Cash, Check. our corn maize this year is 10 acres and LOTS of fun!! Your entire $5/person donation goes directly to Roswell Park Cancer Institute. (UPDATED: May 3, 2015, JBS) (UPDATED: October 14, 2013, from their website) (ADDED: August 31, 2011)
Hen-Hawk Acres - pumpkins for sale in the shop or farmstand, pumpkin patch- already gathered from the field, Fresh eggs, gift shop, porta-potties
13439 Genesee Road 11870 Route 39, Chaffee, NY 14030. Phone: 716-496-5380. Alternate Phone: 716-560-8302. Email: denniespamela@gmail.com. Open: call for hours; So sorry our 2013 fall open house that usually takes place the second Saturday in October is canceled this year. Directions: From buffalo take route 219 South to Springville exit. Turn left on Route 39 and drive approximately 10 miles. Turn left on Route 16 and drive approximately 1 mile. Turn Left on Genesee Road. Hen-Hawk Acres is about 500 yards on the Left. From the South take Route 16 North to Genesee Road. Turn Left on Genesee road. Hen-Hawk Acres is about 500 yards on the left. Payment: Cash, Check, credit cards, debit cards. We have bins of apples right out of our orchard. CORTLAND, EMPIRE, MACOUN AND 20 OUNCE. We also have HONEYCRISP by the peck or 1/2 peck. Soon we'll be picking CRISPIN.. Almost everything sold at our farm is locally grown, sewn, crafted, and baked including but not limited to- maple products, honey products, spices, goat milk soap and soy candles. We have a closed beef herd which means that all of our beef are born and raised on our farm only. All of our meat is frozen and USDA inspected. For Fall we raise lots of "funky" pumpkins and at Christmas time we have lots of gift baskets filled with our local products. We also have a CSA program which is expanding all the time and there is a waiting list. (UPDATED: October 15, 2013, from their website) (ADDED: May 16, 2011)
Akron Acres (Formerly Kelkenberg Farm of Akron) - pumpkin patch-pick in the field, pumpkin patch- already gathered from the field, cow train / barrel train rides, corn maze, horse-drawn hay rides, gift shop, concessions / refreshment stand, restrooms, pony rides, farm animals, birthday parties, school tours, group reservations
12607 Stage Road, Akron, NY 14001. Phone: 716-542-2314. Email: Marilyn@Akronacres.com. Open: Season begins the last weekend in September; Horse drawn hayrides to the pumpkin patch Saturday, Sunday, and Columbus Day 10 am to 6; Gift shop and pumpkins for sale in the yard open every day 10 am to 6 until Halloween. Directions: Click here for a map and directions. Payment: Cash, Visa/MasterCard. Click here for our Facebook page. (UPDATED: July 31, 2016) (UPDATED: November 11, 2013) (UPDATED: October 14, 2013, from their website) (UPDATED: July 16, 2012) (ADDED: September 22, 2010)
Kelkenberg Farm Of Clarence Center - pumpkins, pumpkin patch-pick in the field, pumpkin patch- already gathered from the field, straw or hay bale maze, horse-drawn hay rides, prepicked produce, snacks and refreshment stand, restrooms, picnic area, pony rides, petting zoo, farm animals, birthday parties, school tours, events at your location (call for info)
9300 Wolcott Road, Clarence Center, NY 14032. Phone: 716-741-4862. Fax: 716-741-4862. Email: Charlene@Kelkenbergfarm.com. Open: the farm opens for the fall season on September 17th; We are open Saturday, Sundays, and Columbus Day 10 am to 6 pm, and Fridays from 1 pm to 5 pm, without reservations through October 31. We are open weekdays 10 am to 1 pm year round with reservations. Directions: Click here for a map and directions. Crops are usually available in September, October. Click here for our Facebook page. We have a honey bee observation hive, too! Payment: Cash, Check, debit cards, MC, Visa, and Discover. (UPDATED: September 03, 2016) (UPDATED: September 04, 2014) (UPDATED: August 15, 2013) (UPDATED: July 16, 2012)
Menne Garden Center - pumpkin patch- already gathered from the field, Fall festival, straw or hay bale maze, Bounce house or pillow, concessions / refreshment stand, restrooms, face painting, Bouncy castle
3100 Niagara Falls Boulevard, Amherst, NY 14228. Phone: 716-693-4444. Fax: 716-695-9751. Email: info@mennenursery.com. Open: Pumpkin Patch and Maze: October 1 to October 31, Monday to Saturday, from 9 am to 8 pm; Sundays from 9 am to 6 pm; Other events: Teddy Bear Halloween Party: Saturday, October 23, from 1 pm to 4 pm. Directions: 2-1/2 miles north of the I-290 on Niagara Falls Boulevard--between Robinson Road and Tonawanda Creek Road. Click here for a map and directions. Payment: Cash, Check, Visa/MasterCard, Discover, AmEx. Teddy Bear Halloween Party -- Bring in your dressed up Teddy Bear for the Best Teddy Bear Costume Contest. Join in Story Time, Games, Free Maze, Guess the Pumpkin Weight Contest, Face Painting, Pumpkin Painting, Bounce House, Trick or Treating, Fall Crafts. Food, Cider and Donuts Available. (UPDATED: October 14, 2013, from their website) (ADDED: October 11, 2010)
Spoth's Farm Market - - pumpkin patch- already gathered from the field, small indoor hay maze for young children, prepicked produce
5757 Transit Road, East Amherst, NY 14051. Phone: 716-688-1110. Directions: From 90- Exit at Transit Road and head North. The farm is located approximately three miles North of the Eastern Hills Mall on the right hand side. Across from Transit Middle School. And for a map to our farm, click here. Crops are usually available in May, June, July, August, September, October, November, December. Open: 7 days a week, call for hours. Run through thee haunted straw maze or have a chat with Pumpkinstein- the talking scarecrow. Perennial and Annual flowers in Spring, Our famous Spoth's Sweet Corn and various homegrown vegetables in Summer, Pumpkins, gourds, apples, squash, cider and Halloween decorations in fall, Christmas Trees, Handmade wreaths and bows to your specifications, boughs and poinsettias Closed after Christmas until May Payment: Cash, Check, Visa/MasterCard. (UPDATED: October 14, 2013, from their website) (UPDATED: September 15, 2010)
Niagara County
Becker Farms - pumpkins, farm animal petting zoo, hay rides, pony rides
3724 Quaker Rd, Gasport, NY. Phone 772-7815 or 772-2211. Hours: Summer Hours: 8 am to 8 pm Spring and Fall hours: 10 am to 6 pm
Becker farms is a family owned 340 acre working fruit and vegetable farm that sells most of our products directly to the public. Our farm market is located in the original farm house and is decorated with antiques and old farm tools left by our great grand parents. Besides our fresh homegrown produce we offer homemade fruit pies made from our own fruit, gourmet cookies, ice cream, drinks and gift items. Activities include a visit to our farm animal petting zoo, hay rides, pony rides, and several weekend festivals in June, July, September, and October.
Brown's Berry Patch - Pumpkin patch, hayrides, corn maze, Raspberries (Summer and Fall Varieties), Blueberries, Elderberries, Apples, Pumpkins, pumpkin patch
14264 Roosevelt Hwy., Waterport, NY. Phone 585-682-5569. Email: info@brownsberrypatch.com. Open: 10 am to 5 pm on Saturday and Sunday. Directions: Click here. 2 New Cornfield Mazes, Barnyard Adventure (Learn more here), Cornfield Pedal Cars, Big Rope Maze, Giant Slide, Children's Playground, Hay rides to the pumpkin patch, Face Painting, Pony Rides, Pumpkin Paint Shop, Make your own scarecrows. Crop availability dates (typical): Strawberries June 15 - July 10; Sweet Cherries July 4 - July 15; Raspberries (Summer and Fall Varieties) July 7 - October 10; Blueberries July 10 - August 15; Elderberries August 15 - August 31; Apples August 15 - October 31; Pumpkins October 1st - October 31.
Cambria Corn Maze - pumpkins for sale in the shop or farmstand, pumpkin patch- already gathered from the field, corn maze, straw or hay bale maze, concessions / refreshment stand, porta-potties, picnic area, school tours, events at your location (call for info)
5274 Lockport Junction Road, Lockport, NY 14094. Phone: 716-425-9299. Email: carmbriamaze@gmail.com. Open: September 14 pm to October 31 Our Hours of Operation Friday: 4 pm to 8pm Saturday: Noon - 8pm Sunday: Noon - 5pm. Click here for current open hours, days and dates. Directions: Click here for a map and directions. Payment: Cash, only. Click here for our Facebook page. (ADDED: July 18, 2013)



Peter Baker Farm

- pumpkins, Pick-your-own apples, pumpkin patch-pick in the field, pumpkin patch- already gathered from the field, tractor-pulled hay rides, prepicked produce, restrooms
2100 Youngstown-lockport Road, Ransomville, NY 14131. Phone: 791-3440. Email: pbakerfarm@earthlink.net. Directions: West of Ransomville N.Y. on Rte 93. Pass Dickersonville Rd. Orchards are on the Left side of the road. From I190 Youngstown exit onto Rte 93. Go east (right) approx 5 miles. Pass Porter Center Rd. Orchard on the right side of the Road. And for a map to our farm, click here. Crops are usually available in October. Open: Friday, Saturday, Sunday, and Monday 10am to 5pm. Payment: Cash, only. (UPDATED: August 23, 2008)
Wheatfield Pumpkin Farm - pumpkin patch- already gathered from the field, corn maze, tractor-pulled hay rides, haunted rides, snacks and refreshment stand, restrooms, petting zoo, farm animals, school tours
6920 Nash Road, Wheatfield, NY 14120. Phone: 716-693-6407. Email: info@wheatfieldpumpkinfarm.com. Open: daily starting the last weekend in September - through the end of October. Directions: Click here for a map and directions. The pumpkin farm is located 1 mile north of Niagara Falls Blvd on Nash Road in Wheatfield; Haunted hayride schedule on our website; Family hayrides available; Live music on weekends; Pumpkins, corn stalks, gourds, cider and mums for sale; Petting zoo and play area; A mini corn maze. Payment: Cash, only. (UPDATED: October 15, 2013, from their website) (UPDATED: September 17, 2010)
Zarpentine Farm Market and MAiZE - corn maze. pumpkins, wagon rides, haunted wagon rides
163 Burritt Road, Hilton, NY 14468. Phone: (585) 392-3611. Email: info@zarpentinefarms.com. Directions: for directions, maps and a coupon, click here. Open: September 13th – October 27th; We are open Friday – Sunday each week., Fridays 6pm to 11pm, Saturdays 2 pm to 11pm, Sundays 2 pm to 11 pm, (last entry is 1 hour before closing); Wet weather and/or muddy conditions may delay or prevent opening on any day. Call us for latest information. (UPDATED: October 15, 2013, from their website)