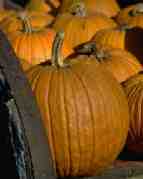 Looking for a local pumpkin patch, corn maze, hayride, gourds and other Halloween activities in Brant, Hamilton and Haldimand Area of Ontario? Scroll down this page and you will see the all of those in Brant, Hamilton and Haldimand Area of Ontario, sorted by county. Some are farms, where you take a hay ride out into the field, others are elaborate farm stands with mountains of pumpkins and other activities and some are simple roadside stands. Most have loads of pumpkins to choose from. To really make it fun for your kids, look for those that have the extra activities, like a corn maze, spook house, or hayride. There is usually a small fee for the mazes (of course, the more elaborate mazes tend to charge more. Hayrides are often free.
Especially this year, due to Coronavirus, be sure to click on the links to confirm this year's dates and activities; many have cut back on activities. Corn mazes tend to be open, pumpkins are usually for sale. Mostly, it is things like festivals, inflatables and groups activities that are restricted in 2020. If they don't have a website or Facebook page, call email them directly or call the phone number provided, but ALWAYS CONFIRM THIS YEAR'S DATES AND TIMES BY BEFORE YOU GO.
And if you know of one I missed and want to add it or correct the information, please let me know! If you are looking for pumpkin weigh-offs and the US and world's largest pumpkins, see this page! Want to do a fundraiser selling pumpkins? See this page! There are affiliate links on this page. Read our disclosure policy to learn more.
Finally, my boys are in Boy Scouts and raising money for their troop and their trips and activities, so if you are looking for popcorn (many types), chocolate, coffee, k-cups or to donate to both the Scouts and U.S. military troops, click here and help the Boy Scouts!
Updates for October 2020
Most pumpkin patches and corn mazes usually open by mid September, some earlier! You may also like a local zombie event or Zombie Paintball!. The world's best pumpkin pie recipe is here, and the pie crust recipe is here! And we have home canning, preserving, drying and freezing directions. You can access many pumpkin and other recipes and other resources from the drop down menus at the top of the page or the site search.
Keep in mind, many farms, pumpkin patches, corn mazes and Haunted Houses are trying to cope with rapidly changing state COVID requirements: ALWAYS see their own website, Facebook page or call them before you go.
NOTE: Many of the farms are dropping their websites and switching to Facebook pages - but they don't tell anyone, including search engines like Google, Bing, Yahoo or us, or redirect their website, thus breaking all links to them. If a link is broken please click the "click here to report a broken link or blank page" so we can find the replacement link! Thanks!
After Halloween, find a Christmas tree at a local Christmas tree farm (and enjoy a bonfire, smore, hot chocolate and free hayrides, and often Santa visits! And next Spring, you'll want to take your children to a free Easter egg hunt - see our companion website to find a local Easter Egg hunt. If you have any questions or suggestions, feel free to write me!
Pumpkin Patch Listings, by county
Click on Resources above, if you need a county map
Brant (Brant, Brantford, Bruce, Burtch, Cathcart, Hatchley, Paris)
Haldimand (Simcoe, Waterford)
Richardson's Farm and Market - corn maze, wagon rides, corn box, farm animals, pumpkins, Maple Syrup from trees on the farm, prepicked produce, gift shop, snacks and refreshment stand, restrooms, picnic area, birthday parties, school tours, events at your location (call for info)
131 River Road, Dunnville, ON N1A 2W3. Phone: 905-774-7507. Fax: 905-774-4065. Email: info@richardsonsfarm.com. Open: Monday-Thursday from 10am-6pm; Friday and Saturday 10am-9pm; Closed Sundays. Directions: See our website for complete directions. Click here for a map and directions. Maple Syrup Tours in March: check our website for details; Strawberries early June to early July; Sweet Corn early July to October; 11ac Corn Maze & Pumpkin Patch open August 29 through November 1 Payment: Cash, Check. Debit. Sweet potatoes available. Maple Syrup Tours available. FRESH PRODUCE! FUN TIMES!

Explore the 6 km of trail in our 7 acre corn maze, challenge yourself to figure out the Jammed Tractor mini maze, cats cradle maze and pathway puzzle maze and play in the strawbale maze. Lasso some toy horses and play in the corn box. Visit the animals. Chuck some pumpkins at targets. Check out our heritage barn full of antiques and educational displays. Then finish off the day with a visit to our pumpkin piles and choose the perfect pumpkin! We also have cornstalks, gourds, mini straw bales and more for all your fall decorating needs. Wagon rides will be part of the fun from approximately on Saturdays. We've also got some great live music lined up for Saturday afternoons.

Click here for our Facebook page.
Hamilton (Alberton, Glanbrook, Hamilton,Hayesland, Kirkwall, Lynden,Sheffield, Renforth, Rockton)
Dyment's Farm - PYO pumpkins, Wagon Rides, Corn Maze, pumpkin patch,
416 Fallsview Rd. E., Dundas, Ontario, L9H 5E2. Phone: 905 627-5477, Farm Market: 905-628-5270. Fax: 905-627-5575. Email: bdyment@sympatico.ca. Open: Farm Market is open all year; the Pumpkin Patch is open June, September and October; see our web site. Directions: See this page for a map and directions. Pick your own pumpkins. Bring the whole family back to the pumpkin farm this fall for a weekend filled with fun. Along with a wagon ride along the scenic Niagara Escarpment to the pumpkin patch to pick the perfect pumpkin, we offer a wide selection of unique farm-themed activities that the whole family will enjoy, including a corn maze, spook hut, straw fort, and animal barn. See these pages on their website for more information: The Barnyard Play Area, Machinery Shed, Straw Fort, Corn Bin , Animal Farm, Bouncing Ball Track, Spook Hut, Trike Track, School tours, Birthday parties, Corporate picnics and outings, Online tour.
Frootogo Orchards - Pick-your-own apples, corn maze, pumpkin patch-pick in the field, pumpkin patch- already gathered from the field, tractor-pulled hay rides, prepicked produce, farm market, gift shop, snacks and refreshment stand, restrooms, picnic area, petting zoo, farm animals, school tours, events at your location (call for info)
573 Parkside Drive, Waterdown, ON L0R 1H0. Phone: 905-689-1652. Email: frootogo@cogeco.ca. Directions: And for a map to our farm, click here. Crops are usually available in August, September, October, November. Open: See our website homepage for current hours. Pick your own Apples August - October, Pumpkins October; Bakery and store open August until Christmas. Payment: Cash, Debit cards.
Hanes Corn Maze & Farmland - corn maze (10 acre human size puzzle of 10' tall cornstalks), sunflower maze
1001 Hwy 5 W, Dundas, ON L9H 5E2. Phone: (905) 628-5280. Email: sales@thehanescornmaze.com. Open: on ALL Holidays and PA Days, late August - September hours: Open Daily 10 am - 5 pm; October hours: every day and night, Monday to Saturday from 10am - 9pm; Sun: 10am - 5pm; Thanksgiving hours: Holiday Sun: 10am - 9pm, Holiday Mon: 10am - 5pm. Directions: Between Hamilton & Cambridge. The Tiny Shop by the entrance to the maze sells fresh fruit pies, fruits and vegetables, specialty sweet corn, fresh eggs and cookies. Closes in bad weather, and no pets are permitted. Also, more than 100 farm animals, play areas, picnic area, hands-on activities. Groups, birthday parties welcome. Also called "Shelly Hanes". Payment: cash, cheque, NO debit or Credit Cards accepted.
Megens Family Farm - pumpkins, pumpkin patch- already gathered from the field, prepicked produce, picnic area, farm animals
2877 Road 119, St Marys, ON L8P 1Y8. Phone: 519 284 3199. Fax: 519 284 1250. Email: megens.sereda@quadro.net. Open: Seven days a week 8:00 am to 8:00 pm. Pick your own strawberries - June and July. Directions: on hwy 7, seven minutes south of Stratford. Payment: Cash, Check. Join us for our annual Strawberry Festival - featuring a farmers' market on the farm, live music, locally produced meats on the barbecue, baked goods, farm animals and more.
Please remember to call for a crop report before you come for a visit. Our Crop Report Line is 519-284-3199
Merry Farms - pumpkin patch-pick in the field, pumpkin patch- already gathered from the field, tractor-pulled hay rides, wagon rides, gift shop, concessions / refreshment stand, restrooms, picnic area, picnic area (bring your own food), jumping pillow, pedal kart track, farm animals, school tours
1974 Concession 2 West, Lynden, ON L0R1T0. Phone: 519-647-2648. Email: merryfarmsinc@gmail.com. Open: Saturday and Sunday, from 10 am to 5 pm, September 24 to October 30. Click here for current open hours, days and dates. Directions: Click here for a map and directions. Click here for a map and directions. Payment: Cash, Debit cards, Visa/MasterCard. Click here for our Facebook page. A spectacular 176 acre farm with rolling hills and winding lane. Pick your own pumpkins and enjoy all the fall activities: giant jumping pumpkin, 35 foot slide, pedal carts, farm animals, tetherball courts, dig in the corn and sandpit with backhoes. Our rustic Christmas Store will be open. For more info please see our website. Tour some of the Christmas tree farm on the hay wagon ride back from the patch and learn about growing Christmas Trees. Our family farm is one of Ontario's largest Christmas Tree farms. Enjoy our baked goods, soups and chili. (UPDATED: August 12, 2016) (UPDATED: September 02, 2015)
Parkside Farms - UPDATE for 2020: They are permanently closed
Waterdown, ON L0R 2H1. After 25 years of Pumpkinfest, farmer Ben is retiring and will no longer be doing pumpkins and wagon rides. Thank you to all the wonderful people who has supported me throughout these years. I will miss all the great people that I have met throughout the years. I had a great time too! Thanks again.
Puddicombe Estate Farms and Winery - pumpkin patch- already gathered from the field, train rides, straw or hay bale maze, child-sized haybale maze, Apples, Christmas-themed park, prepicked produce, gift shop, snacks and refreshment stand, restrooms, picnic area, wagon rides, face painting, petting zoo
1468 Hwy #8, Winona, ON L8E 5K9. Phone: (905)643-1015. Fax: (905)643-0938. Email us at: info@puddicombefarms.com. Directions: Take the QEW to exit #78 (Fifty rd.) Follow south to Hwy #8 Turn Left 1/4 mile down on the left. Click here for a Map. . We are open June, July, September, October. Our hours are: Monday to Friday 9am-pm Payment: Cash, Visa/MasterCard.

Shearlea Acres

- pumpkin patch-pick in the field, pumpkin patch- already gathered from the field, Honey from hives on the farm, prepicked produce, gift shop
3826 Hwy 99, Lynden , ON L0R 1T0. Phone: 519-647-2415. Email: shearlea.acres@sympatico.ca. Directions: Hwy 403, take the Hwy 52 exit. Turn right on Hwy 99 and continue. Open: all year Monday to Sunday 10am - 6pm Payment: Cash, Visa/MasterCard. Make your own scarecrows.