How to Make Homemade Pumpkin Cheesecake!
Click here for a PDF print version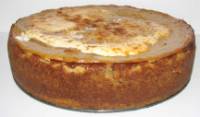 You've drooled over Pumpkin cheesecake at restaurants like the Cheesecake Factory, now you can make your own, and even better! You can use fresh the best possible flavor or canned pumpkin to save time! All I can say about this recipe is WOW! It is incredibly good! And I even used fat free cream cheese, so the recipe is no-fat and relatively low sugar! If you make it with Splenda, it is an actual HEALTHY dessert that tastes sinfully good!
Directions for Making Pumpkin cheesecake
This makes one 10 inch springform pan or 2 nine-inch deep dish pies
Ingredients and Equipment
2 cups of fresh cooked pumpkin (see this page to make your own from a fresh pumpkin)
OR 1 can of commercial canned pumpkin (about 12 ounces)
3 packages (8 ounces each) of cream cheese, at room temperature (I used the fat free cream cheese and it tasted GREAT, even my junk-food junkie friends raved about it)
2 cup sugar (or 2 cups Splenda; or 1 cup of each)
1 teaspoon vanilla extract
7 eggs
Pumpkin Cheesecake Recipe
Preheat oven to 350 F (175 C).
Make a graham cracker crust in one springform cheesecake pan (10 inch diameter, 3 inches deep) OR in two 9 inch deep pie dishes (see this page for instructions - or use a purchased deep dish graham cracker crust)


Cream Cheese Layer:

In a mixing bowl, combine the 3 packages of cream cheese, 1 cup of sugar, and 1 teaspoon of vanilla extract - mix well!


Beat in 4 eggs; (either beat them separately, or directly with the other ingredients)




Pour the mixture in the pie crust.




Pumpkin Layer:


In a large bowl, mix the pumpkin, 1 cup of sugar, a dash of salt, 1 teaspoon ground cinnamon, 1/4 teaspoon ground ginger and 1/2 teaspoon ground nutmeg (or, instead of these spices, separately; just 3 teaspoons of pumpkin pie spice).

Light beat 3 eggs and blend them in.

Mix in the 2 cups of evaporated milk.

Pour the pumpkin mixture over cream cream cheese layer that is already in the pie crust. Neither stir it in, nor worry about floating it on top. Just gently pour it in.


Bake the pumpkin pie in the oven at 350° for about an 70 minutes; possibly another 10 minutes (until it has firmed up). The cream cheese layer will bubble up to the surface some; that's fine; it gives it the characteristic appearance.

Cool the pumpkin pie and refrigerate it! It won't really firm up unless you refrigerate it (it IS a cheesecake!)
It's great with a little whipped cream or topping. Let me know whether you agree (or disagree) that this is the best pumpkin cheesecake ever!
---
Feedback
A visitor writes on April 07, 2011: "i have been making my own pumpkin pies from scratch for years with my mom. its a blast. we used to boil the pumpkin to cook it then peel it and press it and pururee it. but were never able to get all the water out. recently about 1 0r 2 years ago i found a baking method to cook the pumpkin and then puree it. no streining at all great. and much easier to freeze it as well. so i go about 15 pounds worth of pumpkin from a assisted living home my late grandma was living in 2 decembers ago so dec 09'. and have yet to use it all. and in my seaching for pumpkin recipies i found your pumpkin cheesecake, with the help of my sister. and oh my gosh!!!! i made it last night and took it out of the fridge thismorning, WOW. i was in heaven. one of the most incredible things i have ever made. its going on the table with the home made pumpkin pie and pumpkin rolls and canoli's for sure. thank you verry much for the recipie. will be using this for manny years to come. Sincerely , michael"
A visitor writes on November 04, 2010: "I LOVE LOVE LOVE your pumpkin cheesecake recipe! This is my second year making them and let me tell you they are a hit anywhere I take em!! I have 4 kids and we grow our own pumpkins, so seeing them start from seeds and ending up a delicious dessert is a new tradition my family has begun. Your site is great! So glad I found it and sorry I didn't give you the feedback last year!..Happy Autumn :)"
---
Complete Water Bath Canner Kit

This is the same type of standard canner that my grandmother used to make everything from applesauce to jams and jellies to tomato and spaghetti sauce.
This complete kit includes everything you need: the canner, jar rack, jar grabber tongs, lid lifting wand, six pint jars with lids and rings, a plastic funnel, labels, bubble freer, and the bible of canning, the Ball Blue Book. You'll never need anything else except more jars and lids!
Price: $49.99

Average Customer Review:
Usually ships in 1-2 business days


Deluxe Food Strainer & Sauce Maker

With the Deluxe Food Strainer/Sauce Maker, you can make creamy apple sauce and smooth tomato sauce without having to peel and core! This muli-use strainer forces food through a stainless steel screen, automatically separating the juice and pulp from the seeds, shins, and stems. Perfect for purees, creamed soups, baby foods, pie filling, juices, jams, and more. Save time, effort, and money by preparing your own tasty sauces to be used immediately or boiled for future use. Do bushels with ease and in a fraction of the time. Includes the tomato/apple sceen with easy twist on design and instruction/recipe booklet.

The Deluxe model comes with the standard Tomato/Apple Screen; as well as the Berry Screen, Pumpkin Screen, and Grape Spiral. Note
Lids, Rings, Jars, mixes, pectin, etc.

Need lids, rings and replacement jars? Or pectin to make jam, spaghetti sauce or salsa mix or pickle mixes? Get them all here, and usually at lower prices than your local store!
Can't find the equipment? We ship to all 50 states! Just email us!
This page was updated on 17-Sep-2017
---
Our other free, informative sites you may like:
Questions, comments, corrections, suggestions or want to recommend a farm to add?
Or write me at


All images and text Copyright © Benivia, LLC 2004-2013All rights reserved. Disclaimer and Privacy Policy
Permission is given to link to any page on www.pumpkinpatchesandmore.org