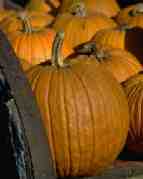 Butternut-Chestnut Panchetta-Bacon Soup
Butternut-Chestnut Panchetta-Bacon Soup
This is a wonderful Autumn soup combining the flavors of the season; pumpkin, chestnuts iand ham, bacon or panchetta is a warming Fall soup! You can make it as spicy, hot or mild as you like!
Ingredients
1 and a half Tablespoons olive oil
3.5 ounces (100g) sliced pancetta, chopped (that's about 5 slices) (Panchetta is Italian bacon. You can use whatever you have; bacon, Canadian bacon, ham, etc.)
1 large sweet onion, finely chopped
2 celery stalks, sliced
2 garlic cloves, chopped
2 long red chili pepeprs, deseeded and chopped (depends how spicy or hot you like it)
1 lb (500g) cooked and peeled chestnuts
1.5 lbs (750g) peeled and chopped pie pump[kin or butternut squash - you can usually but the butternut squash already peeled and prepared in the vegetable section of the grocery store.
5 cups (1.25 liters) chicken stock (I use non-fat, low sodium)
Reduced fat sour cream and extra sliced long red chili peppers, as a garnish
Directions
Step - Brown the panchetta, ham or bacon
Heat 2 teaspoons oil in a large saucepan over medium-high heat. Add pancetta and cook, stirring often, for 3 minutes or until crispy. Transfer to a plate. Set aside.
Step 2 - Stir fry the veggies
Heat the remaining 1 Tablespoons oil in the pan over medium heat. Add onion, celery, garlic and chillies and cook, stirring often, for 4-5 minutes until softened.
Step 3 - Add the chestnuts and pumpkin
Add chestnuts and pumpkin pieces and cook, stirring occasionally, for 5 minutes.
Step 4 - Add the chicken stock and panchetta
Stir in stock and three-quarters of the pancetta. Cover and bring to the boil. Reduce heat, cover and simmer, stirring occasionally, for 20-25 minutes or until pumpkin and chestnuts are tender.
Step 5 - Puree
Puree soup with a wand blender until smooth. Season to taste. Cover and bring to a low boil over medium heat.
Step 6 - Serve
Top each serving bowl with a dollop of sour cream, the remaining pancetta and extra sliced red chilli (the latter if desired) and serve.