How to Make Pumpkin Cookies from Canned or Fresh Pumpkin - in easy illustrated steps
How to Make Homemade Pumpkin Spice Cookies!

Pumpkin cookies are a great change from chocolate chips and other cookies, as they are much more nutritious, as well as tasty! The taste is reminiscent of pumpkin pie and they're great warm from the oven or warmed later in the microwave! They have a light, soft, almost bread-like texture! and of course, you can add orange food coloring to the icing and use frosting to make jack-o-lantern faces or other designs on them, too! Perfect for Halloween, Thanksgiving or Christmas and holiday parties.
Click here for a PDF print version
Directions for Making Pumpkin cookies
Ingredients
Cookie Dough Ingredients
1 cup of fresh cooked pumpkin (see this page to make your own from a fresh pumpkin) You can use any winter squash, like butternut or hubbard instead of pumpkin. Those actually turn out BETTER tasting than an ordinary pumpkin. ...
OR one half of a small can of commercial canned pumpkin (about 4 or 5 ounces total)
2 cups all-purpose flour (not self-rising flour)
3/4 cup butter
1 1/2 cups firmly packed light brown sugar
2 eggs or egg beaters
1 teaspoon vanilla
1 1/2 teaspoons ground cinnamon
1/2 teaspoon ground ginger
1/4 teaspoon ground nutmeg
1/4 teaspoon ground allspice
1 teaspoon baking powder
1/2 teaspoon baking soda
1/2 cup chopped pecans, walnuts or hazlenuts (optional)
Icing ingredients
6 tablespoons butter or margarine
2 cups confectioners' (powdered) sugar, unsifted
1/2 teaspoon vanilla extract
1/8 cup milk (just enough to make the mixture spreadable)
chopped pecans or other nuts
Pumpkin Cookies Recipe
Step 1 - Preheat the oven
Preheat oven to 375 F (190 C).
Step 2 - Grease cookie sheets
Lightly grease two cookies sheets (whatever size you have) with vegetable shortening (like Crisco) or better yet coconut oil, which is trans-fat free. If you are the UK, there is something called Trex vegetable fat in the refrigerated section of the supermarket near the butter. I'm told it a good substitute for Crisco. )
Preparing the icing:
(using the icing ingredients above)
Step 3 - Heat the butter

Carefully, lightly brown the 6 tablespoons butter or margarine in a saucepan over medium-low heat. Be careful not to burn it. If you have trouble getting it to brown, down worry about it, it is mostly to add the color!
Step 4 - Remove from heat


Remove the browned butter from heat.


Step 5 - Add the sugar

Blend in the confectioners' sugar and the vanilla extract. It will start off think and lumpy, until you add the milk in the next step.

Step 6 - Add milk

Mix in just enough milk to make the mixture smooth and spreadable.
It probably will only take a small amount, like 1/8 to 1/4 cup.
Now set the icing aside.

Prepare the Cookie dough:
(using the cookie dough ingredients)
Step 7 - Mix the butter and sugar
In a large mixing bowl, mix the butter and brown sugar together until light and smooth.
Step 8 - Mix with eggs, pumpkin and vanilla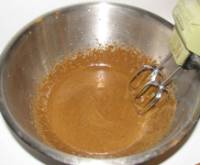 Mix in the eggs, pumpkin and vanilla extract.

Step 9 - Mix the remaining dry ingredients separately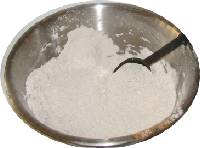 In a separate bowl, stir together the flour, baking soda, baking powder and spices (cinnamon, allspice, ginger and nutmeg).
Step 10 - Combine the two bowls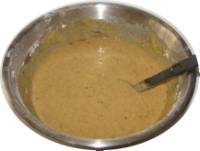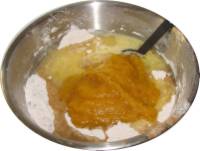 Combine the two bowls (just pour the smaller bowl into the larger) and
Step 11 - Stir
Stir until blended.
Stir in the chopped nuts (optional).
Step 12 - Spoon onto the cookie sheet
Use a ordinary spoon (table, soup) or small ice cream scoop to drop the cookie dough onto the greased cookie sheet (you can also use the silicon cookie sheet cloths on a regular cookies sheet, the cookies will come off more easily).
Step 13 - Bake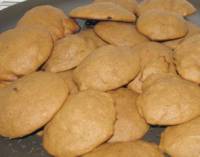 Bake pumpkin cookies in the oven for 10 to 15 minutes, or until lightly browned.
Step 14 - Cool
Cool the cookies on racks and while they are still warm (but not hot)
Step 15 - Put icing on the cookies

Spread the butter icing on them!
They're great warm, or later when cool!

Comments and Feedback
If you'd like to see some variations on this recipe and another take on it, see

A visitor writes on September 13, 2014: "The pumpkin cookie recipe is my absolute favorite. I found this site trying to figure out how to cook a pumpkin, and got an amazing recipe too! These cookies are perfect for fall. They kind of have a muffin texture, which I love, because I can't stand crunchy cookies. They're so fluffy and soft. Whenever I make them, they never last long. I almost never need tupperware to store them because they get eaten right off the pan. The pumpkin cooking page is really helpful. I usually cook pumpkins every fall, freeze it, and use it for the cookie recipe year-round. The recipe has a lot of ingredients and takes so me time to make it - but is entirely worth it. Especially if you make it in bulk and freeze it for later. I'm all about having cookies for guests whenever they come over, and these are guaranteed to please. The cookie itself isn't that sweet, but the icing is, and they make a great pair. "

A visitor writes on November 02, 2013: "I really want to thank you for the pumpkin cookie recipe. About 5 years ago I was looking for a non-typical, unsweetned recipe. I wanted something more wholesome and I found the recipe on this site. I haven't made it often, but I refuse to use another. My pre-teen nephew at the time, and my young boys loved the cookies. I remember eating the cookies with steamed fish and it went well. Cookies and fish, an unusual dish. Fun for kids, and works because this is not a sweet cookie recipe. I was in New York then and I can't find the copy that I had so I looked you up again. Glad I found it. I'm going to try making the cookies using the fresh pumpkin recipe. The PDF pages help a lot. Thank you!"
Complete Water Bath Canner Kit

This is the same type of standard canner that my grandmother used to make everything from pumpkinauce to jams and jellies to tomato and spaghetti sauce.
This complete kit includes everything you need: the canner, jar rack, jar grabber tongs, lid lifting wand, six pint jars with lids and rings, a plastic funnel, labels, bubble freer, and the bible of canning, the Ball Blue Book. You'll never need anything else except more jars and lids!


Food Strainer and Sauce Maker

A food strainer allows you to easily make smooth tomato sauces, seedless jams and jellies, applesauce, soups, baby foods, and much more. The strainers can use different sized screens to filter out different sized seeds and debris. There are both hand cranked and motorized versions.
Click here for more information, other strainers and supplies or to order!
Lids, Rings, Jars, mixes, pectin, etc.

Need lids, rings and replacement jars? Or pectin to make jam, spaghetti sauce or salsa mix or pickle mixes? Get them all here, and usually at lower prices than your local store!
Can't find the equipment? We ship to all 50 states! Just email us!