How to Roast Pumpkin Seeds
How to Make Homemade Roasted Pumpkin Seeds!
Click here for a PDF print version
These days, roasted pumpkins seeds are all the rage. Tasty, full of anti-oxidants, high in fiber and protein, gourmet shops and health food stores stock them. Here's an EASY recipe to make them yourself!
Directions for Making Roasted Pumpkin Seeds
Ingredients and Equipment
pumpkin (see step 1)
a sharp, serrated large knife
Cookie sheet


vegetable oil (any neutral oil, like as canola, grapeseed, or coconut)
salt pepper, general herbs (see step 2)
Recipe and Directions
Step 1 - Clean the seeds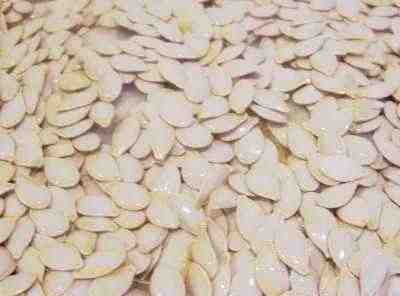 When you are carving your pumpkin, separate the seeds from the pumpkin flesh and strings (which kids usually call "pumpkin brains" or "pumpkin guts"; see this page for that!. Wash them well (usually putting then in a big bowl of water and rubbing them between your hands is a fast way to clean them) and let them drain in a strainer for about 30 minutes, then spread them out on a baking pan. Now just use a hair dryer to dry them quickly! Or place them in a warm oven, say 120F - 150F to dry them. I stir them every 10 minutes to speed the drying.
Next, start preheating the oven. Turn it on and set it to 275 F (135 C, for those in Europe)
Step 2 - Spread the seeds on a cookie sheet and season them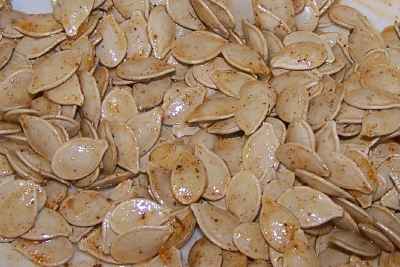 Spread the seeds evenly over a cookie sheet and lightly baste the seeds with melted butter, margarine, or vegetable oil. There are many variations. Here are the most popular, in order or popularity:
Savory: 4 tablespoons melted butter, 1/2 teaspoon garlic salt and 2 teaspoons Worchestershire sauce
Lemony: 4 tablespoons melted butter, 1 teaspoon 'Mrs. Dash" or lemon pepper
Halloweeny: 4 tablespoons melted butter, 1 teaspoon cinnamon, 1/2 teaspoon ground ginger, 1/2 teaspoon salt, and 1/2 teaspoon ground allspice.
Spicy: 4 tablespoons melted butter, 1 teaspoon cayenne pepper, 1/2 teaspoon thyme, 1/2 teaspoon salt and 1/2 teaspoon pepper
Natural: 1 teaspoon sea salt or other salt, 4 tablespoons melted butter,
Step 3 - Roast the seeds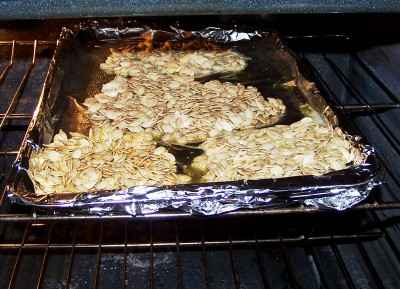 Heat them in a 275-degree oven for 10 to 20 minutes until golden brown. DO KEEP AN EYE ON THEM, checking every few minutes and stir about every 5 minutes. Some ovens run hot and it can be as little as 10 minutes or as long as 30 minutes to roast them. Sprinkle with salt and serve hot or cold.
For milder flavor, simmer the cleaned seeds for about an hour in salted water and fry in deep oil. Or mix a tablespoon of oil or margarine to each cup of nuts and roast them at 250 degrees for 10 - 15 minutes until they're golden. Sprinkle them with salt.
Tips and Suggestions from Visitors
A visitor writes on October 28, 2010: "A really great way to make "Halloweeny" pumpkin seeds is to boil the seeds in apple cider for 10 minutes before baking. Spread about a teaspoon of oil on a baking sheet and spread seeds. Sprinkle with a little salt and sugar (I like to use brown sugar) and some spices (I like cinnamon and cloves). The sugar and cider will caramelize and the seeds are delicious! Be sure to watch closely because they will stick and burn a little more easily than usual. "

---
Complete Water Bath Canner Kit

This is the same type of standard canner that my grandmother used to make everything from pumpkinauce to jams and jellies to tomato and spaghetti sauce.
This complete kit includes everything you need: the canner, jar rack, jar grabber tongs, lid lifting wand, six pint jars with lids and rings, a plastic funnel, labels, bubble freer, and the bible of canning, the Ball Blue Book. You'll never need anything else except more jars and lids!


br>
Lids, Rings, Jars, mixes, pectin, etc.

Need lids, rings and replacement jars? Or pectin to make jam, spaghetti sauce or salsa mix or pickle mixes? Get them all here, and usually at lower prices than your local store!
Can't find the equipment? We ship to all 50 states! Just email us!
---
Halloween Costumes
Here are some of the most popular Halloween costumes for children this year. For more choices, see our Halloween costumes pages.
Find Related Information and Resources Here!