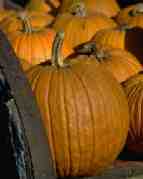 Looking for a local pumpkin patch, corn maze, hayride, gourds and other Halloween activities in El Dorado County, California? Scroll down this page and you will see the all of those in El Dorado County, California, sorted by county. Some are farms, where you take a hay ride out into the field, others are elaborate farm stands with mountains of pumpkins and other activities and some are simple roadside stands. Most have loads of pumpkins to choose from. To really make it fun for your kids, look for those that have the extra activities, like a corn maze, spook house, or hayride. There is usually a small fee for the mazes (of course, the more elaborate mazes tend to charge more. Hayrides are often free. ALWAYS call before you go to confirm the info, they don't always report changes to me!
And if you know of one I missed and want to add it or correct the information, please let me know! If you are looking for pumpkin weigh-offs and the US and world's largest pumpkins, see this page! Want to do a fundraiser selling pumpkins? See this page! There are affiliate links on this page. Read our disclosure policy to learn more.
New for this year, see our Top Ten list of best pumpkins to make pumpkin pies and for baking and cooking. Also, our Master List of 100 Varieties of Pumpkins for every purpose. Then see this page for our easy pumpkin pie from a real pumpkin recipe.
Updates for September 2023
Most pumpkin patches and corn mazes usually open by mid September, some earlier! You may also like a local zombie event or Zombie Paintball!. The world's best pumpkin pie recipe is here, and the pie crust recipe is here! And we have home canning, preserving, drying and freezing directions. You can access many pumpkin and other recipes and other resources from the drop down menus at the top of the page or the site search. If you are looking for pick your own apples with pumpkins and often also fun activities, see this page.
NOTE: Many farms went out of business in the past 2 years and others are dropping their websites and switching to Facebook pages thus breaking all links to them. If a link is broken please click the "click here to report a broken link or blank page" so we can find the replacement link! Thanks!
After Halloween, find a Christmas tree at a local Christmas tree farm (and enjoy a bonfire, smore, hot chocolate and free hayrides, and often Santa visits! And next Spring, you'll want to take your children to a free Easter egg hunt - see our companion website to find a local Easter Egg hunt. If you have any questions or suggestions, feel free to write me! And local farm markets are here
Pumpkin Patch Listings, by county
Click on Resources above, if you need a county map
El Dorado County
24 Carrot Farm -

Certified Organic

, pumpkins, Pick-your-own apples, pumpkins for sale in the shop or farmstand, pumpkin patch-pick in the field, we also have pie pumpkins, Honey from hives on the farm
2731 Jacquier Road, Placerville , CA 95667. Phone: 510-828-6538. Email:

[email protected]

. Open: Daily from 10 am to 5 pm. Directions: Click here for a map and directions. We are certified organic for all crops! Payment: Cash, Debit cards, Visa/MasterCard, Discover, AmEx.
Abel's Apple Acres - Pumpkins, Apples, hay maze, pony rides, horse rides
2345 Carson Road, Placerville, CA. Phone: 530-626-0138. Email:

[email protected]

. Open: Daily from 8:30 AM to 5:30 PM; Labor Day Weekend to Christmas EveExplore Our Mining Adventure & Life-size Maze, (11 am to 4 pm, Weekends and holidays Only). Johnny Appleseed's Tree, Herd of Cows, Peek-through Cutouts; Boo Ghosts, Pumpkin, Tour Bus and Witch, Pumpkin Patch (early October through Halloween); Weekends/Holidays events (Open some Fridays Call to confirm) Pony/Horse Rides and Hay Maze — 11 AM to 4 PM, Kids' Corral — age 5 & under Noon - 4 PM; Availability of Pony/Horse Rides, Hay Maze, and Kids' Corral subject to weather concerns. Call ahead: to lessen the possibility of disappointment.The Hay Maze is a puzzle you can walk through - and solve. Enter... and find your way out following passages made of over 500 bales of hay. More weekend fun is children's horse and pony rides in the large, fenced arena. And, everyone enjoys our Country Craft Fair.
Apple Ridge Farms - pumpkins, pumpkin patch
1800 Larsen Drive, Camino, CA 95709. Phone: (530) 647-0613. Open: typically September to Mid November; Weekdays 10 AM to 5 PM, Weekends 9 AM to 6P. They have Face Painting, Hay Maze, Picnic Area, Pumpkin Patch, Craft Booths, Nature Trails, Photo Ops, Fresh Popped Kettle Corn, Field Trips, and Gem Mining. They have a bakery with (made from scratch, daily): Homemade Pies, Apple Dumplings with Caramel Sauce, Caramel Apples, Apple or Berry Strudel, Apple Doughnuts , Turnovers, Crumbcake, Cinnamon Rolls, Cream Cheese Blossoms, And Much More. Their BBQ house has Tri-Tip Sandwiches, Smoked Pulled Pork Sandwiches, BBQ Chicken Sandwiches, Cheeseburgers, Hot Dogs and more. Apple Ridge Farms is excited to bring you a whole new and exciting field trip experience! We offer group tours Monday thru Thursday during the months of September and October, please call us at 1(530)647-0613 to book your field trip. Directions: at the corner of Larsen and Cable Road. Find your inner prospector while mining our running sluice or take a scenic nature walk around our apple orchard, where you will find amazing photo opportunities and over 50,000 Zinnia flowers in bloom.
A visitor writes on September 04, 2019: "Plubell Family OrchardsIs now Apple Ridge Farms (530) 647-0613 "
El Dorado Orchards - pumpkins, train rides
2948 N Canyon Rd, Camino, CA 95709. Phone: (530) 642-1222. Email:

[email protected]

. The Apple Ridge Express (train) carries many happy children, school groups and adults in the fall season. Train Rides are Available Weekends Continuously Throughout the Day and Are Only $3.50 Per Person! All Aboard the Apple Hill Train! Operating as Apple Hill's Only Train Ride for Over 40 years, it is No Surprise Guests Flock to El Dorado Orchards Every Fall Season to Experience Such a Unique and Magical Ride! Lasting Memories are Created as You Make Your Way Around Two Picturesque Ponds (home to many duck and geese families) that Border our Beautiful Picnic Area and Crop Filled Countryside! Note: Train cannot run if it is raining or if tracks are wet. We also have Delicious BBQ & More! The Food Stand at El Dorado Orchards Offers a Wide Selection of Tasty Home Made Favor. El Dorado Orchards Has an Extensive Arts & Crafts Fair During the Fall Harvest Season. Home to Apple Hill's Largest Collection of Handmade Arts & Crafts, our Friendly Vendors Take Great Pride in Producing Fun and Quality Products to Present to Guests. In Addition to a Happening Arts & Crafts Fair, Magic Shows are Offered at Various Times Throughout the Day, and Face Painting is a Huge Hit with Families and Children! A Fun Way to Participate in the Fall Festivities! Our Christmas Tree Farm is open Friday, Saturday, and Sunday Beginning the Day after Thanksgiving for the Holiday Tree Cutting Season!
El Dorado County Farm Trails - variety
This is an organization of a large number of member farms - many are listed elsewhere, but this web site provides a look at many that are physically close to each other. Their members grow a wide variety of fruits, including cherries, berries, peaches, apples, pears, and oranges as well as wine grapes, flowers, Christmas trees and other agricultural products. Note that they don't state which of the farms are pick your own or not, so you would need to call each to ask. PO Box 542, Camino, CA Member sites: Apple Hill farms, EL DORADO COUNTY CHRISTMAS TREE GROWERS, ASSOCIATION , Georgetown Divide , Gold Hill , Pleasant Valley , South County
Goyette's North Canyon Ranch - Pumpkins, Indian corn and gourds.
3825 N Canyon Rd, Camino, 95709. Phone: (530) 622-9299. Email:

[email protected]

. Open: Weekends, mid September to end of Oct, 10 am to 5 PM. Also prepicked apples, 6 varieties. Directions: #21 on Apple Hill map - off Hwy 50 at Camino. Visit Goyette's farm for a great family experience. There is nothing better than an apple picked fresh from a tree. Come to Goyette's Ranch to enjoy a walk in the orchard while you pick the apples and pears you choose. As an added bonus, children will learn that their food doesn't necessarily come from the grocery store. Picnics, pumpkins and Indian Corn, too. And choose and cut a Christmas tree after Thanksgiving, too.
Hangtown Kid Apple Orchard - apples, pears, cherries, pumpkins
2598 Mace Road, Camino, CA 95709. Phone: 530-647-1810. Open: call for hours; typically, Thursday to Sunday from 10 am to 5 pm; Call first on Monday to Wedesday.
A visitor writes on June 23, 2009: "great people, great fun, delicious fruit and a nice older couple, work their own small farm of 10 acres. a bit out of the more crowded areas associated with Apple Hill off Mace Rd. "
Harris Family Farm - pumpkins, Pick-your-own apples, pumpkin patch-pick in the field where they grow, Fresh eggs, picnic area, weddings and wedding parties, school tours
2640 Blair Road, Pollock Pines, CA 95726. Phone: (530) 644-2194. Email:

[email protected]

. Open: Thursday to Sunday, from 9 am to 4:30 pm, June 1 to December 24. Picking updates: Click here for updates. Directions: Travel on Highway 50 to Pollock Pines. Turn off at the Pollock Pines exit #57, turn left under the freeway. Turn right on Pony Express Trail, about one mile turn left on Blair Road. Travel one mile on Blair Road, the entrance is on the left. Click here for a map and directions. Payment: Cash, Check, Debit cards, Visa/MasterCard, Discover. Click here for our Facebook page. We grow blueberries, blackberries and seasonal vegetables available June through October. FARMERS' MARKETS: Wednesday, Placerville at the Bell Tower on Main St. 4-dusk. We believe in operating a sustainable farm and forest. By using local sustainably produced products you support a healthier economy, environment and community which benefits us all. We have ample parking. Call ahead for weather conditions. ((ADDED: April 05, 2017)
Noel's Pumpkin Patch - pumpkins
7600 Fairplay Road, Fair Play, CA. Phone: 800-585-6635.
O'Halloran's Apple Trail Ranch - Apples, Pears, U-Pick, Pumpkin Patch, Cut & Choose Christmas Trees
2261 Cable Road, Camino, California. Phone: 530-644-3389. Open: September - December. Apples, Pears, U-Pick, Pumpkin Patch, Apple Cider, Indian Corn, Picnic Area, Handmade Crafts, Nature Trail ,Cut & Choose Christmas Trees. We have a genuine pumpkin patch! Our pumpkins are all grown right here and are ready for you to cut them off the vine. With over three acres of pumpkins you're sure to find the perfect jack-o-lantern and fall harvest decorations. We have many sizes and shapes to choose from!
Tomary Heirloom Tomatoes & Dahlias - Tomatoes, dahlias, pumpkin patch
1589 Pleasant Valley Rd, Placerville, CA 95667. Phone: (530) 622-7683. Phone: (530) 626-5656. Fax: (530) 622-7683. Directions: Hwy 50 to Placerville - south on Hwy 49 to traffic light in Diamond Springs. Left on Pleasant Valley Rd for 2 miles to red, yellow & green tent on left. Open: April thru November, 7 days, 10 - 6. School tours, farm tours.
---
Halloween Costumes
Here are some of the most popular Halloween costumes for children this year. For more choices, see our Halloween costumes pages.
Find Related Information and Resources Here!