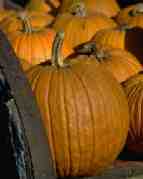 Looking for a local pumpkin patch, corn maze, hayride, gourds and other Halloween activities in San Diego and Imperial Counties in California? Scroll down this page and you will see the all of those in San Diego and Imperial Counties in California, sorted by county. Some are farms, where you take a hay ride out into the field, others are elaborate farm stands with mountains of pumpkins and other activities and some are simple roadside stands. Most have loads of pumpkins to choose from. To really make it fun for your kids, look for those that have the extra activities, like a corn maze, spook house, or hayride. There is usually a small fee for the mazes (of course, the more elaborate mazes tend to charge more. Hayrides are often free. ALWAYS call before you go to confirm the info, they don't always report changes to me!
And if you know of one I missed and want to add it or correct the information, please let me know! If you are looking for pumpkin weigh-offs and the US and world's largest pumpkins, see this page! Want to do a fundraiser selling pumpkins? See this page! There are affiliate links on this page. Read our disclosure policy to learn more.
New for this year, see our Top Ten list of best pumpkins to make pumpkin pies and for baking and cooking. Also, our Master List of 100 Varieties of Pumpkins for every purpose. Then see this page for our easy pumpkin pie from a real pumpkin recipe.
Updates for December 2022
Most pumpkin patches and corn mazes usually open by mid September, some earlier! You may also like a local zombie event or Zombie Paintball!. The world's best pumpkin pie recipe is here, and the pie crust recipe is here! And we have home canning, preserving, drying and freezing directions. You can access many pumpkin and other recipes and other resources from the drop down menus at the top of the page or the site search. If you are looking for pick your own apples with pumpkins and often also fun activities, see this page.
NOTE: Many farms went out of business in the past 2 years and others are dropping their websites and switching to Facebook pages thus breaking all links to them. If a link is broken please click the "click here to report a broken link or blank page" so we can find the replacement link! Thanks!
After Halloween, find a Christmas tree at a local Christmas tree farm (and enjoy a bonfire, smore, hot chocolate and free hayrides, and often Santa visits! And next Spring, you'll want to take your children to a free Easter egg hunt - see our companion website to find a local Easter Egg hunt. If you have any questions or suggestions, feel free to write me!
Pumpkin Patch Listings, by county
Click on Resources above, if you need a county map
Imperial County
Imperial Valley College Agriculture Department - pumpkin patch- already gathered from the field, corn maze, haunted corn maze, corn cannon, tractor-pulled hay rides, concessions or refreshment stand, porta-potties, restrooms
380 East Aten Road, Imperial, CA 92251. Phone: 760 554 3555. Email: patrick.pauley@imperial.edu. Open: UPDATE for 2021: They are closed until the 2022 season; (COVID), 10/26 from 6 pm to at least midnight; 10/27 from 9 am to at least midnight; 10/28 from 11 am to 10 pm. Directions: just north of the track on Ag field on the south side of the IVC campus. You can't miss us, we will be the corn maze, tons of shades, and music!. Click here for a map and directions. Saturday October 29th will be the big deal; EVERYTHING!. Payment: Cash, only. Click here for our Facebook page. We have a Trebuchet to launch pumpkins (last year's device is on YouTube - IVC Ag Club). We also have a dunk tank and Zombies that are hiding from the paint ball gunners! We are adding paintball matches (with waiver)This is the fifth annual event come out and have a great time where the winter vegetables grow!.
Bates Nut Farm -

Minimizes chemical and pesticide use

, pumpkins for sale in the shop or farmstand, pumpkin patch-pick in the field where they grow, straw or hay bale maze, we also have pie pumpkins, horse-drawn hay rides, tractor-pulled hay rides, Fall festival, gift shop, concessions or refreshment stand, porta-potties, restrooms, picnic area, picnic area (bring your own food), face painting, inflatables/bounce house, pony rides, petting zoo, farm animals, birthday parties, weddings and wedding parties, school tours, group reservations
15954 Woods Valley Road, Valley Center, CA 92082. Phone: (760) 749-3333. Email: info@batesnutfarm.biz. Open: Monday to Friday 9 am to 5:30 pm Weekends 8:30 am to 6 pm Friday October 11th and 18th 9 am to 8 pm. Click here for current open hours, days and dates. Directions: Click here for a map and directions. We minimize use of pesticides and other chemicals. Payment: Cash, Debit cards, Visa/MasterCard, Discover. Click here for our Facebook page. $5 cash parking October weekends. Admission to the pumpkin patch is free. Check the Bates website for special events, live music and food trucks. Open year round. The Bates Nut Farm has become well known for its special events held throughout the year on the 100 acre ranch. For over 30 years families have made it an annual tradition to come out to Bates during the month of October to celebrate the fall season. The Pumpkin Patch is the largest, oldest and most famous in San Diego County. Arts & Crafts Fairs, Antiques, Collectibles & Crafts Markets, Fine Art Fairs, and Car Shows are held throughout the year. For groups of 15 or more you can take advantage of our educational tours; "Nuts For You" and "The Life of a Pumpkin". See our Special Events and Eeducation and Tour pages. Bates Nut Farm started with walnuts, but now purchases nuts from all over the world. Pistachios, pecans, cashews, peanuts, pignolias, sunflower seeds and much more can be purchased on the farm. The nuts come raw, roasted, some spiced up and unsalted. To ensure quality and freshness we roast and package our nuts on the farm. The Bates family takes pride in providing a quality product at a fair price. It's part of the tradition.(UPDATED: September 10, 2019)
One reader reports: "This is the best place to go for pick your own pumpkins. They have everything you could want from Big Macs (100+ pound pumpkins) to small decorative gourds, hay bales and corn stalks are also for sale. Year round, they have a wonderful store filled with nuts, candies and cute hand made items and small animals for the kids to feed. During pumpkin season they have a hay maze, pony rides, petting zoo, tractor rides, face painting, bounce houses, many, many activities. And the first 2 weekends in October they have an arts and crafts festival that is enormous. This is truly the most fun family outing!! I go there every year with my kids! Please add!"
Another visitor writes: (October 18, 2005): "I just wanted to RAVE about the fun my family had at the Bates Nut Farm Pumpkin Festival. There were so many activities, food was great and the pumpkins, WOW, so many to choose from. I have a 3 year old son and he did not want to come home, we will definitely return next year. Thanks for taking the time to have this website available to people. It helped us."
Fort Cross Old Timey Adventures Autumn Jubilee (The Fall Festival) - pumpkins, squash
4425 Hwy 78, Santa Ysabel, CA 92070. Phone: 951-847-1904. Email: fortcrossfun@gmail.com. Open: September 29 to October 31 from 10 am-5 pm Saturdays, 11 am-5 pm Sundays. During The Fall Festival, come for the U-Pick pumpkins and squash in our pumpkin patch. Fairy Garden and Dino Garden Making, offered year round. Free entry to the grounds for all of our events, with hands-on seasonal activities available as well! Agritourism education offered year round for field trips as well as individuals. Click here for a link to the Facebook page. Hayrides, Hoedowns, Cider Pressing, Fall Crafts, Candle Dipping, Petting Zoo, Reptile Show, Archery, Tomahawk Throwing, Slingshot Gallery, Pumpkin Patch, Lilac Maze, Walking Trails, and more! (ADDED: May 01, 2018, JBS)

Gourd & Pumpkin Fest - pumpkins, gourds
Welburn Gourd Farm. 40635 De Luz Road, Fallbrook, CA. Phone: 760-728-4271. Gourd art and crafts, meet the artists, and take a gourd-crafting class. The farm is open to the Public: Monday to Saturday from 10 am to 4 pm, Closed: Sunday and some Holidays. The 10th Annual International Gourd Art Festival is happening June 24th & 25th, 2006! Exibitor applications will be available soon. Be sure to join us for the October Gourd & Pumpkin Fest, a mini-version of the Int'l Gourd Art Festival, happening Saturday, October 8th, 2005! To Register for one of the October Fest gourd art classes, CLICK HERE! For festival applications and more information, phone and ask for Danny.
Harbour Farm & Vineyard - corn maze, pumpkin patch, pumpkins, grapes, apples, hayrides,
3326 Highway 67, Ramona, California, CA 92065. Phone: (619) 261-9617. Email: dave@harbourfarm.com. Open: See their website. Directions: See their website. Click here for a link to our Facebook page. PUMPKIN PATCH & FARM FESTIVAL. You-pick pumpkin patch, bounce house, hay wagon rides, live music, falconry, BBQ, snow cones, wine tasting and sangria slushies! Make it a fun family outing this weekend and join us! Within an hour drive from downtown San Diego, our Wild West Farm Festival and Pumpkin Patch is a fun family activity! (UPDATED: September 8, 2020 JBS) (ADDED: May 19, 2017, JBS)
Heritage Farms Pumpkin Patch - U-pick pumpkins , U-Pick strawberries, corn maze, farm market, petting corral, tortoise races, picnic area
21345 San Pasqual Road, Escondido, CA. Phone: (760) 746-8822. Open: through October 31, 2009 from 12 noon to 6 pm. Offers customers fresh organic produce, corn maze (in the Fall), petting corral, tortoise races, picnic area. Admission in 2009 is $5 per person and includes a pumpkin.
Julian Farm and Orchard -

Uses natural growing practices

, pumpkins, Pick-your-own apples, pumpkins for sale in the shop or farmstand, pumpkin patch-pick in the field where they grow, tractor-pulled hay rides, Fall festival, gift shop, porta-potties, picnic area (bring your own food), petting zoo, farm animals, school tours, group reservations, events at your location (call for info)
4381 Highway 78, Santa Ysabel, CA 92070. Phone: (760) 765-5494 .Email: info@julianfarmandorchard.com. Open: Saturday and Sunday 10 am to 4 pm through May 1st; Fall pumpkin patch hours 10 am to 5 pm each weekend from September 21st - Halloween. Directions: 4381 Highway 78 Santa Ysabel ca 92070. Click here for a map and directions. Strawberries are June bearing and so we begin opening weekends in June, then raspberries and blackberries begin by July, pumpkin patch opens late September. We use natural practices, but are not seeking organic certification. Payment: Cash, Debit cards, Visa/MasterCard, Discover, AmEx, ApplePay, AndroidPay. Apple Season varies each year, based on the weather. Generally it can run anywhere from Aug/Sept. all the way through October. It is best to check back during this exciting time of year in Julian. Click here for our Facebook page. Julian Farm and Orchard is a 25 acre sustainable U-Pick Farm. Flowers, Strawberries, Raspberries, Blackberries, Petting Zoo, Axe Throwing and more. Available for private groups. (UPDATED: March 29, 2022)
Lavender Hill Pumpkins - follows organic methods, pumpkin patch-pick in the field, pumpkin patch- already gathered from the field,
1509 East Mission Road, Fallbrook, CA 92028. Phone: (760) 728-9192. Fax: (760) 728-2022. Email: michaelpierce@lavenderclose.org. Directions: And for a map to our farm, click here. Crops are usually available in September, October. Open: September 27,28 and all weekends in October: 10 am to 5 pm, appointments for professional design clients by arrangement. We follow organic practices, but are not seeking certification. Payment: Cash, only.
Mountain Valley Ranch Pumpkin Patch - Pumpkin patch, corn maze, corn cannon.
842 Hwy 78, Ramona, CA. Phone: 760-788-8703. Email: mountainunicorn337@yahoo.com. Open: 7 Days a week, 9 am to 6 pm. Open to the Public - Free Admission. Call for field trip information. Payment: Cash or Credit Accepted (Minimum $10 on Credit Card Purchases). Petting zoo with birds, calves, pigs and ponies. Large corn maze and take a hayride tour of the ranch. Assortment of pumpkins, gourds, and Indian corn; Corn Maze open all day, 7 days a week. Corn Cannon open all day, 7 days a week! Petting Zoo open all day 7 days a week! HAY RIDES - All Day on the Weekends, Tuesday through Friday 3 pm to 6 pm. Pony Rides - All Day on the Weekends, Tuesday through Friday 3 pm to 6 pm. (UPDATED: October 23, 2019, JBS) (UPDATED: October 14, 2011, JBS)

Norris Amusement Pumpkin Patch

- UPDATE for 2019, Yelp reports they are permanently closed
272 E. Via Rancho Parkway, Escondido, CA 92025.
Oma's Pumpkin Patch at Van Ommering Dairy - Pumpkin patch, hayride, hay maze, petting zoo, cottonseed mountain,
14950 El Monte Road, Lakeside. Phone: 619-390-2929. Open: September 24 to October 31st, on Tuesdays-Saturdays from 10 AM till 7 PM (Closed Sundays & Mondays) Directions: Highway 8 east, exit Lake Jennings Park Road. Turn right at end of offramp and go 1.8 miles to a stop sign. Turn right and go 2.3 miles down El Monte Rd. Make a left off El Monte Rd onto Circle V Dairy Rd and follow dirt road to pumpkin patch. Admission includes a dairy tour hayride, hay maze, petting zoo, cottonseed mountain, a jack pumpkin and water bottle. The included pumpkins are about 3 lbs each - 1 per paying child, there is no field to pick your own pumpkin.
Pacific Southwest Railway Museum - Pumpkin train ride, gift shop, restrooms, picnic area, picnic area (bring your own food)
750 Depot Street Highway 94 & Forrest Gate Road, Campo, CA 91906. Phone: 619-478-9937. Open: Click here for current open hours, days and dates. Directions: Take Highway 8 to exit number 51, Buckman Springs Road. Take Buckman Springs road all the way to the Circle K. Turn right onto Highway 94/Campo Road at the Circle K. Once you cross the railroad tracks take a left onto Forrest Gate road, we are the dirt road on the left. You may also take Highway 94 to Forrest Gate Road but Highway 94 is a 2 lane road with many curves. Click here for a map and directions. Payment: Cash, Debit cards, Visa/MasterCard, Discover, AmEx. Click here for our Facebook page. Join in the fun as we board the Pumpkin Express train ride at the historic Campo Depot and travel to the Great Pumpkin Patch. Children and their parents will enjoy the one hour train ride, then may tour the Haunted Train. Each child gets to pick out his or her own pumpkin and decorate it inside our Display Building. Advance reservations for this popular event are required. The Great Pumpkin is running three trains per day for these special excursions.
Pick of the Patch Pumpkins - pumpkin patch- already gathered from the field, gift shop, snacks and refreshment stand, restrooms, Bouncy castle or moon bounce, birthday parties, school tours
2205 Vista Way, Oceanside, CA 92054. Phone: (408) 393-6303. Email: info@abctreefarms.net. Open: Hours vary by location, please Click here for current hours; Saturday from 10 am to 10 pm, Sunday from 10 am to 9 pm. Directions: Click here for a map and directions. Payment: Cash, Debit cards, Visa/MasterCard, Discover. We offer a wide variety of inflatable amusements including, bounce houses, GIANT slides and obstacle courses for children ages 2-12 as well as different types of pumpkins, pumpkin accessories, retail stores, snacks, beverages and much much more. Come play, pick your perfect pumpkin or book a discounted interactive Pumpkin Patch Birthday Party or Tour for Schools, Non-Profits, Churches and Mommy and Me Groups. They have many locations; click here for the full list of locations. (UPDATED: October 4, 2015)
Pinery Pumpkin Patch Tours - corn maze, pumpkin patch-pick in the field, pumpkin patch- already gathered from the field, tractor-pulled hay rides, restrooms, picnic area, farm animals, birthday parties
5437 Bonita Road, Bonita, CA 91902. Phone: 858-566-7466. Alternate Phone: 619-475-8733. Fax: 858-536-9876. Email: nosborn1@san.rr.com. Open: See our website for current hours. Click here for current open hours, days and dates. Directions: Click here for a map and directions. Pumpkin Patch is open from October 1 to October 31; Group tours scheduled Monday to Friday, 9 am to 4 pm includes pumpkin (up to $4 value) orientation and coloring book on How we Grow Pumpkins, tractor pulled hay wagon ride, 8 ft; tall corn maze, snack area and farm animals; Birthday parties also available. Payment: Cash, Debit cards, Visa/MasterCard, AmEx.

Pumpkin Station - Chula Vista

- pumpkin patch- already gathered from the field, train rides, restrooms, Bouncy castle or moon bounce
900 Otay Lakes Road, Chula Vista, CA 91910. Phone: 858-566-7466. Alternate Phone: 858-603.6056. Fax: 858-536-9876. Email: nosborn1@san.rr.com. Open: See our website for current hours. Click here for current open hours, days and dates. Directions: Click here for a map and directions. Giant Slide, El Paso Train ride, Swing Ride, Play Center, Mini Slide, Pumpkin Jump, Game Zone; Admission is free with a small cost for rides; Ride Packages are available; Large selection of pumpkins to choose from. Payment: Cash, Debit cards, Visa/MasterCard, AmEx.
Pinery Pumpkin Patch - Rancho Bernardo - pumpkin patch- already gathered from the field, corn maze, tractor-pulled hay rides, restrooms, picnic area, farm animals, birthday parties
13421 Highland Valley Road, Escondido, CA 92128. Phone: 858-566-7466. Alternate Phone: 858-487-5128. Fax: 858-536-9876. Email: nosborn1@san.rr.com. Open: See our websitd for current hours. Click here for current open hours, days and dates. Directions: Click here for a map and directions. Group tours scheduled Monday to Friday, 9 am to 4 pm; Tour includes pumpkin (up to $4 value),orientation and coloring book on "How We Grow Pumpkins", tractor- pulled hay ride, 8' tall Corn maze, snack area and farm animals. Payment: Cash, Debit cards, Visa/MasterCard, AmEx.
Pumpkin Station at Del Mar - pumpkins, prepicked pumpkin patch, children's events
15555 Jimmy Durante Blvd, Del Mar, CA 92014. Phone: (888) 302-8733. Directions: East Lot, off Jimmy Durante Boulevard, across from the Del Mar Fairgrounds. Open: 9 am to 9 pm, daily through October 31. Free admission; school tour program, Admission is free, but tickets are sold for rides. Kiddie rides, petting zoo, jumps, haunted house. Pumpkin Station also offers a wide variety of gourds, squashes, Indian corn, and pumpkins.
Pumpkin Station - El Cajon - pumpkin patch- already gathered from the field, train rides, snacks and refreshment stand, restrooms, Bouncy castle or moon bounce, petting zoo, school tours
415 1/2 Parkway Plaza, El Cajon, CA 92020. Phone: 858-566-7466. Alternate Phone: 858-603-6056. Fax: 858-536-9876. Email: nosborn1@san.rr.com. Open: See our website for current hours. Click here for current open hours, days and dates. Directions: Click here for a map and directions. Giant Slide, El Paso Train Ride, Kiddie Ferris Wheel, Kiddie Kopter, Swing Ride, Lil' Tood Ride, Play Center, Mini Slide, Pumpkin Jump and Petting Zoo; There is free, live entertainment on the weekends; Admission is free with a small cost for rides; Ride packages are available; Thousands of pumpkins to choose from. Payment: Cash, Debit cards, Visa/MasterCard, AmEx.
Pumpkin Station - Mission Valley - pumpkin patch- already gathered from the field, train rides, restrooms, petting zoo
1640 1/2 Camino Del Rio North, San Diego, CA 92108. Phone: 858-566-7466. Alternate Phone: 858-603-6056. Fax: 858-536-9876. Email: nosborn1@san.rr.com. Open: See our website for current hours. Click here for current open hours, days and dates. Directions: Click here for a map and directions. Giant Slide, El Paso train, Kiddie Ferris Wheel, Dry Boat Ride, Swing Ride, Castle Jump, petting zoo; Admission is free with a small cost for rides; Ride packages are available; Thousands of pumpkins to choose from; Open October 2nd - October 31st. Payment: Cash, Debit cards, Visa/MasterCard, AmEx.
Pumpkin Station at Plaza Bonita - pumpkins, prepicked pumpkin patch, children's events
3030 Plaza Bonita Road, National City, CA. Phone: 858-566-7466. Directions: click here for directions. Open: October 1-31, See their website for current hours. There is a giant slide, play center, pumpkin jump, train ride, swing ride, boat ride, car ride, bee ride, petting zoo and games. There is free, live entertainment on the weekends. Admission is free with a small cost for rides. Ride packages are available. There are thousands of pumpkins, of all sizes, to choose from.

Stu Miller's Pumpkin Patch

- pumpkins, rides, bouncy castles, petting zoo, Christmas trees,
They have many locations. Click here for their table of locations and more information.
Summer's Past Farm - herbs, pumpkin patch, corn maze, herbal soapmaking
15602 Old Hwy 80, Flinn Springs, CA 92021. Phone: (619) 390-1523.
A visitor writes: "There is a lot to do for children like making a fairy garden, corn mazes, sweet pea mazes. There is also herb paper making, herb soap making, herbal oil, vinegar, and more in there class schedule, Very child friendly, coffee bar with pastries, fun, touristy, and wonderful animals everywhere. A shop for those who want to buy the harvested goodies.."
The Farmstand - pumpkins, pumpkin patch-pick in the field, pumpkin patch- already gathered from the field, prepicked produce, snacks and refreshments, restrooms, and picnic area.
2115 Miller Ave., Escondido, CA 92025. Phone: (760)738-9014. Email: farmstandwest@gmail.com. Open: Saturday and Sunday, from 10 am to 6 pm, and the Fall Festival will be taking place on October 26 and 27 of 2019. This is a fun day for you and your family to enjoy the farm and all of its fall colors. There will be hayrides, pumpkin picking, food and so much more! We can't wait to see you there. . Directions: From I-15 Take Felicita exit and go East on Citricado Pkwy. to Miller Ave. Go left on Miller Ave. and take immediate left into parking lot. Click here for a map to our farm. . . Payment: Cash, Check, Visa/MasterCard. Formerly called "American Barnyard Company".
Valley View Christmas Trees - pumpkins for sale in the shop or farmstand, weddings and wedding parties, school tours, group reservations
4439 Genesee Avenue, San Diego, CA 92117. Phone: (541) 953-0293. Email: valleyviewchristmastrees@gmail.com. Open: Monday to Sunday, from 9 am to 9 pm, October 12 to October 31. Directions: Click here for a map and directions. Payment: Cash, Debit cards, Visa/MasterCard. Click here for our Facebook page. Best Selection of Pumpkins, Corn Stock, Straw Bales, Gourds, Scare Crows, Mini Pumpkins. Many other types of pumpkins. (ADDED: October 09, 2018)