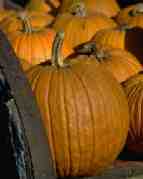 2021: Largest Pumpkin in the World
The largest official Pumpkin in the United States and the World
The latest report:
The largest pumpkin in 2019 was 2,517 lbs, grown by Karl and Beverly Haist in Clarence Center, NY.
The leader (at the moment, early September, 2020) is 1,742 lbs growing by Dale Marshall in Anchorage Alaska.
In order to be in the running, you pretty much need to grow a pumpkin that weighs at least 2,000 lbs (900 kg). If you want to grow a huge pumpkin, see this page for tips. And then see this page for huge pumpkin varieties and where to get the seeds.
Previous years:
Other Country Records
Belgium 1,190.5 kilograms (2,625 lb) set 2016, by Mathias Willemijns
England 1,103.9 kilograms (2,434 lb) set 2020, by Ian and Stuart Paton
Germany 901 kg (1,986 lb) set 2016, by Wuersching
South Africa 556 kg (1,226 lb) set 2017, by Hugo le Roux
Spain 469 kg (1,034 lb) set 2003, by Carlos Perez