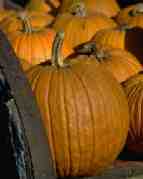 2023: Largest Pumpkin in the World
The largest official Pumpkin in the United States and the World
The latest report:
The largest pumpkin in the United States in 2021 is (so far) 2,121.5 lbs; by Edwin Pierpont of Jefferson, Maine.
The Global / Worldwide champion largest pumpkin for 2021 is 2,700 pounds (794.5 kg) in Tuscany, Italy, grown by Italian farmer Stefano Cutrupi . This looks to be the all-time champion now, too.
Belgium's Mario Vangeel is still growing his and may come in second. Belgium often produces the largest global pumpkins.
In order to be in the running, you pretty much need to grow a pumpkin that weighs at least 2,000 lbs (900 kg). If you want to grow a huge pumpkin, see this page for tips. And then see this page for huge pumpkin varieties and where to get the seeds.
Previous years:
Other Country Records
Belgium 1,190.5 kilograms (2,625 lb) set 2016, by Mathias Willemijns
England 1,103.9 kilograms (2,434 lb) set 2020, by Ian and Stuart Paton
Germany 901 kg (1,986 lb) set 2016, by Wuersching
South Africa 556 kg (1,226 lb) set 2017, by Hugo le Roux
Spain 469 kg (1,034 lb) set 2003, by Carlos Perez