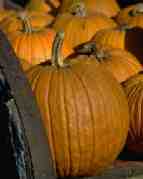 Growing Your Own Pumpkins - For Eating or Carving
Varieties of Pumpkins tp Grow!
Would you like to grow your own pumpkins? It's easy and there are so many varieties of pumpkins, there is sure to be one suited for your purpose, soil type and climate!
This guide will help you to select the right pumpkin to grow in 3 easy steps!
Purpose: select whether you want a pumpkin for eating, carving, multipurpose, decoration or sheer size - see
For just pie / cooking pumpkins see this page and For just giant pumpkins, see this page. For all pumpkins, including decorarative and carving pumpkins see the master list
Look at the number of days it takes to grow to be sure you have a long enough season where you are, to grow them. The far right column has links to where you can get the seeds.
Then see our pumpkin growing guide.
If you need pumpkins at a time of year when they are not usually available (December to July) for a wedding or party, you may want to consider decorative pumpkins. And see this page for more information about pumpkins for weddings!