How to Easily Make a Traditional American Pumpkin Pie (recipe, directions, photos)
How to Make Traditional Homemade American Pumpkin Pie!
Click here for a PDF print version
If you've never had a pumpkin pie, you don't know what you are missing. To many Americans, the appearance of a pumpkin pie on the table means Autumn and Winter are here. It is traditionally served at Halloween, Thanksgiving and Christmas dinners. Pumpkin pie is one of the easiest pie you can make, too!
And you probably take canned pumpkin for granted. You're there, the can is there, there's a pumpkin on the label... open it and mix it up with spices to make a pie, right? Ah, but a pumpkin pie made from a fresh pumpkin tastes so much better than the glop that was processed last year! Here's how to do it, complete instructions in easy steps and completely illustrated. And it is much easier than you think, using my "patented" tips and tricks!
Directions for Making Pumpkin Pie
Ingredients and Equipment
a pie pumpkin (see step 1)
A sharp, large serrated knife
an ice cream scoop
a large microwaveable bowl or large pot
Recipe and Directions
Step 1 - Get your pumpkin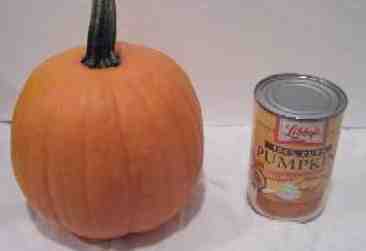 You can use either a fresh pumpkin or canned pumpkin. Fresh, obviously tastes much better! "Pie pumpkins" are smaller, sweeter, less grainy textured pumpkins than the usual jack-o-lantern types. grocery stores usually carry them in late September through December in the U.S. Note: the Libby's can of cooked pumpkin is just there for reference - it is the small can, so that gives you an idea of the size of a typical pie pumpkin. They're only about 8 inches in diameter.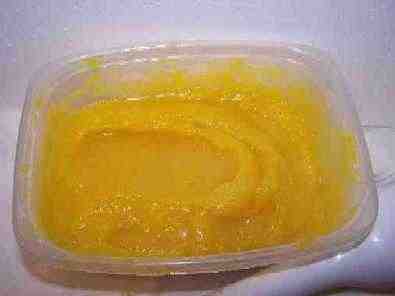 Just like selecting any squash, look for one that is firm, no bruises or soft spots, and a good orange color.
For directions on preparing the pumpkin, click here. The rest of the recipe below assumes you have already cooked your pumpkin or are using canned pumpkin (which is already cooked)
Here is what cooked fresh pumpkin looks like! You'll need 3 cups of pumpkin puree.
Step 2 - Make the pie crust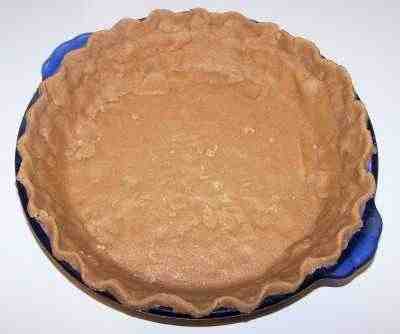 Yes, I know there are ready-made pie crusts in the frozen section at the store, but they really are bland and doughy. A flaky crust is easy to make!
It is also time to start preheating the oven. Turn it on and set it to 400 F (200 C, for those in Europe) . Click here for illustrated pie crust instructions! (it will open in a new window)
Step 3 - Mix the pie contents
All the hard work is behind you! Here's where it gets really e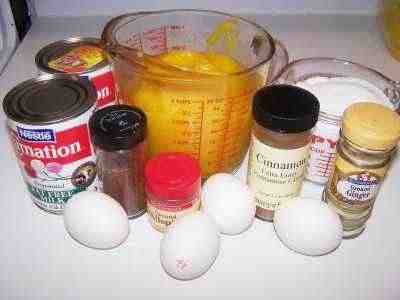 asy. If you start with a fresh 8" pie pumpkin, you will get about 3 cups of cooked, mashed pumpkin. The right amount of ingredients for this is as follows:
1 cup sugar
1.5 teaspoon ground cinnamon
1 teaspoon ground cloves
1 teaspoon ground allspice
one half teaspoon ground ginger
one half teaspoon salt (optional, I don't use any)
4 large eggs
3 cups pumpkin glop (ok... "sieved, cooked pumpkin")
1.5 cans (12oz each) of evaporated milk (I use the nonfat version)
Mix well using a hand blender or mixer.
Step 4 - Pour into the pie crust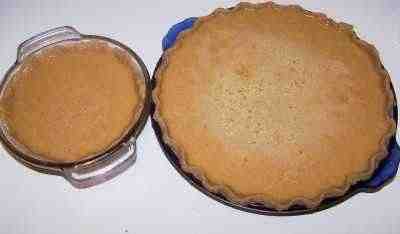 I like a deep, full pie, so I fill it right up to about one quarter to one half inch from the very top.
Step 5 - Bake the pie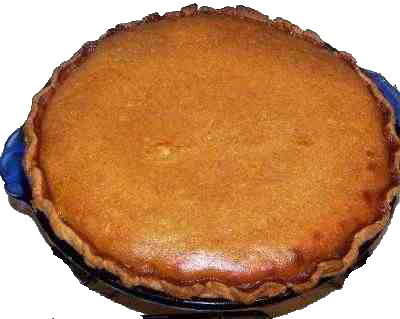 Bake at 425 F (210 C ) for the first 15 minutes, then turn the temperature down to 350 F ( 175 C ) and bake another 45 to 60 minutes, until a clean knife inserted into the center comes out clean.
Here is the finished pie, right out of the oven:
I use a blunt table knife to test the pie. The knife below has already been stuck in the pie, and you see it comes out pretty clean, when the pie is done.

Step 6 - Cool the pie
And enjoy!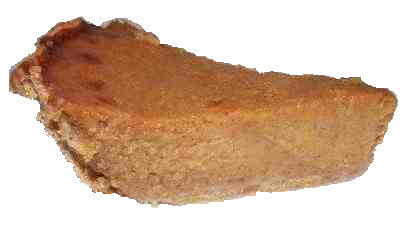 Complete Water Bath Canner Kit

This is the same type of standard canner that my grandmother used to make everything from applesauce to jams and jellies to tomato and spaghetti sauce.
This complete kit includes everything you need: the canner, jar rack, jar grabber tongs, lid lifting wand, six pint jars with lids and rings, a plastic funnel, labels, bubble freer, and the bible of canning, the Ball Blue Book. You'll never need anything else except more jars and lids!


br>

Deluxe Food Strainer & Sauce Maker

D220-DLX



Click here for more information, other strainers and supplies or to order!
Lids, Rings, Jars, mixes, pectin, etc.

Need lids, rings and replacement jars? Or pectin to make jam, spaghetti sauce or salsa mix or pickle mixes? Get them all here, and usually at lower prices than your local store!
Can't find the equipment? We ship to all 50 states! Just email us!
---
Halloween Costumes
Here are some of the most popular Halloween costumes for children this year. For more choices, see our Halloween costumes pages.
Find Related Information and Resources Here!