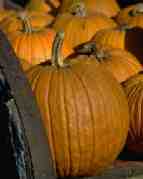 A Visit to a Pumpkin Patch or Corn Maze - What to Expect - with Photos!
A Visit to a Pumpkin Patch or Corn Maze!
What's it like; what to expect!
If you haven't been to a pumpkin patch, corn maze, apple orchard or Fall Harvest festival at a farm, you don't know what you're missing... and you may want to know what to expect, to plan appropriately! This page will help you see with photos what they're like! The links on the photos take you to the farms where the photos were taken!
---
Pumpkin patches
There are several types of pumpkin patches:
Pick in the field
This is what most people prefer - an actual field where the pumpkins grew!
The downside can be... dirt or mud if it just rained. And since the good pumpkins may go early, most farms replenish the field with pumpkins brought in from elsewhere... but the experience is the same! Kids run around looking for the perfect pumpkin out in the field!
Already harvested
This is the most common form of pumpkin patch. Pumpkins just don't grow everywhere; like south Florida, so pumpkins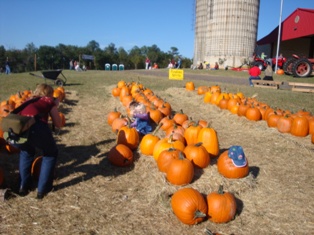 are brought in, either from a local farm or a distance, and laid out or piled up to choose from. Children love it either way!
Church lawns
Rather self-explanatory; some churches, frequently United Methodists, sponsor a pumpkin patch on their lawn to raise money! If you are just looking for a pumpkin and want to help their cause, that's a great option.
---
Corn mazes!
If you've never been to a corn maze, you don't know how much fun they are! there are 3 main types!
Daytime maze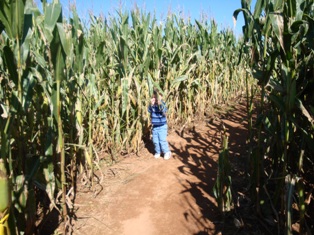 These are perfect for families and small children, and cold days!
The corn is a variety that grows 8 or 9 feet tall in good weather and creates a thick , impenetrable maze. The farmer uses a tractor equipped with GPS to cut a pattern of paths into the field. The pattern is usually only visible from the air, but on the ground it is a great maze. They can take anywhere from 20 minutes to an hour to find your way out. Help is usually available, if needed, and there are often signs with puzzles to solve or clues to help.
Nighttime maze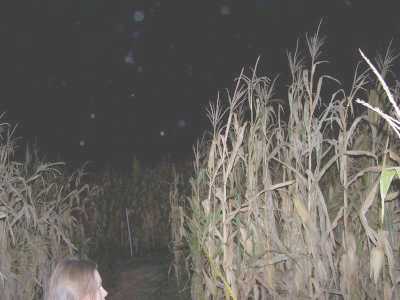 Same as a daytime maze... but at night with flashlights! A scary but fun experience. Very popular with teenagers!
Haunted Corn Maze
Ah, now for the real Stephen King fan, a nighttime haunted maze, like a haunted house is the full experience! Definitely not for small children.
---
Hay rides
Hayrides come in several forms: tractor-pulled, horse-drawn and wagons. Any are fun, but most people prefer a horse or tractor pulled hayride to a wagon rides. Wagon rides generally don't include hay bales to sit upon.
Cow Trains
No this is not the Chik-Fil-A cows having hijacked a train! Instead, it is a small tractor that pulls a series of one or 2 person cars, like a train without tracks! Loads of fun!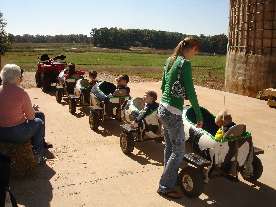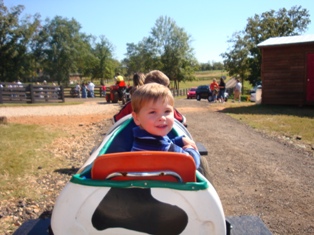 The cow train is popular with all the kids. Adults like me sneak in, too!
---
Petting Zoos and Farm Animals
Petting zoos are animals, fenced in an area where you can walk among them, feed them and pet them. "Farm Animals" means the animals are present, but you are separated by a a fence and may or may not be able to touch them. If you do touch, be sure to wash your hands afterwards!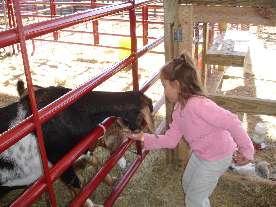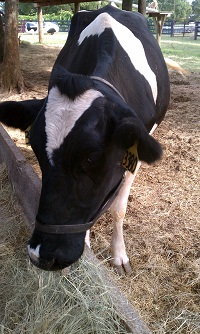 The petting zoo has goats, a cow, pigs, chickens, pigs, horses, and more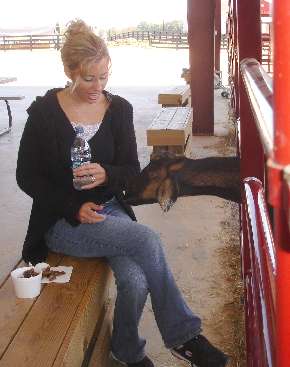 The goats won't take no for an answer!
Pig Races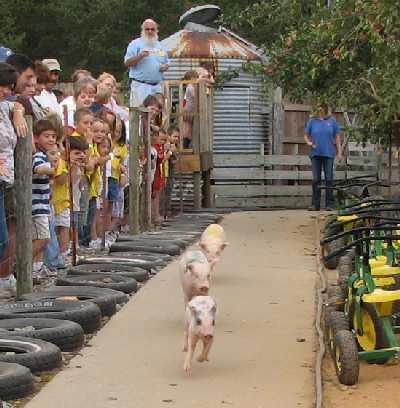 Heck, it's worth the visit to a farm if only for the pig races! The little guys run pell-mell around the track, at a full scamper, squealing all the way! They know there's a snack waiting for them at the end! Everyone quickly gathers when they announce the next race! Place your bets and possibly win a prize, or lose your bacon! Pig races are fast becoming easier to find. They are so popular, you can probably find a farm near you that has them.
Milk a cow?
Yes, indeed! Some farms will even allow you to milk a cow! My 3 year old delighted in milking the cow! Others have cow milking demonstration for you to watch (but you can't actually milk the cow yourself). Either way, kids love it, and it helps them to understand where milk comes from and the importance of farms!
Click here to see a 1 minute movie clip of him milking the cow
Farms in these states have cow milking (click on the links): CA (San Fran area), FL, GA, LA, MD, MI, ND, NY (Long Island), OH, OR, TN, TX, UT,
---
Jumping Pillows, Trike Tracks, Corn Boxes and other Kiddie fun!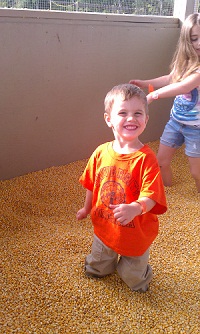 Many pumpkin patches, apple orchards, corn mazes and farms have their own kiddie playgrounds and unique farm activities to entertain children from 1 to 18. Corn boxes, kind of a large sandbox filled with dried corn kernals appeals to small children.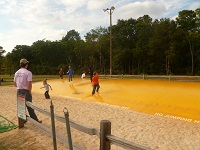 Children from 3 to 18 love the jumping pillows. These huge inflated pillows are sort of like a trampoline, but safer.

Trike tracks and pedal go-karts are also becoming popular. Again, they seem to be popular with children right up to teenages. Heck, you see a lot of dads and a few moms out there, too. Kids love to race against their parents.
The advantage of going to a farm with these activities should be obvious: by the end of the day, your kids will be pooped.. and sleep soundly!
Picking cotton or other unusual crops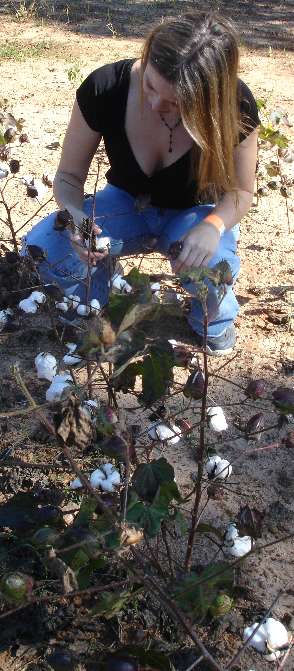 Farms in different regions may offer something unique to the area, like farms in Georgia and South Carolina that offer a field of cotton to pick!
You can pick your own cotton! The kids love it and yell out the line from "Despicable Me": "It's so FLUFFY!"